Scott completes New Year Sprint double for Tindle brothers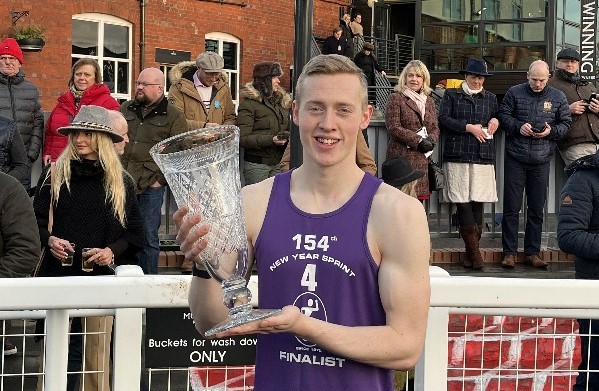 Photo via New Year Sprint Facebook page
Scott Tindle overcame a 'start malfunction' – he slipped badly – to narrowly hold on to the lead and take the crown as winner of the 154th New Year Sprint at Musselburgh.
The Tweed Leader Jed Track athlete went one better than in the 153rd when he was pipped by Stacey Downie.
So now Scott and Cameron Tindle are only the second pairs of brothers to win the New Year Sprint, with Cameron victorious in 2015.
Bearing down on Scott at the finish was 16-year-old Gkontouin Imante of Shettleston Harriers, who was beaten by a matter of inches and timed at 12.04 to Tindle's 12.03.
Euan Urquhart of VP-Glasgow, who was fastest up in the heats, was two yards back in third place.
Double winner Greg Kelly of East Kilbride claimed fourth place (and his fourth final placing) just behind Euan.
The rain dutifully kept away and there was a slight headwind for most of the cross-ties turning into a cross wind for the final. Going was moderately heavy.
+++
Tags: