Scots medals at World Masters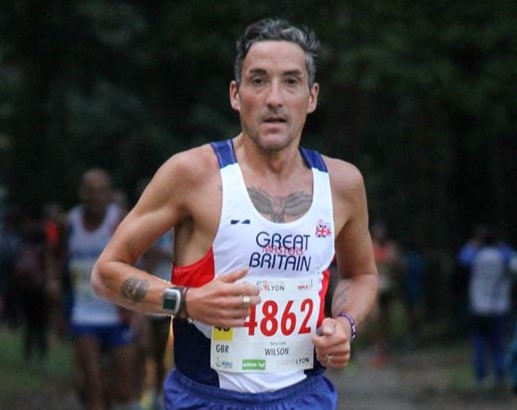 Kerry-Liam Wilson – fine marathon effort in France
Scottish Masters have been in Lyon over a two-week period competing at various events in the World Masters – from cross country to track and field and marathon.
There were three individual medal winners with the roll of honour featuring Kerry-Liam Wilson with a marathon bronze, Fiona Davidson with a long jump gold and Susan Young a 400m bronze.
These can be added to a number of team medals and the full list is at the end of this article. Many more Scottish athletes than are mentioned on here were in Lyon over the period of the championships and well done to them for their continued commitment to the sport.
Kerry-Liam (M40) collected the third Scots individual medal on Sunday morning, winning the bronze in the marathon.
With such an early start, alarms being set from anywhere between 4am and 6am, the temperatures were certainly suiting the Scots who headed for Parilly Park. At 7am over 1,000 athletes set off on either the Half or full Marathon.
As expected, the Half Marathon runners rushed to the front however Kerry appeared to start steadily. At the end of the first lap he was running in second place, some 25 secs adrift of the Canadian athlete.
The gap grew to 40 secs at the half way point  but as the race reached the crucial stages Kerry put in one last effort to bridge the gap and actually led the race at 24 miles but was caught and over-taken on the final stages. Kerry finished in 2:31.01.
Coming into the race Kerry was ranked third so despite being agonisingly close to winning no one can accuse him off not giving his all for, both for himself and country.
Also representing the Scots in the full Marathon was Grant Ramsay (M40) who finished 16th in a time of 2.48:31. Both teamed up with a fellow Brit to win the silver medal in the team event.
Although no individuals medals were won in the Half Marathon, Colin Feechan (M55) added a silver team medal to that already won in the Team Cross Country at the beginning of the championships. He finished first first Brit in 8th place with a time of 1:21.04.
Also in the M55 race, Les Hill ran a solid race to finish in 30th place with a time of 1:37.49. Moving on to the M60s, John Denholm, competing in his third race of the championships finished 37th in a time of 1:42.58, with Les' older brother Alan, finishing 40th in a time of 1:45.33.
Going back to the younger age groups, debutant Scott Martin (M45) narrowly missed out in a team medal by 23 secs, finishing 4th Brit in 23rd place with a time of 1:18.40. In the M50s race, Chris Upson, also making his debut finished first Brit in 19th place with a time of 1:21.38. Finally, our only woman runner saw Anne Douglas (W60) finish a creditable 17th in a time of 1:53.54.
Back on the track, making her debut, Claire Thomson (W35) was satisfied when running a season's best of 8:13.35 to finish 10th in the 2000m Steeplechase.
The championships culminated with the relays and there was further success for Susan Young (W35) who picked up another Bronze medal in the 4x100m with a time of 56.29 , finishing behind a strong Trinidad & Tobago team, adding to her 400m Bronze from Saturday.
In the W40 4x400m relay Sharyn Ramage (W50) dropped down two age groups to help the team finish 7th place in a time of 4:46.91. The final Scots medal came from Bob Douglas(M60) who also dropped down an age-group to pick up a Bronze medal in the M55 4x400m , running a solid leg to finish in a time of 3:56.20.
To summarise the SVHC Medals:
Fiona Davidson: Gold – W40 Long Jump
Colin Feechan: Gold – M55 Cross Country Team;  Silver – M55 Half Marathon Team
Grant Ramsay: Silver – M40 Marathon Team
Alex Sutherland: Silver – M65 Cross Country Team
Kerry-Liam Wilson: Silver – M40 Marathon Team;  Bronze – M40 Marathon
Susan Young: Bronze – W35 400m; Bronze – W35 4x100m Relay
There are a number of reports on the various days and a series of pictures on the Scottish Veteran Harriers Facebook page
With thanks to Alan Ramage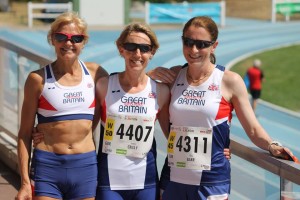 Tags: Fiona Davidson, Kerry Liam-Wilson, Lyon, Masters Cross Country, Susan Young, World Masters