Scots impress at Lillebaelt Half Marathon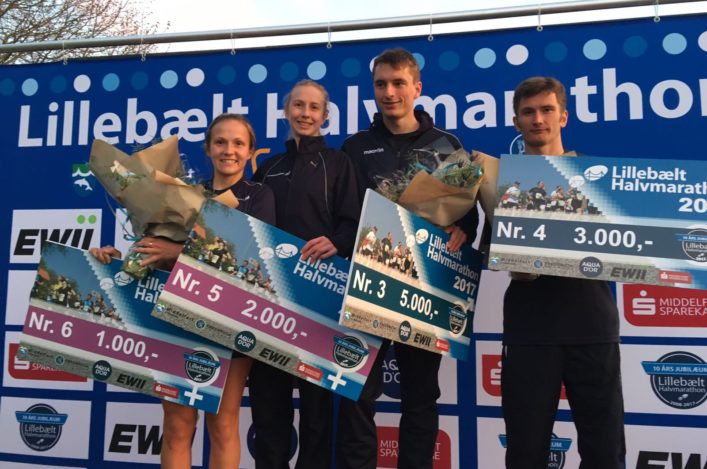 Scotland's four podium finishers at Lillebaelt (from left): Jenny Bannerman, Gemma Ranking, Cameron Milne and Derek Hawkins
From Charles Bannerman in Denmark
Kinross High School extended its production line of former pupil Scottish international athletes when Cameron Milne took a superb third place in the Lillebaelt Half Marathon in Denmark with a PB of 66:39 on his senior debut.
Cameron was in the same year at school as Laura Muir and a few years behind Eilidh Doyle so extends a proud Kinross High record.
The Central AC athlete kept with the leading group in the early stages which included some challenging climbs and with 2K to go over-hauled Kilbarchan's Derek Hawkins (66:54) to become the first Scot across the line.
Forres Harrier Mark Mitchell, who is working towards an autumn marathon debut, took  seventh place (68:25) to complete the Scottish men's team.
Both the men's and women's races were considerably more competitive than in previous years and Kilbarchan's Gemma Rankin (79:25) was the top Scottish woman in fifth place behind two English and two Danish runners.
Jenny Bannerman (Inverness Harriers) took sixth place in 80:36 to make a total of four Scots in top six podium places. Central AC's Jenn Wetton was ninth in 84:25.
Team Scotland in Denmark
'The race started at a good pace and we went through 10K at just over 31 minutes which is close to my PB,' said Cameron.
'I fell off the lead group at about seven miles and I didn't expect to get back to Derek so it must have been a pretty strong finish.
'In myself I knew I could run 66 and that's consistent with the progress I had hoped to make so I have to be pleased.'
For Hawkins, his Danish outing was a satisfactory enough next step along the road after his 2016 back injury which so nearly cost him an Olympic place.
'I'm getting there very slowly and am happy enough being able to do a half at this stage,' he said Derek.
'It was a really good field and this is a step in the right direction. It's progress despite getting a bit difficult towards the end.'
Tags: Cameron Milne, Derek Hawkins, Gemma Rankin, Jenn Wetton, Jenny Bannerman, Lillebaelt Half Marathon, Mark Mitchell, Scotland