Scots head for Euro 24-Hour Champs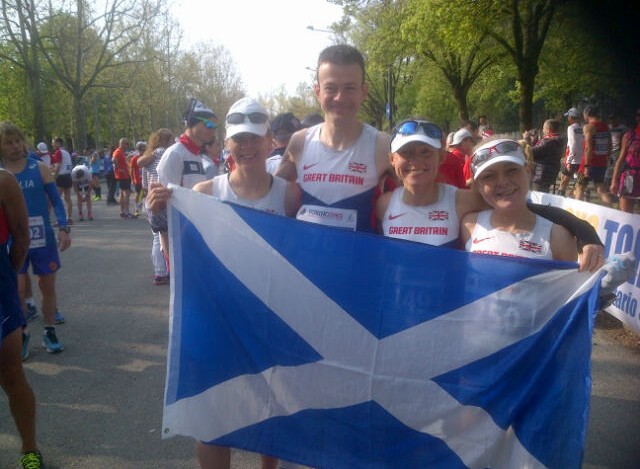 Our GB selections for Euro 24-Hour Champs in France
Scots land medals in Turin in 2015 
Three Scots are headed for France this week as part of the British team for the IAU 24-Hour European Championships in Albi.
Husband and wife Debbie Martin Consani and Marco Consani, of Garscube Harriers, are both involved – with Debbie joined in the Women's selection by Sharon Law. Fionna Ross, who was originally selected, has sadly had to withdraw through injury, but is still travelling out with the team as part of the support crew.
In 2015, the British team achieved their best result in the history of the event, with every athlete winning a medal. Robbie Britton headlines the 11-strong team after winning world and European 24-Hour bronze last year.
Alongside the individual achievements, the men's team won gold at world and European level in Turin last year. Five of those athletes return to the fray in October and will be seeking further European medal success.
The women's team will be led by Self-Transcendence 24-Hour winner Beth Pascall, who will make her international debut in a GB vest. She will be joined by four members of the women's team who won European bronze in 2015.
The British Athletics team for the IAU 24-Hour European Championships on 22-23 October 2016 in Albi, France:
Senior women:
Sharon Law; Debbie Martin Consani; Isobel Wykes; Ali Young
Senior men:
Robbie Britton; Marco Consani; James Elson; Steve Holyoak; Dan Lawson; Pat Robbins
*Debbie has written a blog post for Athletics Weekly's online platforms about how she feels the gap is closing between men and women when it comes to ultra running
Tags: Debbie Martin-Consani, Euro 24-Hour Champs, Fionna Ross, Marco Consani, Sharon Law, Ultra running