Scotland XC teams for Home Countries International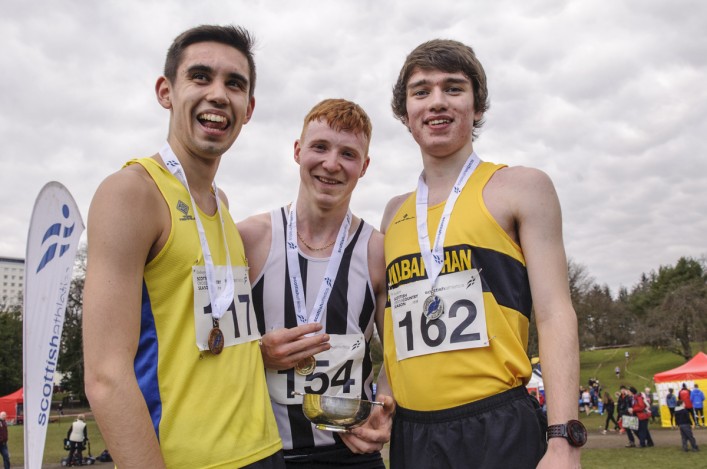 Aidan Thompson, Jonny Glen and Euan Gillham – National XC medallists in U20 team
Sixteen athletes will represent Scotland at the Home Countries International XC event later this month in Falkirk.
It is return to Callendar Park for the vast majority of the team, with performances at the National XC having been significant in the selection process for the teams at Senior and U20 level.
Scotland will compete on Saturday 19 March against England, Wales, Ireland and Northern Ireland as well as some other English area teams.
The Scottish Schools will have teams competing in the SIAB International XC on the same day (with those selections being made following the Scottish Schools XC event at Irvine this midweek).
There are GB internationals in the Scotland selection with the Senior Men's team featuring hill runner Andrew Douglas (Inverclyde), who took silver at the National XC, and Luke Caldwell, who raced for Scotland at Hampden in the Commonwealth Games over 5000m and 10,000m.
Completing the lineup there are Michael Ferguson of Aberdeen AAC, following an excellent fourth place finish at the National XC, and there is a return to the international scene for Central AC stalwart, Alex Hendry, a former Scottish Inter-District champion.
The U20 Men's team also looks strong with GB internationals Jonny Glen (Inverclyde AC) and Euan Gillham (Kilbarchan AAC) joined by Central AC's Aidan Thompson and Ronhill Cambuslang's Ryan Thomson.
Leading the Senior Women's team is Sarah Inglis of Lothian Running Club, who helped Scotland win the Armagh International Road Race over 3K last month.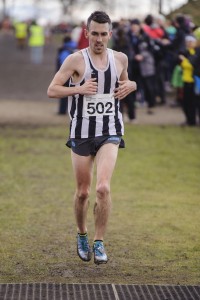 Andy Douglas – fine run for second at National XC
SENIOR MEN:
Andrew Douglas (Inverclyde AC); Luke Caldwell (Dorking and Mole Valley); Michael Ferguson (Aberdeen AAC); Alex Hendry (Central AC)
U20 MEN:
Jonny Glen (Inverclyde AC); Euan Gilham (Kilbarchan AAC); Aidan Thomson (Central AC); Ryan Thompson (Ronhill Cambuslang)
SENIOR WOMEN:
Sarah Inglis (Lothian RC); Fiona Rudkin (Metro Aberdeen);  Mhairi MacLennan (Inverness Harriers); Eilidh MacKenzie (Stornoway)
U20 WOMEN:
Steph Pennycook (Fife AC); Louise Mercer (Edinburgh Hare and Hounds); Gillian Black (VP-Glasgow); Eve Mackinnon (Ronhill Cambuslang)
Many congratulations to those selected to represent Scotland in this fixture and to their families and coaches. We also say 'well done' to all the clubs involved in the development of these athletes down the years.
The SIAB International takes place earlier in the day on Saturday 19 March with the Home Countries International races happening between 2.10pm and 3.30pm (Senior Men's).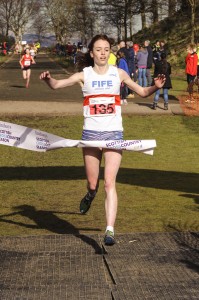 Steph Pennycook – U20 Champion leads U20 selection
Tags: Callendar Park, Falkirk, Home Countries International XC, Scotland, SIAB Cross Country