Scotland IYC selections; UK Inter-Counties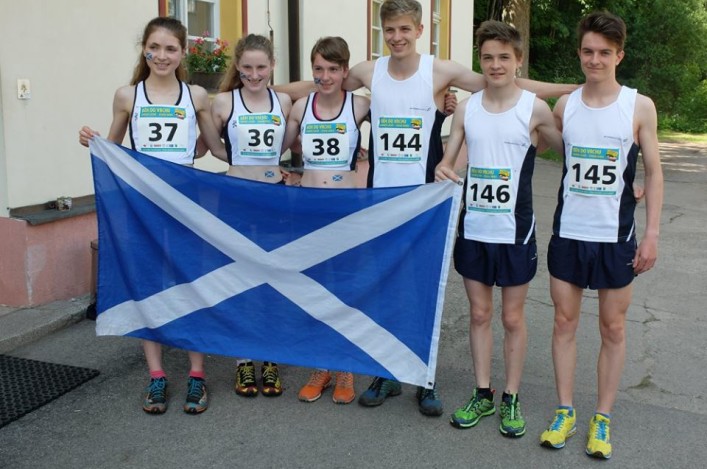 Scotland athletes at the International Youth Cup event a couple of years ago
Six junior athletes – three boys and three girls – will head to Italy next month to represent Scotland in hill and mountain running at the International Youth Cup – which takes place on Saturday 16 June.
The Scotland teams have been picked after the trial race, which was held on the slopes of Ben Lomond on 12 May.
Five clubs will be represented in the teams, with the event taking place in the village of Lanzada, which is in the Valmalenco valley in northern Italy.
The boys and girls race over the exact same course, which is 4.3K in distance with 290m climb over two laps.
The Scotland girls team is made up of two athletes gaining selection for a second time – Lynn McKenna (Giffnock North) and Zoe Nicholson (Pitreavie) – with Rhona Mowat of Giffnock North completing the team.
In the Scotland boys team, Fife AC's Robert Sparks gains selection for the second year in succession, and is joined by trial race winner Sunny McGrath of Deveron Harriers along with Jack Trainer of Garscube Harriers.
With thanks to Malcolm Patterson
+++
The 2018 hill running UK Inter Counties race will be held in as part of the Lads Leap fell race in the Peak District on Saurday.
It features a 9.5km route includes over 500 metres of climb, and will attract some of the UK's best hill runners.
There will be a strong contingent representing Scotland East, Scotland North and Scotland West (names below).
Representatives from Scotland have performed well in the past (Andrew Douglas was champion last year). Murray Strain and Georgia Tindley are both competing, following their GB selection for the world long distance mountain running champs.
Scotland West:
Katie White, Ruth Joss, Victoria Leiper
Ryan Stewart, Ross Gollan, Alastair Thurlbeck, Grant Stewart, Justin Carter
Scotland East:
Scout Adkin, Georgia Tindley, Jill Stephen
Ewan Brown, Liam Braby, Doug Tullie, Murray Strain
Scotland North:
Robbie Paterson, James Espie, Hamish Battle
Kirstie Rogan
With thanks to Kenny Richmond