Scotland selection for Loughborough International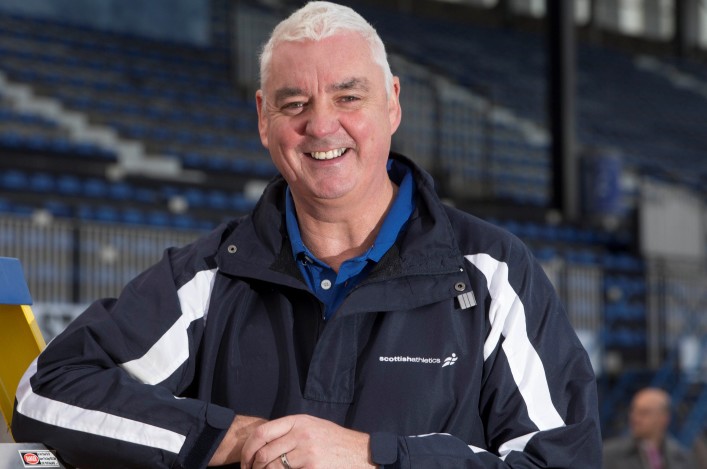 Rodger Harkins – Loughborough International selection is an honour and an opportunity
Scotland will head for the Loughborough International later this month with athletes handed the chance to post Commonwealth Games selection marks or gain important international experience.
It will be an exciting weekend for Scottish athletes over May 20/21 with six teams contesting the event on the Sunday.
Director of Coaching Rodger Harkins will lead the team as they take on the hosts Loughborough Uni, England, Wales, GB and NI Juniors, and British Universities.
With Scots available for selection for four of those teams – Scotland, GB and NI Juniors, Loughborough Uni and British Unis – there will be a strong presence at the Paula Radcliffe Stadium for the 59th edition of this event on Sunday 21 May.
And, the previous evening, the likes of Beth Potter features in the British 10,000m Champs at Highgate to make it a really busy weekend for our top track and field athletes.
Scotland Men:
Cameron Tindle 100m, 200m; Lewis Brown 400m; Ben Greenwood 800m; Cameron Boyek 1500m; Ryan Thomson 3000m; David Feeney 110m H; Jack Lawrie 400m H; Lachlan Oates 3000m S/C
Allan Smith High Jump; Allan Hamilton Long Jump; Chuxx Onyia Triple Jump; Jax Thoirs Pole Vault; Angus McInroy Discus; Andy Frost Hammer; Greg Millar Javelin
4 x 100m Relay: Adam Thomas; Fraser Angus; Allan Hamilton; Alec Thomas; Adam Clayton
4 x400m Rleay: Anthony Young; Jack Lawrie; Lewis Brown; Guy Learmonth   
Scotland Women:
Alisha Rees 100m, 200m; Zoey Clark 400m; Mhairi Hendry 800m; Jemma Reekie 1500m; Erin Wallace 3000m; Heather Paton 100m H; Mhairi Patience 400m H; Stacie Taylor 3000m S/C
Emma Nuttall High Jump; Sarah Warnock Long Jump; Zara Asante Triple Jump; Courtney Maguire Pole Vault; Kirsty Law Discus; Rachel Hunter Hammer; Aileen Rennie Javelin.
4 x 100m Relay: Alisha Rees; Sarah Malone; Heather Paton; Jenna Wrisberg; Chloe Lambert; Maddie Silcock
4 x 400 Relay: Jill Cherry; Kirsten McAslan; Kelsey Stewart; Zoey Clark; Mhairi Patience; Beth Dobbin
Heather Paton and Stacie Taylor in action last year at Loughborough
The selections feature no fewer than 10 athletes who represented Scotland at Glasgow 2014 via Jax Thoirs, Angus McInroy, Andy Frost, Guy Learmonth, Zoey Clark, Emma Nuttall, Sarah Warnock, Kirsty Law, Rachel Hunter and Kirsten McAslan.
And there is also a raft of GB and NI age group internationals from the past couple of years as the scottishathletics National Academy begins to bear fruit – Ben Greenwood, Cameron Tindle, Jack Lawrie, Mhairi Hendry, Alisha Rees, Jenna Wrisberg, Jill Cherry and Erin Wallace.
'We're delighted to announce the Scotland selections for the Loughborough International 2017 and I want to offer my congratulations to athletes picked and their families, coaches and clubs,' said Rodger Harkins, already announced as Head Coach for Team Scotland for athletics at the Gold Coast next April.
'It should always be an honour to wear the Scotland vest and I know from speaking to many people within the community there is real pride in selection.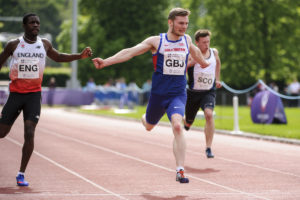 Cameron Tindle – represented GB Juniors last year
'I think there is an added element this year because the Loughborough International is one of those events deemed at the right level for Commonwealth Games standards to be achieved towards Gold Coast 2018 selection.
'As always with the timing of the Loughborough International, it is an early-season event. But it is still an opportunity to try and get those standards and also a good level of competition.
'We accept that we may lose some of the athletes named to the likes of the GB and NI Juniors team. We already know of two or three who have been picked by Loughborough Uni (who have selection priority). It happens regularly and we have to look at it as a compliment and a boost for those athletes.
'In fact, we have come to regard the whole weekend as more about looking and analysing individual performances across various teams rather Scotland as such. We are looking to see who performs when it counts.'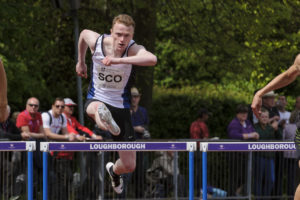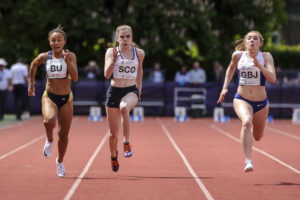 Jack Lawrie and Jenna Wrisberg
Photos by Bobby Gavin