Scotland 8th in athletics points table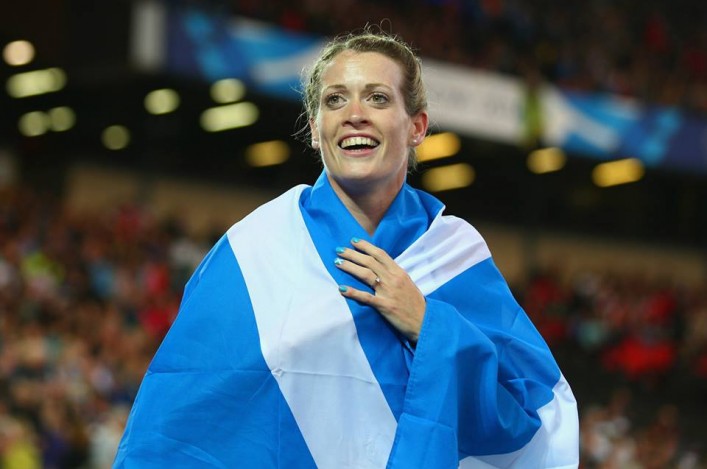 Four medals is best haul since 1990
Scotland finished in 8th place in the athletics 'points table' for the Commonwealth Games.
Points are awarded for top eight finishes with eight for a gold medallist down to one for an 8th place finish.
England were the top nation in track, field and marathon with Australia in second place and Kenya in third.
Scotland amassed 73 points with no fewer than 22 athletes contributing to that tally – 18 individuals and our 4 x 400m men's team, who finished fifth.
The points total for Delhi four years ago was 54 and the Glasgow 2014 record of four medallists is the best in those terms since five were won by Scotland in Auckland in 1994.
Libby Clegg took gold in the T12 100m, Mark Dry won a bronze in the men's hammer and of course Eilidh Child and Lynsey Sharp each won a silver on successive nights amid stirring scenes at Hampden.
Clegg, aided by guide runner Mikail Huggins, won her race in a world lead for Scotland's first gold in track and field for 20 years with Dry's the first medal in field events for the same duration.
New Zealand (on population) and Wales are often 'comparator' nations for Scotland at the Commonwealth Games and the Glasgow 2014 8th place comfortably eclipsed those two countries
GLASGOW 2014 POINTS TABLE (Top 12)
England 330
Australia 222
Kenya 205
Jamaica 184
Canada 165
South Africa 101
Nigeria 79
Scotland 73
New Zealand 55
Trinidad and Tobago 54
Wales 52
India 36.
The Team Scotland athletes who contributed to the points tally and their Top Eight place were as follows:
Susan Partridge 6 Libby Clegg 1, Susan McKelvie 6, Rachel Hunter 7, Beth Potter 5, Eilish McColgan 6, Kirsty Yates 8, Eilidh Child 2, Sammi Kinghorn 5, Meggan Dawson-Farrell 7, Lynsey Sharp 2, Laura Whittle 6.
Jason MacLean 5, Mark Dry 3, Guy Learmonth 6, Stephen Lisgo 8, Jax Thoirs 4, Chris O'Hare 6.
Mens 4 x 400m (Kris Robertson, Grant Plenderleith, Jamie Bowie, Greg Louden) 5.
Scotland were 10th in the points table of nations in athletics in Delhi four years ago.
Here's the points table position for the past 20 years.
Glasgow 2014  8th
Delhi 2010 10th
Melbourne 2006 15th
Manchester 2002 15th
Kuala Lumpur 1998 16th
Victoria 1994  10th
We will have more analysis and comment in due course over the coming days but all at scottishathletics would like to acknowledge the efforts of our athletes, coaches and clubs for the Commonwealth Games. 
And thanks, also, to the Scottish athletics community for their outstanding support.
 * Eilidh Child picture courtesy of  British Athletics and Getty Images
Tags: Eilidh Child, Glasgow 2014, Libby Clegg, Lynsey Sharp, Mark Dry