Sammi savours second gold and London glory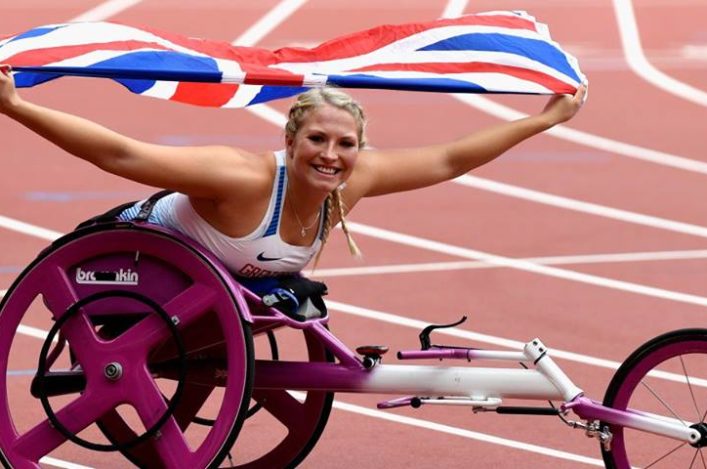 Sammi Kinghorn added a second gold medal to her World Para Championships haul in London with gold in the T53 100m final on Sunday afternoon.
It means the young Scot will head for home with a World Record in the 200m; two gold medals in the 200m and 100m; a bronze from the 400m and a fifth place finish in the 800m final.
That last two-lap race on Sunday evening brought the curtain down on an amazing week for Kinghorn and coach Ian Mirfin – not to forget her #TeamSammi supporters – who numbered 23 in London!
All at scottishathletics offer warm congratulations to Sammi, her family, Ian and all involved in the week-to-week hard work developing a World Record-breaking wheelchair athlete.
'It's been an incredible experience, it really has,' said Sammi, who has become such a well-known role model beyond Scottish shores this week.
'I hoped I'd win one medal, but to win three with two gold has been incredible. My class is so unbelievably competitive, so I think it's going to take a couple of months for it to actually sink in properly.
I'm going to see all my family and friends now – I've got 23 people here who have come to watch me, so I'll enjoy the incredible things that have happened at these championships before going back into training again.
T53 racer Kinghorn, already a world champion following triumph over 200m earlier in the week, entered the realms of multi-gold medallists when she paired her 200m gold and world record from last Saturday with gold in the T53 100m final.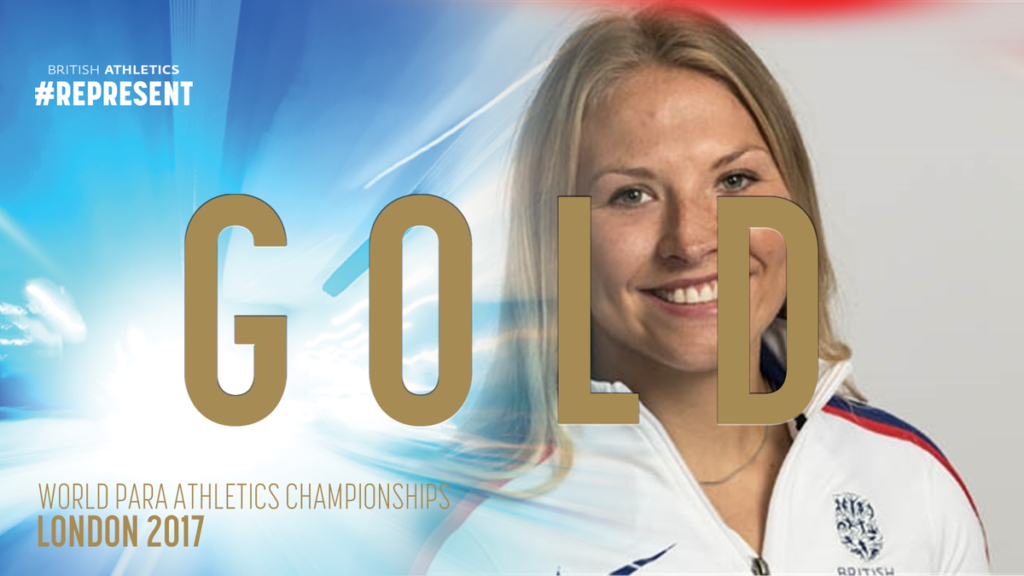 By halfway in the 100m she had left reigning Paralympic champion Zhou Hongzhuan in her wake, and held off all challenges to take the honours in 16.65 (-1.3 m/s) from Angela Ballard of Australia in 16.84.
'I hoped because of what I'd done in the 200m that I might win a medal,' said Sammi, reflecting on the 100m final.
'I had no idea when I crossed the line, I heard the crowd scream and I thought 'oh, I've won a medal', and then I saw my name pop up and I thought 'really?!' – it was amazing.
'My class isn't an easy one to win but I've spent the last year getting a bit stronger and just learning so much. I also got a new chair in February and it's just a bit lower and a bit more aerodynamic.
'I got out well, my start was really good – I knew that was what I had to work on from Rio – and I'm really glad that it worked out.'
In the 800m final, Turkey's Hamide Kurt pushed well to the line to pinch fourth ahead of Kinghorn, who clocked 1:57.04 for a highly-commendable fifth in what was her fifth race in eight days.
'I felt fine (after the 100m final) – 800m isn't my strongest event and I know that, it's just the tactics that I struggle with," said Kinghorn post-race.
'Being the youngest athlete out there, the girls kind of pushed me around and I tried to feel my way through, so it was tough, but I've got to keep fighting at the event.
'Every time I do an 800m I learn a little more each time, and eventually I'll be as good as the other girls out there; hopefully I'll have that speed at the end, too.'
Here's our video interview with Sammi (by Sue Gyford) after the 200m WR and gold
Tags: Ian Mirfin, London, Sammi Kinghorn, World Para Champs