Run Stirling will feature big XC races on January 11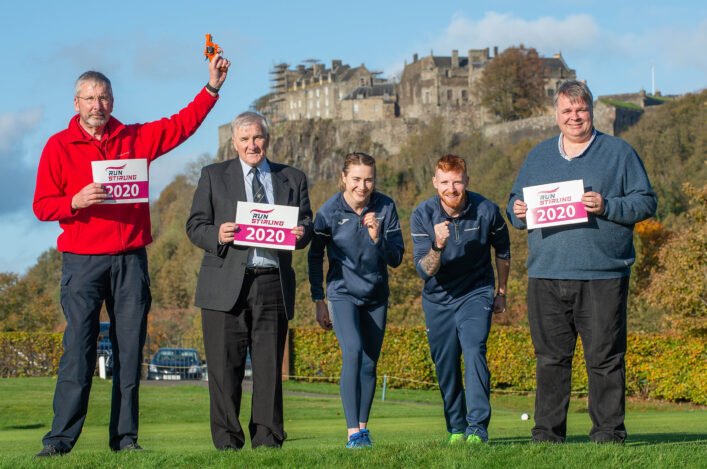 New scottishathletics President Ron Morrison joins athletes Jonny Glen and Mhairi Maclennan with starter, Richard O'Grady, and Councillor Chris Kane, to launch Run Stirling (photo Whyler Photos)
Enter online for British Cross Challenge 
Athletes of all ages and abilities will make Stirling their first-foot for sports in the New Year when Run Stirling launches in January 2020.
The day-long festival of running will provide a great day out for all the family, from the mass participation 7km Great Stirling Castle Run to junior and senior cross-country competitions, offering everyone from amateur joggers to fitness fanatics the chance to take part.
The cross-country will also include the Home Countries XC  and Celtic International XC, which will see representatives from Scotland, England, Northern Ireland and Wales battle it out for top honours.
All races are part of the British Cross Challenge Series, which gives up-and-coming athletes the opportunity to match themselves against established cross-country stars with competitive fields across all age groups: Senior, U20, U17, U15, and U13.
The announcement comes on the back of the news that the Stirling Scottish Marathon will return to the city on Sunday 11 October, 2020, further cementing Stirling's reputation as a key location for top class sporting events.
Set against the iconic backdrop of Stirling Castle and across the grounds of Stirling Golf Club and historic Kings Park, the Festival of Running will offer a variety of events, including:
*7km Great Stirling Castle Run (Enter online here)
*Inter-District Championships – North, East, West District representative teams. District Selections will be made following the Lindsays District Championships on December 8.  (U13, U15, U17, Junior/Senior)
*Celtic Cross Country International – Scotland v Wales v Ireland v N.Ireland.  Scotland selection will be made in December (U23, U20, U17).
*Home Countries Cross Country International – Scotland v England v Wales v N Ireland. Scotland selection will be made in December (Seniors, U20).
Enter online for British Cross Challenge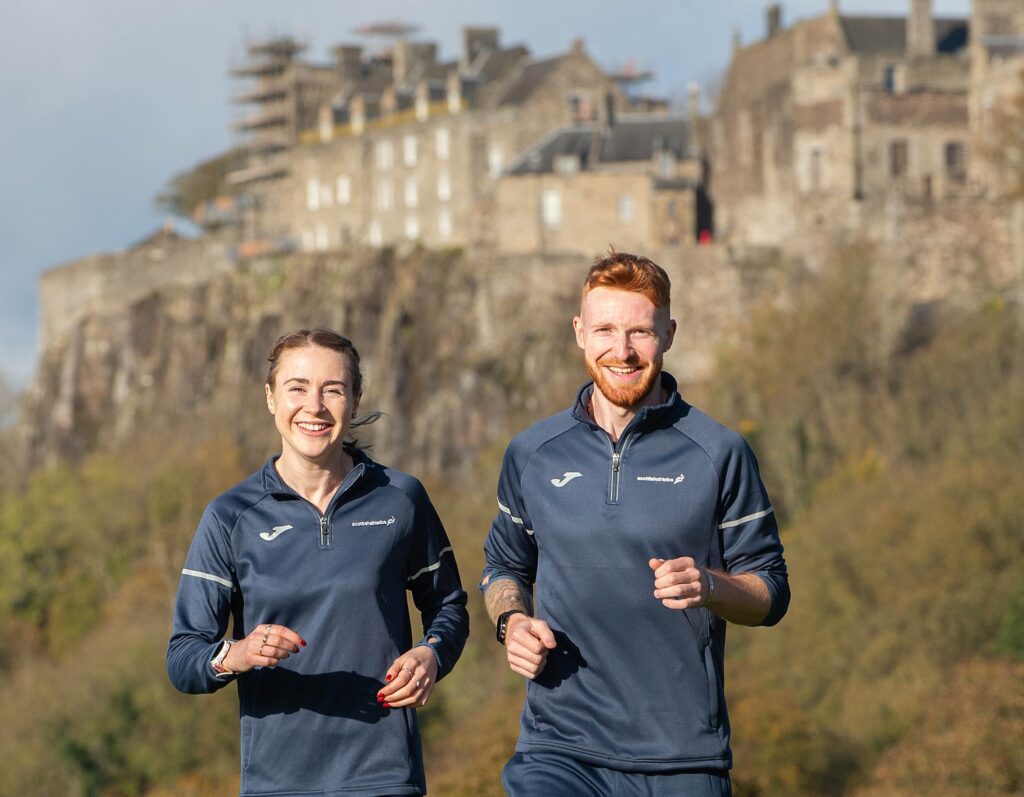 Mhairi Maclennan and Jonny Glen at our photo-call in Stirling (photo by Whyler Photos)
Mhairi Maclennan, Scotland and GB international from Inverness Harriers, won the Scottish Inter-District title at Stirling in January 2019 at the start of a spell which culminated with a 32nd place finish in the Senior Women's race in the World Cross in Denmark at the end of March.
'I think Run Stirling looks like a great event and I'm delighted we're coming back here in January 2020,' said Mhairi.
'There are a number of elements being planned for Saturday 11 January and it is good to hear about the different races.
'I won the Inter-Districts here in 2019. It's a really good course and to get the chance to mix it with England, Ireland and Wales would be great and something to aim for during training on dark winter nights.'
Jonny Glen, GB and Scotland international from Inverclyde AC, can't wait for January 11 after being in the United States.
'I've been in America for three years so not raced the New Year event for a while. I actually watched the races Stirling back in January online while out in New Mexico – it looked good.
'From what I've heard from other athletes and from what I've seen myself on a visit to Stirling Golf Club, it looks like a great course and one I would really enjoy.
'Representing Scotland in the Home Countries and the Celtic XC will be a big target for many athletes.
'It is always such an honour to pull on that vest and from my own point of view it has been a while with being away – I'd love to do that again on January 11.'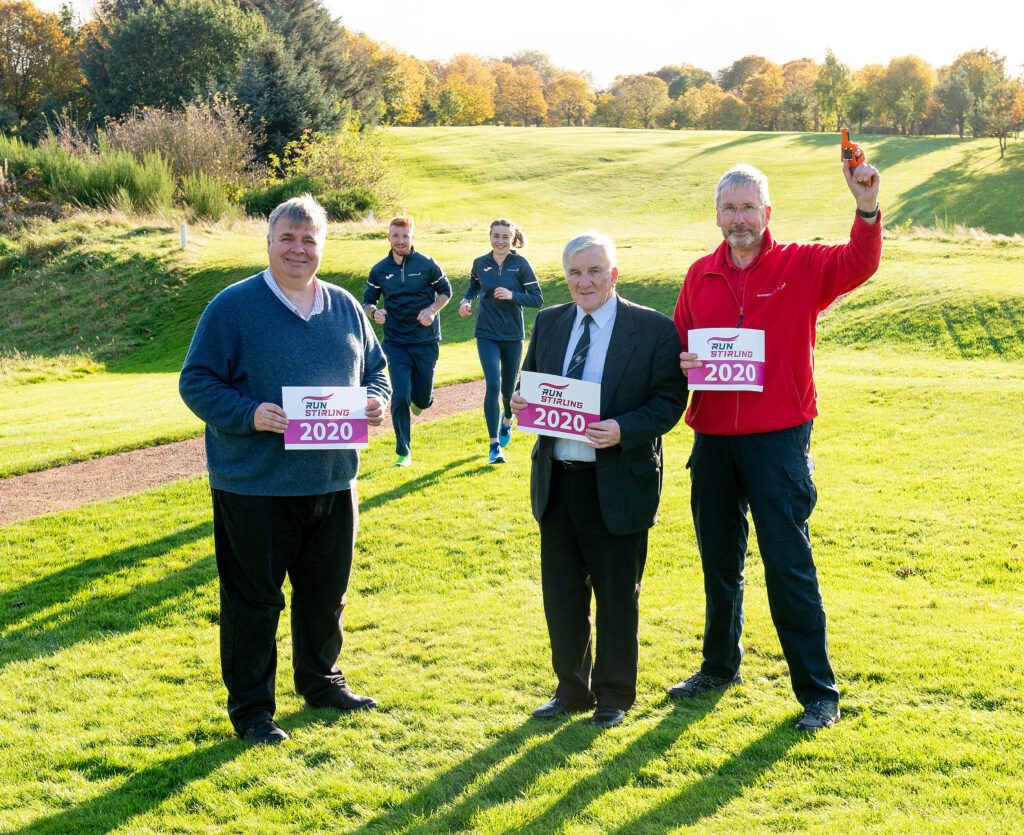 Ron Morrison joins Jonny Glen and Mhairi Maclennan for the photo-call in Stirling with Councillor Chris Kane (on left) and starter, Richard O'Grady (photo by Whyler Photos)
Convenor of the Community Planning and Regeneration Committee, Councillor Chris Kane, said: 'Our festival of running event has something for everyone.
'Whether you are taking part yourself, cheering someone, or keen to watch the top class athletes, this event offers a great chance for people to come together and enjoy taking part in sport.
'This feast of sporting action will deliver a significant economic and tourism boost for the city and, with the marathon also returning to our streets next year, is further evidence of Stirling's growing reputation as a top-class host for sporting events.'
The event has been awarded £25,000 of funding from the latest round of EventScotland's National Events Programme Fund. It is one of five events from across Scotland to receive a share of funding from the team within VisitScotland's Events Directorate.
VisitScotland's Director of Events, Paul Bush OBE, said: 'Events play a key role in our visitor economy by helping bring spectators and athletes to cities and towns across Scotland.
'EventScotland is delighted to be supporting Run Stirling through our National Events Programme to help showcase the region as the perfect stage for running events. Set against the stunning backdrop of Stirling Castle, the event offers a great day out whether it's taking part or watching one of the day's many races.'
Great Run Company Operation Director Alex Jackson said: 'We're looking forward to bringing the Great Stirling Castle Run back for a second year in January.
'The event will once again be a fantastic way for runners to start the New Year, tackling a multi-terrain course that passes the scenic King's Knot, Beheading Stone and Stirling Castle before crossing the finish line back in Kings Park.'
Tags: Celtic Cross Country International, Home Countries International XC, Inter-District XC, Jonny Glen, Mhairi Maclennan, Run Stirling