Record representation for Scots at World Champs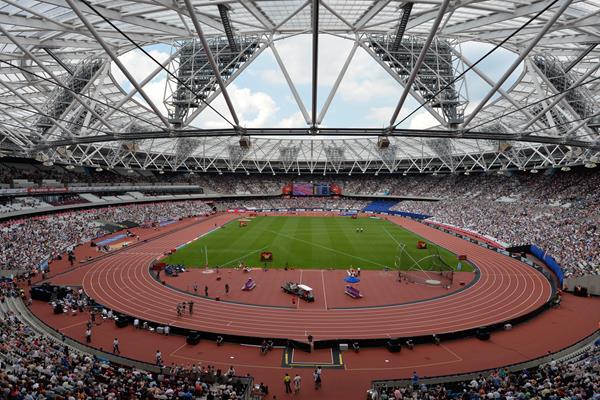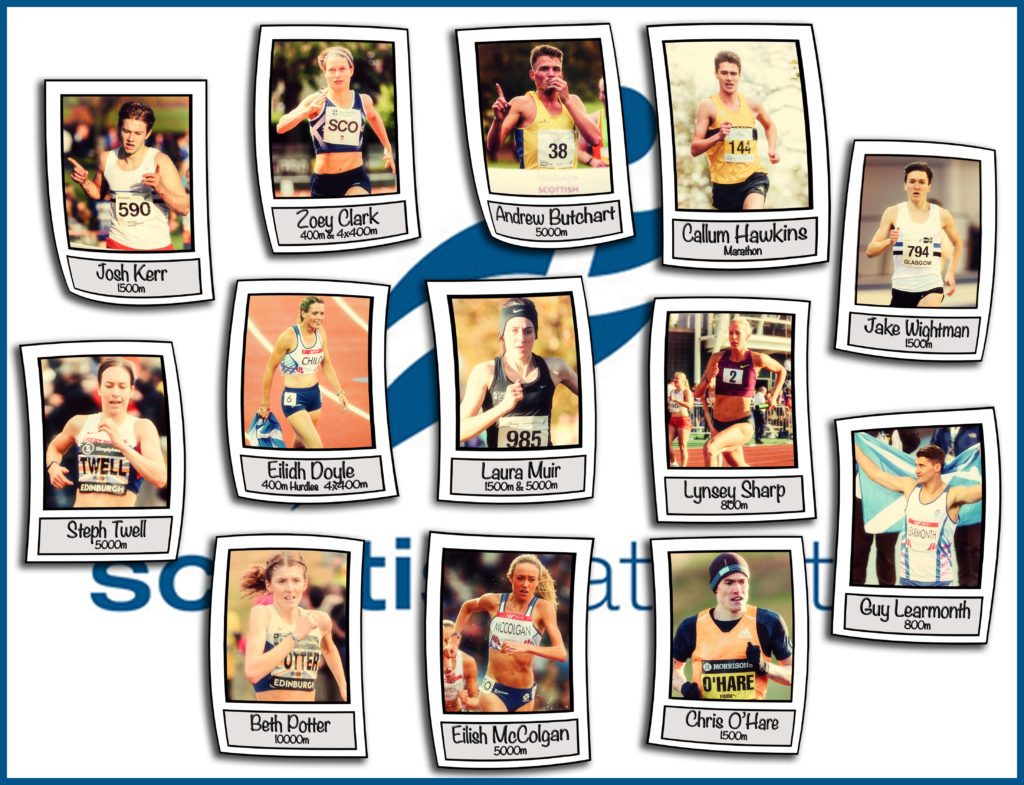 Lucky 13! Bobby Gavin's superb montage features the Scots selected for London (and he has photographed them all in recent years)
British Athletics media announcement and full team list
Scotland will have a record representation for a World Championships in Team GB and NI for London 2017.
British Athletics announced the main cohort of the team for the eagerly-awaited World Champs, with 78 selections confirmed which took earlier selections in marathon and the 10,000m.
And, so far, the Scottish presence numbers 13 athletes – almost double the previous best of seven athletes selected for this event, which happened for Helsinki in 1983 at the first World Champs and in 2015 for Beijing.
Scottish Athlete of the Year Laura Muir will double up for the 1500m and the 5000m following the announcement from British Athletics and after proving her fitness following a recent stress fracture in her left foot.
Eilidh Doyle is in line to compete in the 400m Hurdles and the 4 x 400m Relay team and Zoey Clark is another athlete named for two events as she competes in the 400m and was also named in the 4 x 400m Relay squad.
It remains possible that the tally of 13 athletes will rise further when a final wave of selections is announced on July 25. There are IAAF invitations to be issued to athletes ranked in the top 32 in the world not otherwise selected and that may open the door for one or two more Scots.
For the moment, though, there is a real sense of #SALTogether pride in the achievement by athletes and coaches in reaching this level – and following on so successfully from the #SALfab15 Record representation for the Rio Olympics 12 months ago.
Guy Learmonth, Jake Wightman and Lynsey Sharp were among those named as they followed on from the seven who secured their places at the British Champs on July 1 and 2.
Wightman's selection with Chris O'Hare and Josh Kerr means the men's 1500m 'team' is all-Scottish. Likewise, the Women's 5000 as Muir joins Steph Twell and Eilish McColgan.
Unfortunately, marathon runner Robbie Simpson – named after finishing second Brit at the London Marathon – has had to withdraw because of a calf injury.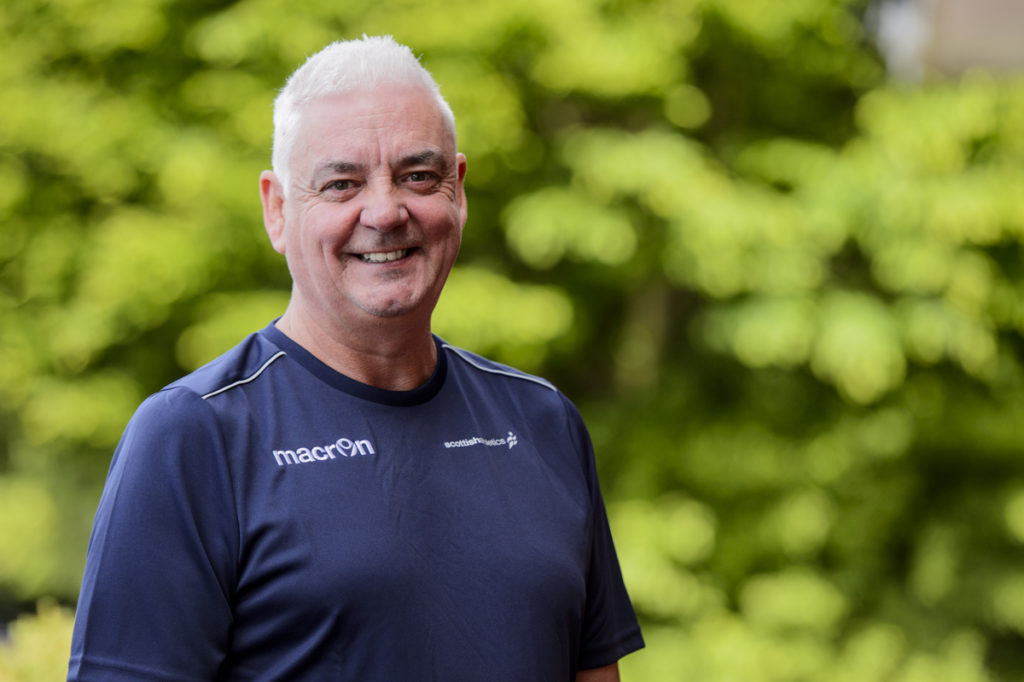 Rodger Harkins – years of hard work by athletes and coaches reflected in Record representation
'First of all let me firmly congratulate the athletes, their families, their coaches and the clubs involved in their development on selection by GB and NI for a World Champs,' said Rodger Harkins, Performance Director with scottishathletics.
'We should never be under the impression that selection for a British team at this level comes lightly. It comes after many years of hard work and dedication, sacrifice by athletes and families, and strong commitment, guidance and experience from coaches.
'Looking through those selected, I can see examples of that in each and every one of those 13 Scottish names.
'I've said previously I did have a slight concern that the year after an Olympics might be a little problematic. It can be the case and has been sometimes in the past – essentially it is the first year in a four-year olympic cycle.
But I think the confidence boost from being in Rio, or seeing others in Rio, has inspired our athletes to new levels. The motivation to compete at a 'home Games' in London is also very strong. It's a huge opportunity.
'For them it's not enough to qualify for the Games – they want to get into finals if they can and prove themselves on the World stage.That's the right attitude and I'd urge them all to be as competitive as they can.
'Obviously there was a strong representation last year for the Olympics but there are others now who have stepped up like Zoey Clark, Jake Wightman and Guy Learmonth – and they've achieved it via PB performances.
'Robbie Simpson made selection, too, but unfortunately had to withdraw and we've been in touch with him around that injury.
'We wish all the GB and NI team all the very best in London.'
Scots selected (with coach name and in alphabetical order):
Andy Butchart (Derek Easton) 5000m
Zoey Clark (Eddie McKenna) 400m and 4 x 400m Relay
Eilidh Doyle (Brian Doyle) 400m Hurdles and 4 x 400m Relay
Callum Hawkins (Robert Hawkins) Marathon
Josh Kerr (Joe Franklin) 1500m
Guy Learmonth (Henry Gray) 800m
Eilish McColgan (Liz Mccolgan-Nuttall) 5000m
Laura Muir (Andy Young) 1500m and 5000m
Chris O'Hare (Terrence Mahon) 1500m
Beth Potter (Mick Woods) 10,000m
Lynsey Sharp (Terrence Mahon) 800m
Steph Twell 5000m (Mick Woods)
Jake Wightman (Geoff Wightman) 1500m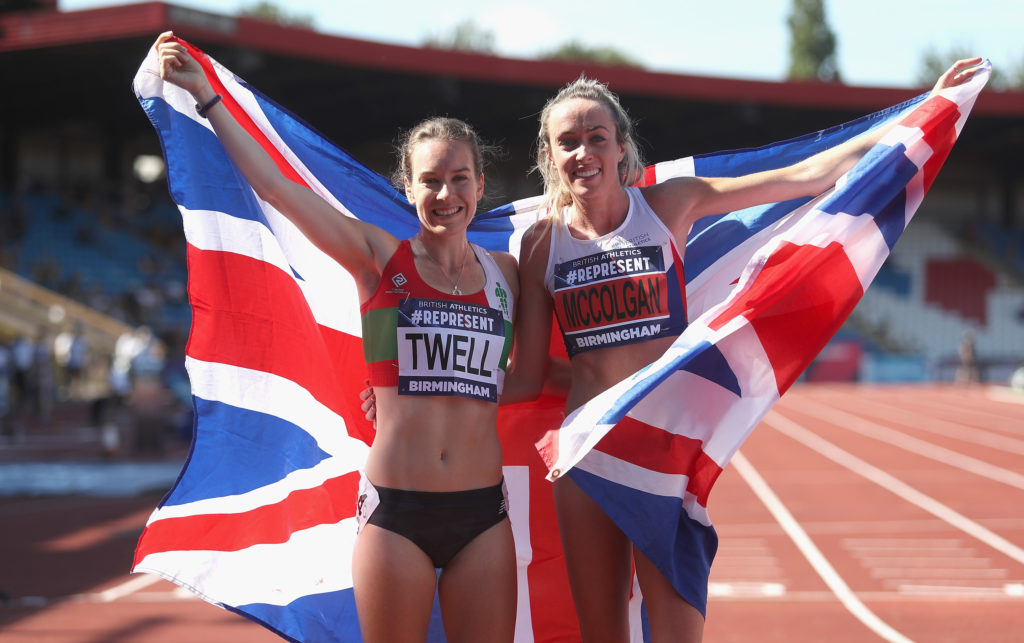 Steph Twell and Eilish McColgan are joined by Laura Muir for the 5000m (photo courtesy of British Athletics/Getty Images)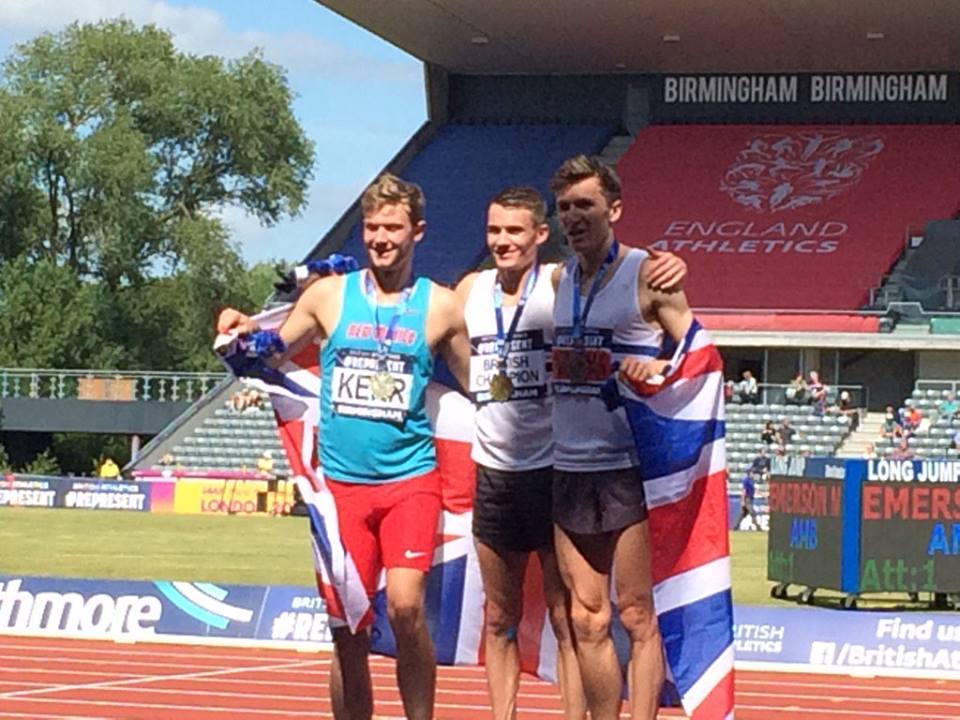 Josh Kerr, Jake Wightman and Chris O'Hare – all named for Men's 1500m (photo by Leslie Roy)
Tags: Andy Butchart, Beth Potter, Callum Hawkins, Chris O'Hare, Eilidh Doyle, Eilish McColgan, Guy Learmonth, Jake Wightman, Josh Kerr, Laura Muir, London 2017, Lynsey Sharp, Rodger Harkins, Steph Twell, World Champs, Zoey Clark