New names on trophies as Corstorphine and Fife celebrate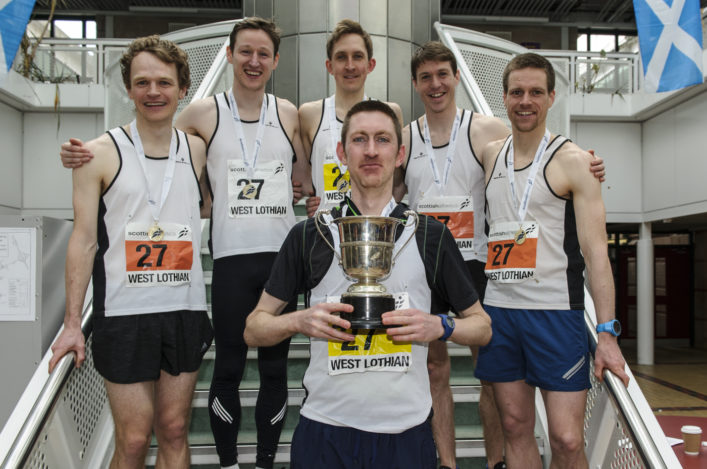 Corstorphine AAC celebrate first-ever National Road Relays success at Senior Men's level (photos by Bobby Gavin)
Provisional Results online on Events page
The National Road Relays at Livingston have become one of the most popular events of the year – and the 2018 edition proved to be a bit special for two clubs.
Corstorphine AAC won the Senior Men's race and Fife AC led home the Senior Women with each victory a first-time success for those clubs after 'knocking on the door' a number of times over the past few years.
A huge turnout of our clubs again emphasised a strong commitment to competition and the decent weather in West Lothian made for good conditions as hundreds tackled long and short legs in the National Road Relays.
Let's start with that superb win for Corstorphine.
The capital club over-turned a healthy advantage for defending champions Central AC early in the race and were in front by the end of the fourth leg following a good run by Dermot Cummins.
Ultimately, it was left to Calum McKenzie to bring it home for Corstorphine on the final leg only 24 hours after he finished seventh at the Home Countries XC in Nottingham. Also in the team were Stuart Livingston, Douglas Selman, James Harrison and Euan Brown as they recorded 2.18.48 with Central at 2.19.55.
'Ever the bridesmaids about covers it but not this time,' smiled CAAC coach and team manager, Moray Anderson.
'It's great to win it and we've a strong group of guys coming through the club at the moment. We've been close before and so often when we thought we might have had the team to do it, you lose one athlete to injury or there is a call-off.
'It arguably wasn't our strongest team today but they all did such a good job. We won the East XC Relays earlier this season, beating Central, and I think when you come to Livingston you have the feeling that if you can finish above Central then you will be pretty close to winning it.
'Now we are going to the English 12-stage Relays again and that's great for experience and improving the depth. Calum McKenzie did well today, after running in Nottingham yesterday, but we left that decision up to him – and he was desperate to run. We've a group now who love the team element and that's helpful for a club.'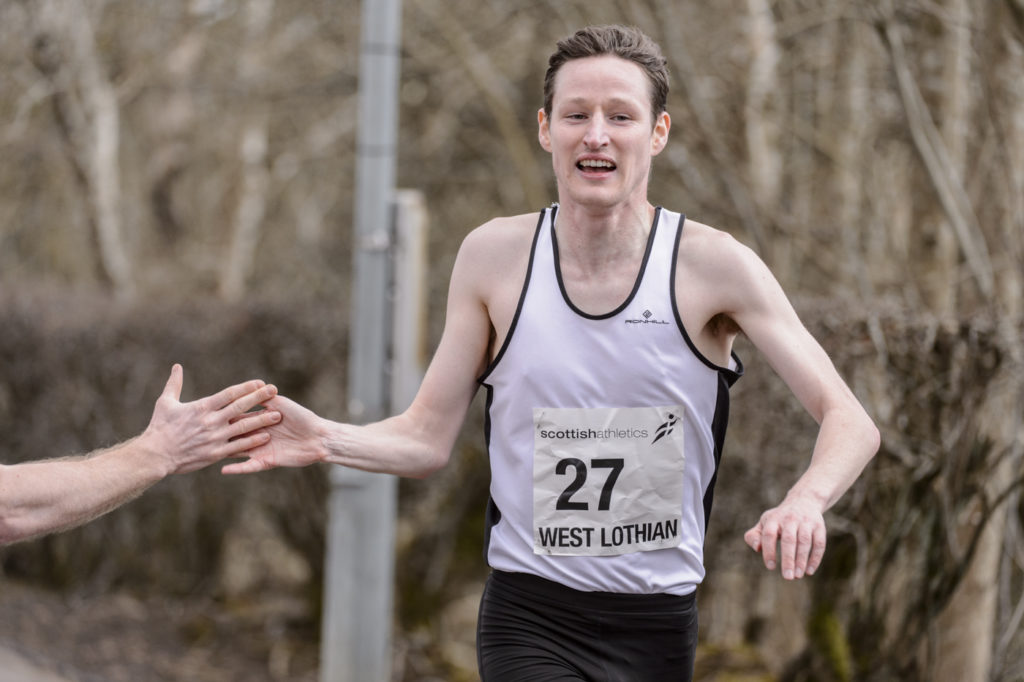 Calum said: 'I wanted to race and I felt okay beforehand. I'd done that previously but that time I didn't get back to Edinburgh until about 2am and this time it was 11pm so managed a decent sleep. The course in Nottingham was hilly but not muddy and it's been an enjoyable weekend.'
Cambuslang Harriers took the V40 Masters title once again as they saw off the challenge of Shettleston Harriers, who finished second, and Cumbernauld AAC. Remarkably, that makes it seven wins in eight years for Cambuslang in the Masters race at this event.
In the M50 race, Metro Aberdeen took the honours this time as they won in 1.48.46 from Cambuslang and Edinburgh AC. Metro had finished second to Cambuslang in 2017.
+++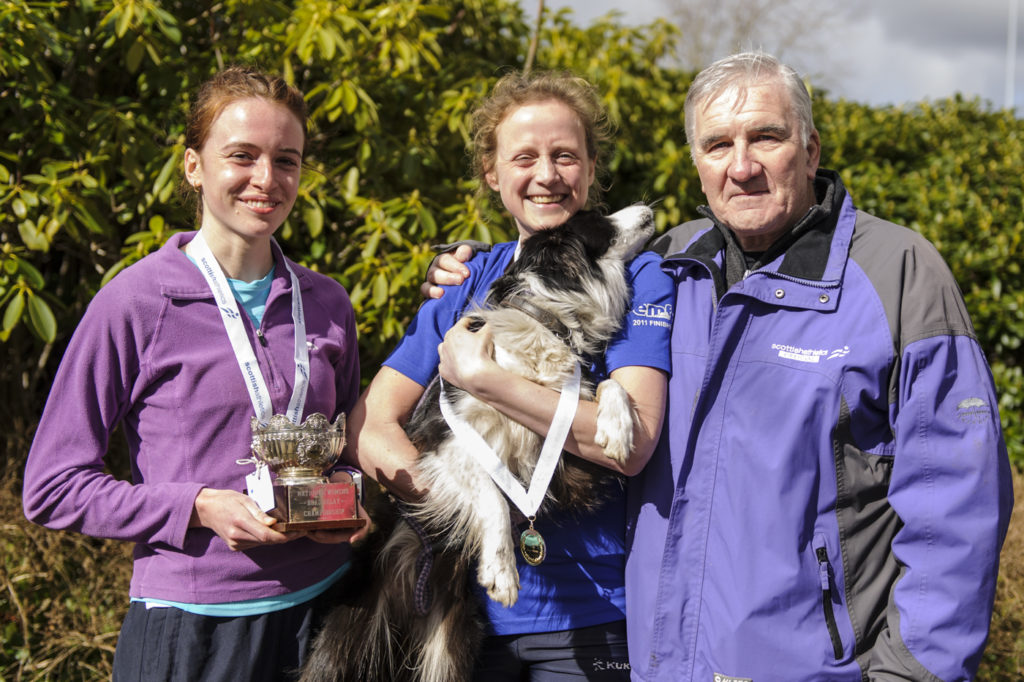 Steph Pennycook and Megan Crawford with Fife AC coach Ron Morrison – other team members were Annabel Simpson and Helen Sharpe
Fife AC took the Women's race Senior gold medals for the first time in history.
Megan Crawford, Annabel Simpson, Helen Sharpe and Steph Pennycook were the Fife AC quartet who came home in a winning time of 1.45.32 and well clear of silver medallists Lothian RC and third-placed Edinburgh Uni Hare and Hounds.
With the likes of Sarah Inglis racing for Lothian and Naomi Lang and Mhairi Maclennan for Edinburgh Uni, there was a chance that that pre-race favourites might slip-up as has happened in the past – but this really was to be their year.
'For years now we have been there or thereabouts at this race and a couple of others so it is great to be National Road Relay champions,' said Megan, with Fife having been second in 2014 and 2015.
'Every year our coach, Ron Morrison, says to us 'is this going to be our year?' but this time it really is our year!
'We're delighted because we have had those second and third places before. It looked a strong team on paper this time but you never know what can happen out there on the course in a road relays event.
'Mind you, we were confident with Annabel and Steph two really good athletes. I was told shortly before I raced: your job today is to make sure you get round.
'I've been running for Fife AC for about 10 years now and it will be good for the club to win this because success breeds success – we do have one or two younger ones coming through and our veteran athletes are also really strong.'
Crawford has a marathon coming up in Manchester next month and it was probably just as well she waited until the golds had been secured to tell coach Morrison that her Saturday training had included a three-hour run . . .
That was actually a bit of a theme with Lang's first leg for Edinburgh Uni giving them a flying start – after her fourth place in Nottingham at the Home Countries the day before. Likewise, Jo Williams in that Lothian team which also saw Siobhan Coleman win a National medal for the first time in nine years.
Gala Harriers won the Women's Masters title once again as they took the golds from Kirkintilloch Olympians as the bronze medals headed for Penicuik Harriers. That was a fifth win in six years for Gala, who had missed out 12 months ago.
In the Women's V50 race, there was a win for Edinburgh AC as Fife AC settled for the silvers there and third went to Kirkintilloch Olympians.
Tags: Corstorphine AAC, Fife AC, Livingston, National Road Relays