Masterful Houston right at home in Johnstone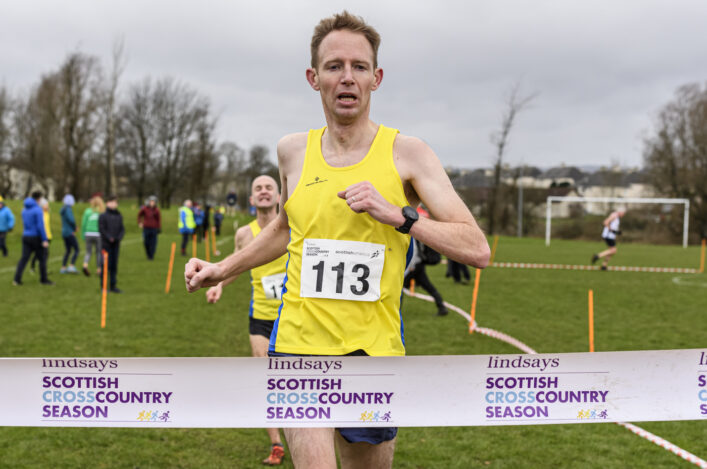 Ross Houston takes gold by a couple of strides from Scott Brember at Johnstone (photos by Bobby Gavin)
Masters CC Champs 2020 Provisional Results
Ross Houston has savoured a couple of great moments when racing in the west of Scotland during a lengthy career.
Eight years ago he featured in a Scotland team led by Derek Hawkins who claimed a memorable and historic victory over England in the Home Countries XC International at Rouken Glen Park, on Glasgow's southside.
Two years later the Central AC stalwart represented Scotland again as the marathon at the Glasgow 2014 Commonwealth Games.
The playing fields of McMaster Community Centre in Johnstone will now have a place in his affections, too, after he claimed a first Lindsays Masters XC gold two months after turning 40.
'It is my first Scottish title in cross country after about 26 years of trying,' grinned Houston, after winning by a single second in 28.05 for the 8k course.
A GB international in ultra running since Glasgow 2014, he had to work for the win in Johnstone almost every stride of the way – after a superb run by Central AC team-mate, Scott Brember.
Brember had to settle for V45 gold in second place with Grant Baillie of East Kilbride, who had been in the leading group of three well into the third and final lap, in third (V40 silver).
Photos on Facebook by Bobby Gavin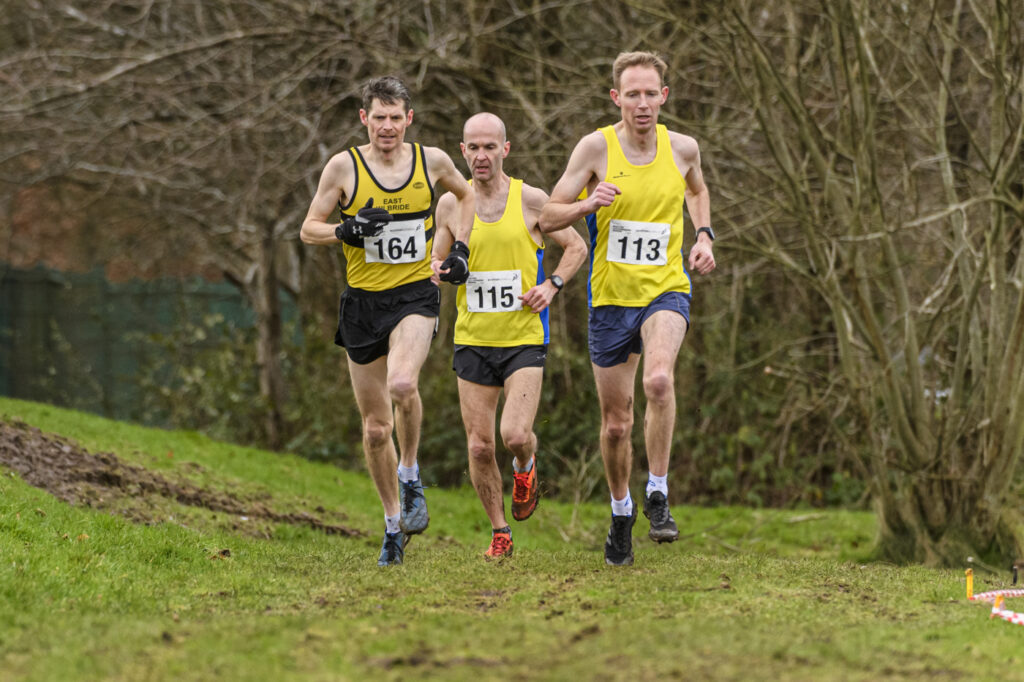 Grant Baillie in the top three with the Central AC duo for long spells of the V40 race
'Scott has pushed me all the way there and Grant had a really good run, too,' said Ross.
'These guys are well used to cross country and to the Masters XC Champs. I've had a couple of years where, while not stopping running altogether, I've been doing other things with the kids and so on and not really racing.
'I came back at the East Champs just a few days after my 40th birthday. There were muddy sections today and twists and turns that made it harder than it looked. And at times you were running into those really strong winds but it developed into a really good race with the three of us clear.
'I am racing at the National XC at Falkirk in a couple of weeks. It's important for Central AC as we chase ten-in-a-row at Senior Men that we maybe have 10 guys really battling for the top six counting places. If I run at my best I might be close to the top six for Central but in some ways I'd hope not.'
Brember had won the V40 race at Hawick last year – the first V45 to do so. He won in a sprint finish on that occasion but Houston just edged ahead of him before the last 400m or so.
'I did manage to get ahead of him coming off the final hill but as we turned round onto the pitch for the last section, Ross got a little bit of a lead,' said Scott.
'He's a very fine athlete and I'll settle for V45 gold. It was an honour to win the overall race last year and second this time.'
Cambuslang dominated the V40 and V45 races as they took places four, five, six and seven in that race just behind the top three – landing team gold thanks to the efforts of Kerry-Liam Wilson, Iain Reid, Ben Hukins and Kenny Campbell.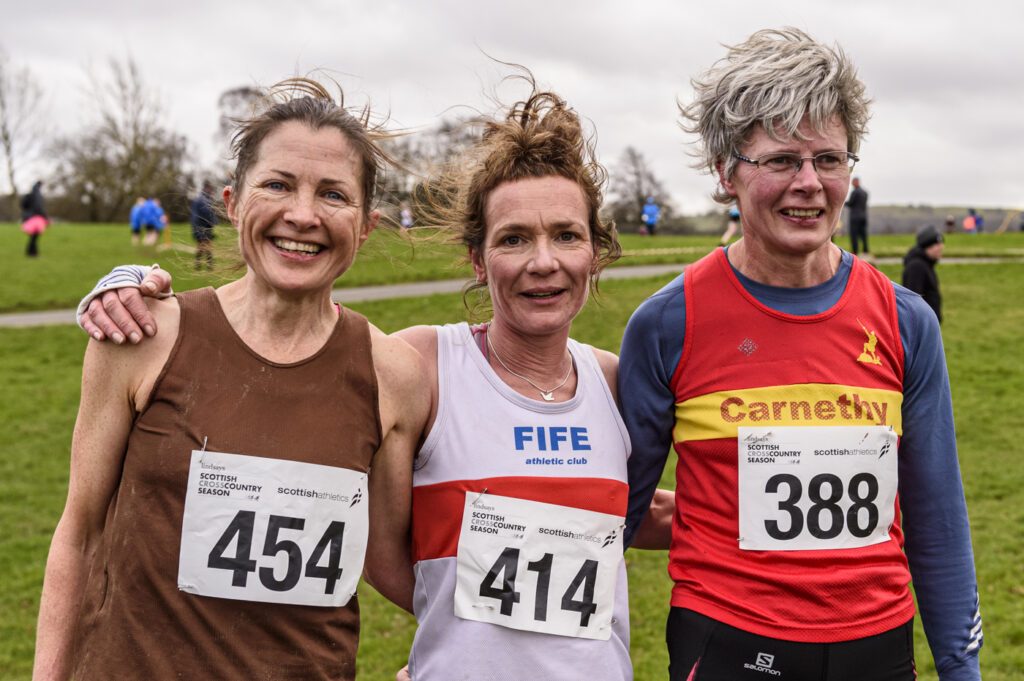 The top three in the Women's V40 race with Heather Anderson joined by Claire Gordon (left) and Angela Mudge (right)
The impeding 'doom' of Storm Ciara, of course, didn't deter hundreds of Masters athletes.
Women's race winner Heather Anderson of Fife AC had to work really hard to hold off the challenge from Angela Mudge of Carnethy in a battle that raged throughout the race.
'The winds were strong and in certain points, running into it was really tough, but I enjoyed it,' said Heather.
'I've come through from St Andrews and there were the weather warnings but it never crossed my mind not to come here. Of course not.
'I am late to racing, only in the last couple of years really, and am more used to hill running. This is me really making a start in terms of cross country but having been on the hills I was well aware of the challenge that Angela would present.'
Mudge took the V45 gold in her first Masters XC race for half a dozen years.
'It might be my first and last, I am just warming up for hill races to come,' she said, with Claire Gordon of Hunters Bog Trotters in third.
Frank Hurley of Cambuslang Harriers won the M65 and above race with the 1-2-3 completed by Tony Martin of Falkland Trail Runners and Andrew McLinden of Hamilton..
There were no fewer than 18 finishers in the M70 race and the beauty of watching these from the side-lines is noticing athletes who are making huge contributions to their clubs and the sport in other roles – like Pat Kelly at Law and District, Des Dickson at Cambuslang, Stuart Irvine at Garscbue and so many others.
*Big thank you once again to our Road Running and Cross Commission and all helpers for making the Lindsays Masters XC happen at Johnstone.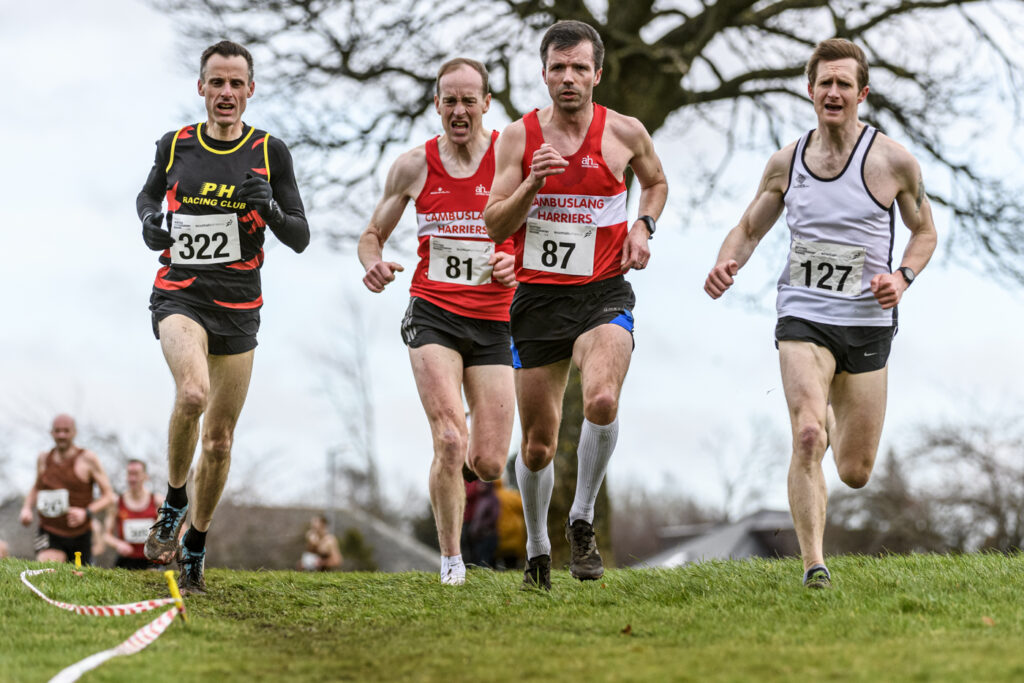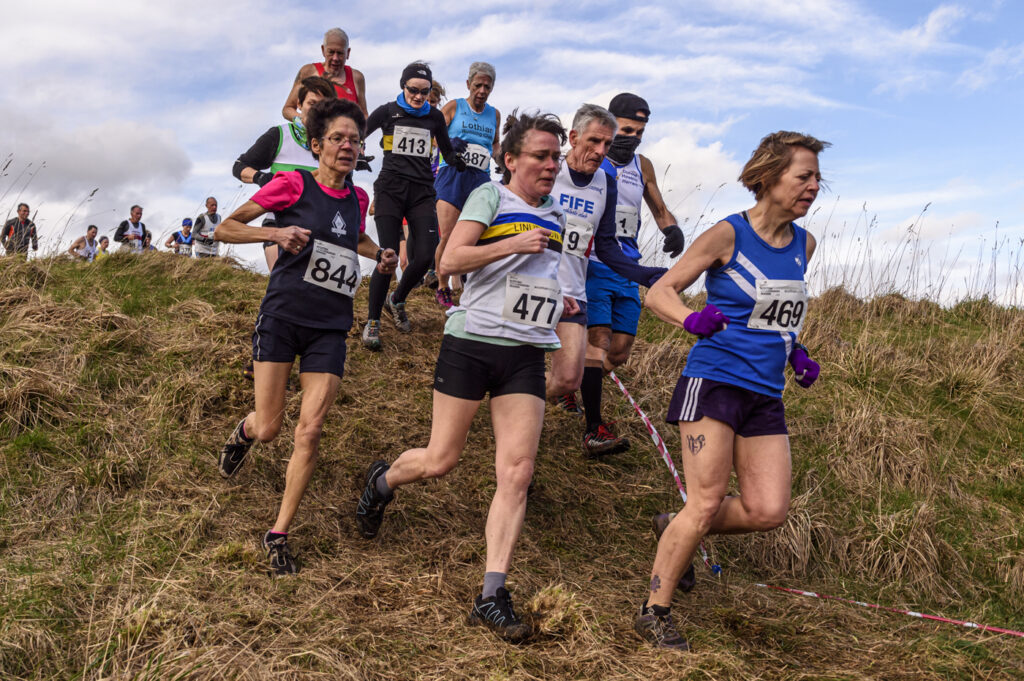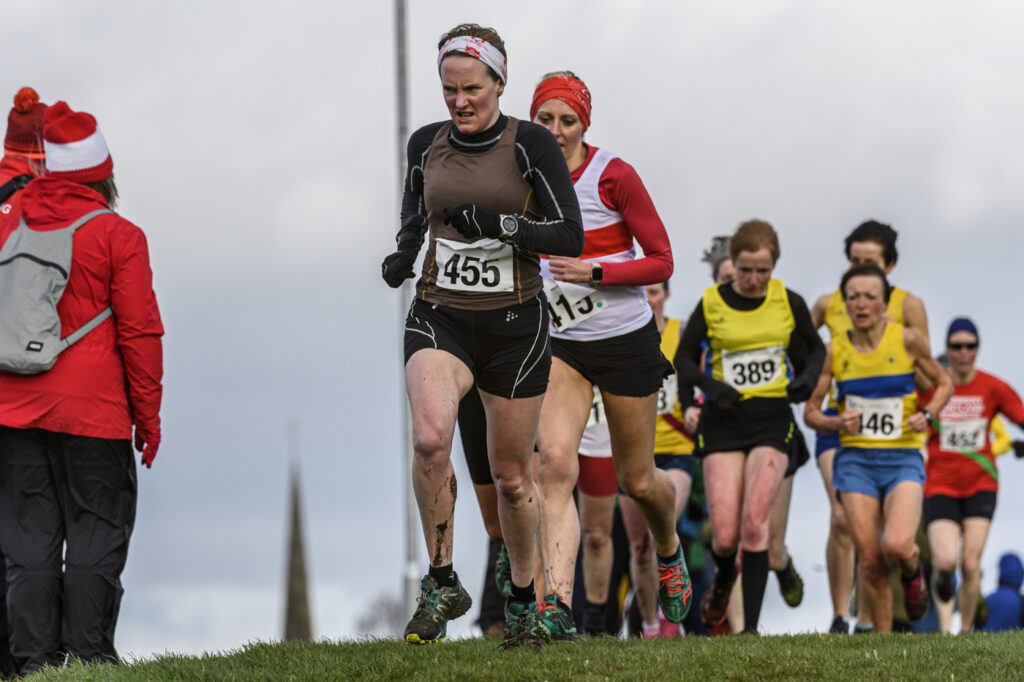 Tags: Johnstone, Lindsays Masters XC, Ross Houston