Manchester International review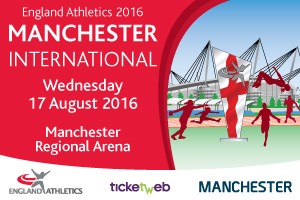 MANCHESTER INTERNATIONAL RESULTS
England Athletics website report
Three individual event wins and a clutch of other good performances were the highlights for Scotland at the first-ever Manchester International match.
And the overall feeling for 25 athletes was an appreciation that another international opportunity in track and field has emerged – with the event itself feeling worthy of support in its pilot year.
Indeed, with 15 Scots in Rio at the Olympics, 25 representing Scotland and five wearing GB Juniors vests at the Mnachester International, and six road runners headed for Dublin 10-Mile race this weekend, there's pretty clear evidence of the 'performance pathway' endorsed by scottishathletics in operation.
England won the event with a UK BAL combined team second and GB Juniors third. Scotland were fifth with seven teams competing in all.
Allan Smith, Kirsty Yates and Ben Greenwood were the winners on a night when the likes of Rachel Hunter, Greg Millar  and Chuxx Onyia took second places – as well as the Sotland 4 x 400m Men, who ran well to challenge winners England all the way.
Greenwood was one of the most impressive Scots on the night, beating three athletes with faster PBs in an 800m which he dominated from start to finish. Ben won it in 1.50.39 and savoured beating English champion, Max Wharton, among others.
'I am really pleased with that and it was good to win it for Scotland,' he said.
'I went to Loughborough and was a bit nervous. So this time I just tried to keep a clear head and then the race-plan was to make sure I was in a position to cover anything.
'I was challenged on the back straight in the second lap but I made sure I had my shoulder in front and I managed to stretch it a little before the finish.
'It's a decent event for a first time. When we first saw it mentioned on the scottishathletics website we made it a target because I was already hoping to win the Scottish Seniors – and that gets the pick. I thought it would be like a BMC but the atmosphere was quite good and hopefully Scotland can come back again.'
There was a win for Scotland in the Men's High Jump. Allan Smith had taken the Scottish title at the weekend with 2.20m and he followed that up with a 2.18m clearance in Manchester to take full points.
Nick Percy has won all sorts of competitions during a long season but had to settle for third in the discus here with 57.59m.
Hunter and Millar took second places in their throws events – Hunter finishing behind Commonwealth champion Sultana Frizell for the second time in a matter of days, while Millar threw 66.31m in the javelin. There was a third place for Caroline Adams with 3.60m in the pole vault and third for Heather Paton in the sprint hurdles with 13.79.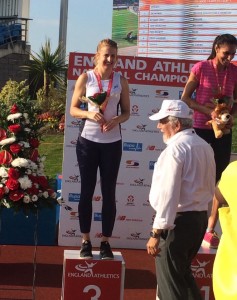 Avril Jackson on the podium – photo via Claire Thompson
The Women's shot saw  Yates take the win with 14.56m with the Scottish champion pulling that off despite currently not having any training behind her. Mhairi Hendry took a third place in the Women's 800m, Avril Jackson third in the 400m Hurdles and Greg Louden was fourth at 400m.
With five young Scots in the GB Juniors selection there were split resources and it was a night when Erin Wallace, Alisha Rees, Jenna Wrisberg, Jill Cherry and Holly McArthur all wore the British vest.
Wallace savoured a fine performance in the Women's Mile race as she finished in fourth place.
'I have never run the mile before and I quite enjoyed it,' said Erin, who clocked 4.47. 29 and was close to third on the night with a strong finish.
'I have a habit of going out too fast so I really had to tell myself to try and not do that today – especially when it was pretty warm.
'I think that helped because I did manage to kick on a bit from the bell. I am pleased with the time and that sets me up for the 1500m at the England Athletics U17s in Bedford.
'It was warm here but not as hot as it was in Hungary for the European Youths. I was totally exhausted that day but pleased to get the bronze medal on the day. Representing GB Juniors there and here has been great for me.'
Rees took third place in the 100m with 11.79, with Scotland Chloe Lambert fourth in 12.28.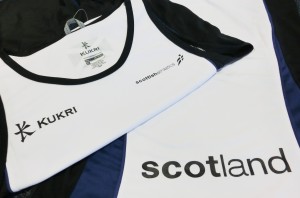 Matthew White finished fourth in the Men's Mile after his 1500m title win at Grangemouth.
'I enjoyed it last weekend and it was good to win the Scottish title,' said Matthew.
'I was fourth a few years ago at Scotstoun when Kris Gauson came through and beat Andrew Butchart. He's an inspiration to others in many ways, look at what he is doing now.
'I think he shows the benefit of hard work and also, perhaps, being able to commit a fair bit of time to his athletics. I think even before he was a full-time athlete, he had a favourable job in terms of that for training and for recovery. But it shows you what can be done.'
The Scotland 4 x 400m Men's team featured in the final event of the evening – and they came up with  thanks to the efforts of Anthony Young, Greg Louden, Grant Plenderleith and Pat Swan.
And they did really well to land a second place behind England, albeit after the GB Juniors fouled up by failing to break at the right time on the second leg.
Tags: Allan Smith, Ben Greenwood, Kirsty Yates, Manchester International, Scotland, Sport City