Magnificent Maria lands double gold in Dubai !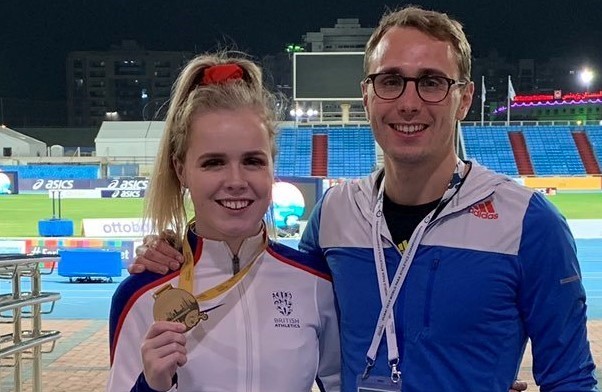 Medal moment for Maria Lyle in Dubai with coach Jamie Bowie (photo via Twitter)
BBC Scotland Sport website coverage
Scotland's Maria Lyle was on top of the World in Dubai on Thursday evening.
The talented teenager from Dunbar made it a superb double gold as she followed up her T35 100m win at the World Para Athletics Champs with success in the 200m event.
Maria, who has struggled with depression and anxiety over the past couple of years, put those challenges firmly behind her to become a double world champion.
Many congratulations to the Team East Lothian athlete, her family, coach Jamie Bowie and the British Athletics support team out in Dubai.
As Maria celebrated, Fife AC's Owen Miller made a fine debut at this level with a solid sixth place finish in the T20 Men's 1500m final while Libby Clegg had time to reflect on her remarkable return to the international stage after reaching the T11 100m semi-finals in Dubai before a DQ decision
'I don't think it's really sunk in yet,' said Maria, who won the 200m in 30.33 after claiming 100m gold last Sunday.
'I think it shows how far I have come from last year when I was depressed and suffering with lots of anxiety. I now enjoy life and enjoy training and racing. So, from that perspective, it's a really good achievement for me.
'The main focus of the 2019 was to get to the world championships, not about medals, so to do that and get two gold medals is the icing on the cake.
'I'm so pleased to win my second gold and put together a good performance. I got out well and just tried not to tense and stay relaxed. I find the 200m a lot harder with my CP. I got to the line well and ran a good time.'
+++
Not long after Maria's second gold, Fife AC's Owen made his debut at the World Para Athletics Champs in the T20 1500m final.
Owen, who is coached by Steve Doig, has experience of INAS competition but he acquitted himself very well on the global stage with a sixth place finish in a run of 3:59.87.
It had been tight race up to the bell with almost the whole field bunched and, when it began to stretch out, Owen sis well to get himself in the medal mix in terms of a possible bronze with around 200m to go before gaps opened up among all of the top six.
+++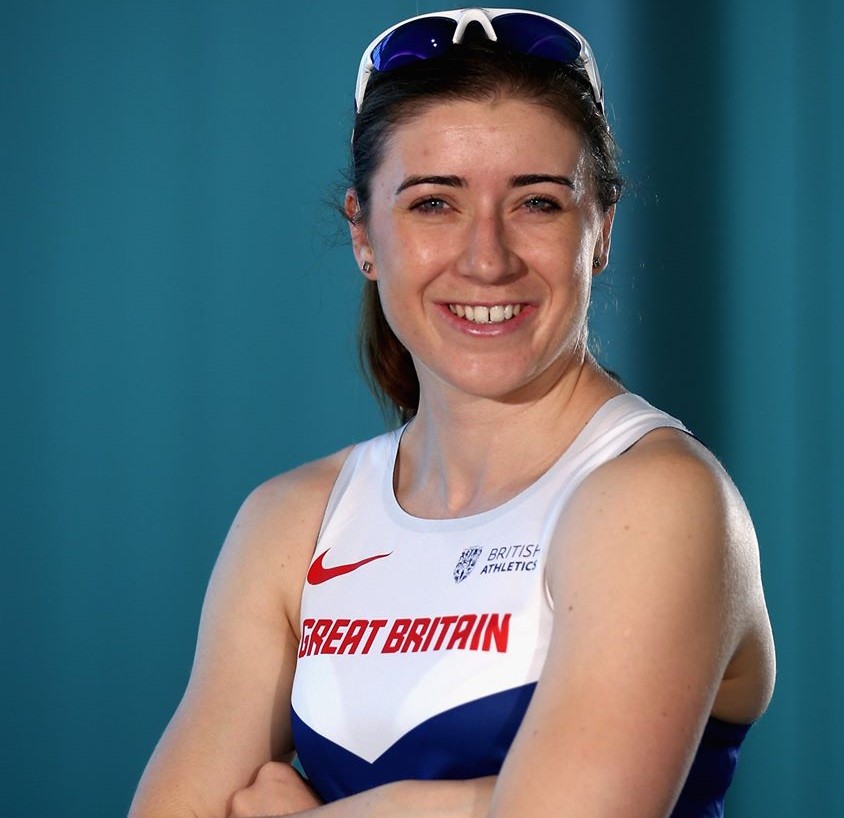 On Wednesday, only seven months after giving birth, Libby Clegg and her guide Tom Somers competed in the T11 semi-finals during the morning session. However, they were unfortunately disqualified under the rule prohibiting the guide runners from 'pushing, pulling or otherwise propelling' their athlete after the bend.
Libby had returned to the track after qualifying for the semi-finals on Tuesday evening where she clocked 26.69, with a Season's Best performance.
After racing in a British vest since for the first time since winning double gold at the Paralympics in Rio, Clegg reflected: 'I had a really good bend but then I didn't come off it properly and went too early, went wide and it threw us out of sync a bit.
'It's about our third race this year but I can't complain I'm really happy.
'Getting back on the track is a huge achievement after having my little boy seven months ago today and I've been through a lot over the last three years and to be honest, after Rio I didn't know whether I'd even be able to make it this long so I'm really happy and it gives me more determination to come back next year and beat them.'
+++
Tags: Dubai, Jamie Bowie, Joe McDonnell, Libby Clegg, Maria Lyle, Owen Miller, Steve Doig, World Para Athletics Champs