Joy for Janice, Lynsey and Cameron
Inverclyde AC's Janice Hendrie with BBC Scotland Unsung Hero award for 2013
The New Year Honours List brought a richly-deserved success for one of the best-known figures in the athletics community in Scotland.
Janice Hendrie epitomises the volunteer coaching ideal and has been a stalwart of the sport for a number of years with Inverclyde AC and the Scottish Schools AA.
And a British Empire Medal award was particularly special for Janice with her father, James Owens, to receive the same honour for services to badminton in the west of Scotland down the decades – he is now 89.
Janice began teaching in 1977 and, first with Spango Valley and then Inverclyde AC, has coached 'thousands' of young athletes in that part of Scotland. The B.E.M citation aptly read 'for services to sport and wellbeing in Inverclyde'.
'There's definitely a wee glow inside but you don't do something you love for all these years in order to win awards,' Janice told scottishathletics.org.uk early on Hogmanay.
'So I am indebted really to the person who nominated me – I have my suspicions as to the identity! Seriously, I am chuffed to bits and for my dad to get a B.E.M medal as well makes it even more special.
'I guess I've helped coach thousands of athletes down the years and, with the young kids, it's great to see them do things with their lives later on. It is not always in athletics, of course, but it still nice to hear how they are doing or meet them.
'There's a lot happening with the club at the moment and in the wider sports community in Inverclyde. I love doing what I am doing in terms of coaching and that doesn't change.
'My dad, who was a coach, referee and administrator in badminton, always told me 'if you have a chance to do something, go and do it and do it as well as you can'.'
With the B.E.M award, the presentation is expected to be local (rather than in London) but does include a garden party invitation.
'So I will have the chance to wear a hat but I won't be wearing the (Inverclyde AC mascot) Zebra suit which one or two people may have seen me in,' laughed Janice.
* With the Awards season at the end of the year in full flow, there was another significant accolade for Lynsey Sharp.
After picking up the scottishathletics Commonwealth Athlete of the Year title for 2014 and a 'Best Moment' award for the Commonwealth Games from sportscotland, there was further recognition as Lynsey topped the STV 'Scottish Sports Personality of the Year' poll.
It was a fine success for Lynsey with swimmer Erraid Davis taking second place and Commonwealth bronze medallist Mark Dry landing third place. The hammer thrower edged out boxer Charlie Flynn.
There's more on the STV website.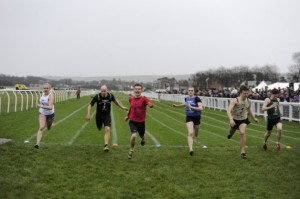 Tindle wins at Musselburgh – picture via the Scotsman
*Edinburgh AC's Cameron Tindle became the fourth 16-year-old to win the annual New Year Sprint at Musselburgh Racecourse on January 1.
The favourite after winning his semi-final, the Berwick Academy youngsters clinched victory after a photo finish.
Tindle will add the £4000 first prize from the 145-year-old famous event to a Trust Fund set up for his substantial training and competition expenses.
Read more via Sandy Sutherland's report on the Scotsman website.
*Andy Douglas (Inverclyde AC) and Shona McIntosh (HBT) were the winners of the Portobello Promothon. All the results are online on our Events page.
Tags: Cameron Tindle, Janice Hendrie, Lynsey Sharp, Mark Dry