Guy upbeat for hectic 2022 and Alisha looks long-term, too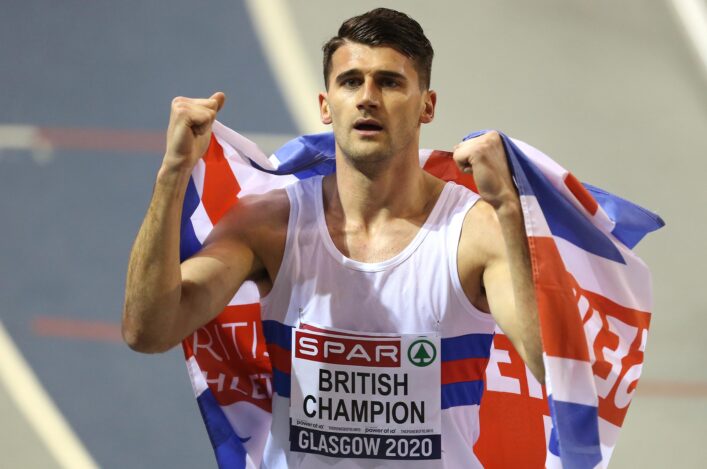 Guy celebrates his 800m title win at the SPAR British Champs at the Emirates Arena in February (photo British Athletics/Getty Images)
World Champs moved to 2022 – Athletics Weekly
British Indoor 800m champion Guy Learmonth is taking a typically upbeat approach as global athletics sets out a packed agenda for the next two years.
With the Olympics moved to the summer of 2021, the World Champs for that year were then rescheduled for 12 months later.
It means there will now be three major events for elite Scots to aim for in the summer of 2022 with dates now confirmed as follows:
*World Athletics Championships, Oregon – July 15-24
*Commonwealth Games, Birmingham – July 27-August 7
*Multi-sport European Championships, Munich – August 11-21
Far from picking holes in a packed schedule, however, Guy prefers to see the next two years as offering a moment of opportunity for those willing to dream big.
'Of course it will be chaotic – it is a truly hectic programme – but let's be optimistic and positive about the whole thing,' he said in an interview with the Herald.
'It is going to be an almighty task having three major championship events staged in a six-week period and hugely difficult to do all three. And, yes, there will be jet-lag and other demands and considerations.
'For the likes of myself at 800m, it could mean nine rounds of racing if you were to reach three finals. But I am up for the challenge! I always feel you have to try and embrace things.
'It is a motivation in itself. How do we try and get that right? I never want to go to a championship just to get a tracksuit.
'Some people won't be able to do three physically and mentally it will be draining. But I want to have a crack at it.
'The world isn't perfect at the moment and things are having to be rejigged and rescheduled. We've not got perfect outcomes but this may be the closest to it.'
+++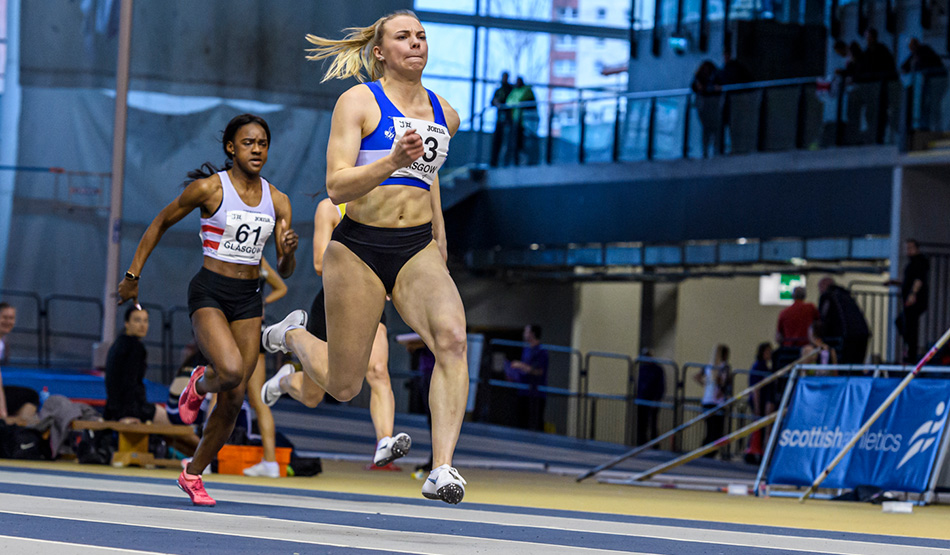 Alisha Rees had a fine indoor season, setting a new Scottish Record over 60m at the 4J Studios Seniors at the Emirates Arena (photo by Bobby Gavin)
Alisha Rees is looking long-term in her athletics while trying to maintain short-term focus during lockdown training.
The Loughborough-based student is back home in Torphins, near Aberdeen, and the Banchory and Stonehaven AC athlete is using some local 'facilities' to continue her fitness programme.
But Alisha is already thinking any 2020 track and field season will only really be part of the building blocks for the years ahead.
'It is such a weird situation but I will keep training as well as I can so that I have a decent base for when we move into 2021,' Alisha told the Press and Journal.
'The British and European Champs are still on at this moment in time in August and then you have the Scottish Senior Champs scheduled for September.
'It would be good to get one or two competitions in before the end of the summer to at least get a benchmark of where I am at.
'I would not be expecting big things – I would see it as a stepping stone for the following year.'
With thanks to Graeme Macpherson (the Herald) and Fraser Clyne (Press and Journal)
Tags: Alisha Rees, Birmingham, Commonwealth Games 2022, Guy Learmonth, Munich, Oregon, World Champs 2022