Great weekend for Scottish athletes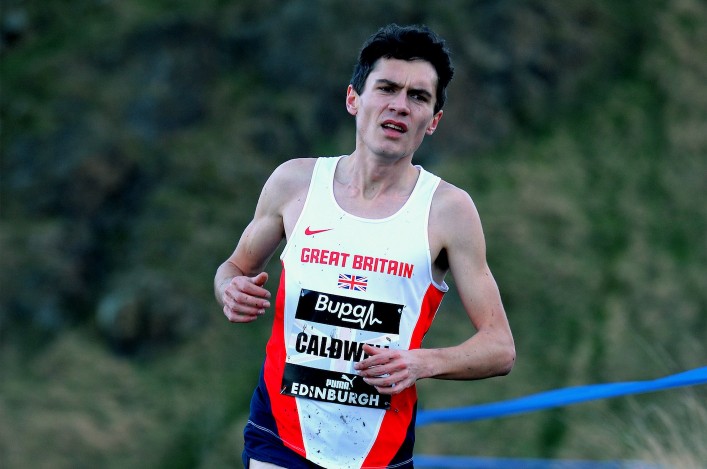 Luke Caldwell is the latest Scottish athlete starting to dream of Hampden after a fine 5000m run at the Mount Sac Relays.
And Emily Dudgeon and Angus McInroy, after each posting their first Commonwealth Games standard of the required two, are new names of the ever-lengthening list of Team Scotland contenders.
Adding to the feelgood factor coursing through the sport in Scotland was a welcome return to action for Lynsey Sharp in a 4 x 400m event in Florida.
From the Mount Sac Relays in Walnut on the west coast of America to the Men's League at Grangemouth and the Women's League at Aberdeen, it was a pretty good weekend for a number of Scottish athletes.
As well as the three mentioned, there were qualifying standard 'near misses' by the likes of Matt Gillespie at 10,000m, Sarah Benson in the 3000m steeplechase, Ross Matheson in the 1500m and Steve Lisgo in the 3000m steeplechase.
Gregor Maclean, who already has a string of pole vault performances which meet the standard, was at 5.25m at Mount Sac.
Just as impressive, arguably, were a number of performances by athletes already named in Team Scotland for Glasgow 2014. Mark Dry's 72.12m hammer throw leads the British rankings for 2014 while high jumper Emma Nuttall cleared 1.80m and Nick Percy reached 58.00m in discus. Jax Thoirs, also already selected, reached 5.35m in the pole vault. Rachael Mackenzie pushed her PB up to 1.81m in Aberdeen.
Caldwell already had one 5000m standard before his appearance in Walnut and added to that with 13.33.28.
The University of New Mexico student recently had his eligibility cleared ñ his parents are Scottish ñ and with no other Scot yet at the 5000m mark, another event will be covered in the team (subject to ratification).
'Not quite what I was looking for but pleased to have ticked off qualifiers for Commonwealth Games and European Championships,' tweeted Luke.
Dudgeon's run of 2.02.67 to win her 800m race was another Mount Sac highlight. That was a good run by Emily and inside the 2.02.80 qualifying standard that has already been met by Laura Muir and Lynsey Sharp (once).
The Edinburgh AC athlete was delighted and said afterwards: 'I want to thank my parents and my coach for their efforts in making this trip to America possible. And I appreciate the support from scottishathletics and Team Sports Aid and the Robertson Trust.'
Meanwhile, back in Scotland, Angus McInroy has been searching for form and posted his first discus qualifier with a throw of 56.16m at the Men's League event at Grangemouth.
With Percy at 58.00m for a new PB at Mount Sac, following recent good performances by the likes of Rachel Hunter and Kirsty Law, the throwers are stepping up!
Benson's new PB of 10.00.74 could scarcely have been closer to the 10.00 required for 3000m s/c while Lisgo was 91 seconds outside the 8.40 required for men.
Jo Moultrie, who has one 1500m standard, was at 4.12.33 while Matheson's new PB of 3.43.27 is 'getting in the ballpark'. Unfortunately, Andrew Butchart was at 3.49 while Kris Gauson failed to finish.
In Boston, Chris O'Hare made his first appearance as a professional athlete for Adidas. Chris ran in a Mile event and clocked 4.13.
Matheson's run was at the Brian Clay Invitational and Calum Innes and Hazel Ross were also on form there with 2014 Scottish rankings lead performances with 14.59 and 14.13 sprint hurdles runs respectively.
Tags: