'It's a great era for our 1500m men' – Frank Clement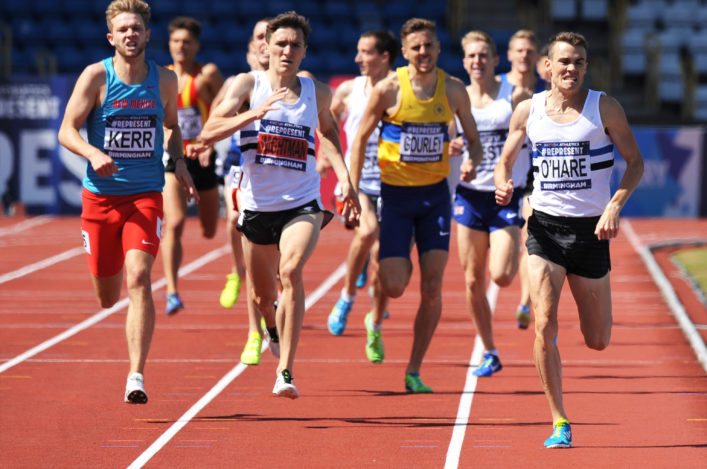 Scotland 1-2-3-4 last year in the men's 1500m in Birmingham – photo by Mark Shearman
It was one of the best moments of the British Championships and London 2017 Trials in Birmingham 12 months ago – and certainly from a Scottish perspective.
The men's 1500m final captured attention and the 1-2-3-4 finish for Scots helped propel Chris O'Hare, Josh Kerr and Jake Wightman into the GB and NI team for the World Champs, with Neil Gourley having run them very close.
All four will be back at the Alexander Stadium this weekend and Jamie Williamson is another Scot with high hopes after a 3.41 PB a few weeks ago at Loughborough.
It may be too much to expect a clean-sweep repeat – with England's Charlie Da'Vall Grice bound to have eyes on making amends and reaching Berlin, too.
But what is not in dispute is that Scottish 1500m running is in a good place – with the women's British rankings seeing high places for Laura Muir, Eilish McColgan, Steph Twell and Jemma Reekie – as Olympian Frank Clement confirmed in conversation with scottishathletics.
Frank, still involved in the sport via the Linlithgow 10K, believes the Class of 2018 will benefit from competing with each other.
'There's no doubt at all it is a great era for our men in the 1500m,' said Frank.
'To have four or five guys so high in the British rankings reflects well on them as individuals and on the sport.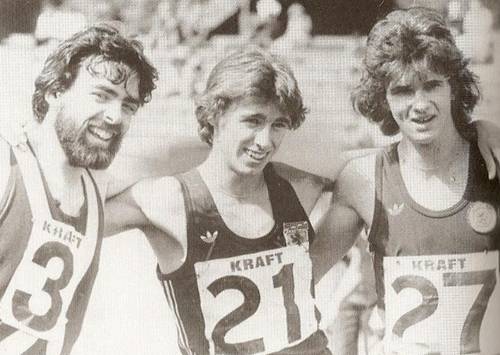 Top trio – Clement, Robson and Williamson back in the day (photo via Scottish distance running history website)
'Josh Kerr has shown great form in America in the past couple of years, Jake Wightman's double bid at the Commonwealths was very good and Chris O'Hare proved in Oslo the other week he is ready to bounce back again.
'All of them are under 3.36 for this year already and people maybe have to appreciate that's pretty fast. It could be that one of them will have to post 3.33 or 3.34 to top the Scottish rankings for 2018 – it will be fascinating to watch that later this year, never mind what happens in terms of the selection for GB for the Euros in Berlin.
'I look at what they are doing and feel they are all pushing each other on and getting competitive.
'That's what happened with myself, John Robson and Graham Williamson. Back in 1978, Team Scotland picked John and myself for the Commonwealths in Canada but left out Graham even though he had a strong claim.
'It was actually down to team-size and other sports and so on – maybe they thought someone else in another sport was a strong medal prospect. I don't know but it wasn't a decision by  the athletics federation.
'John and I went out to Edmonton and we finished third and fourth in the 1500m final. When we came back to Scotland, Graham promptly beat us!
'So that's the kind of thing I think is happening and of course you have Neil Gourley and Jamie Williamson, Graham's son, knocking on the door now, as well.
'The other thing I would hope is that they don't get scared or anxious about racing each other. I think head-to-head meetings will bring the best out of them. It became very rare for Seb Coe and Steve Ovett to race each other and that was a pity.
'These Scottish guys have to race each other in Birmingham and that should be good for them and also for the sport because I think it will be a great spectacle.'
+++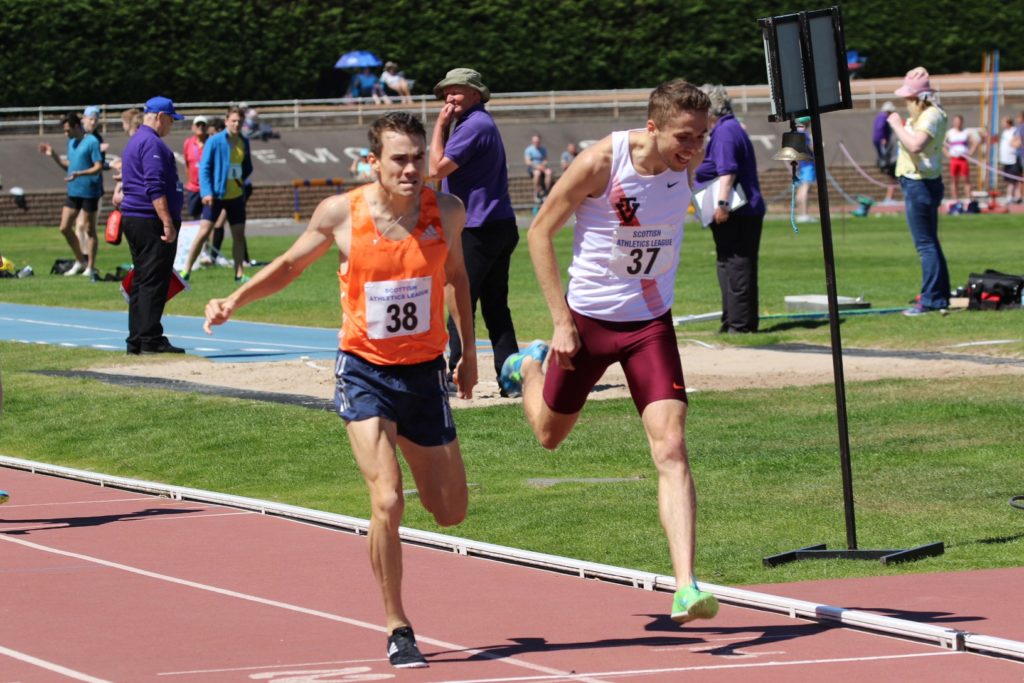 Tight finish – as O'Hare pips Gourley over 800m at Grangemouth (photo by Alex Barr)
Chris O'Hare is hoping for another Scottish 1-2-3 in the men's 1500 at the British Champs and European Trials in Birmingham this weekend.
But he knows there are no guarantees as Britain's best chase places in the GB and NI team for Berlin.
Edinburgh AC trio O'Hare, Josh Kerr and Jake Wightman took all the medals at the Alexander Stadium last year and were all duly selected for the London 2017 World Champs. Neil Gourley was fourth – and only lost out by two hundredths to O'Hare in a specially-arranged 800m 'warm-up' at Grangemouth on Sunday.
'I'm ready now to go again next week and the good thing is I am definitely in much better shape than I was in Australia for the Commonwealths,' said Chris.
'It is going to be very exciting, that is for sure, and I'd love to see another 1-2-3 for Scots – or even a 1-2-3-4 like last year. Charlie (DA'Vall Grice) is in better form than a year ago, though, so that's a big danger and there will be others.
'You just don't know how it can pan out but I suppose the good thing is it prepares those selected for Berlin itself.'
O'Hare clocked 1.48.35 on Sunday at Grangemouth with Gourley at 1.48.37 with two of the quickest 800m times by Scots in in Scotland for a number of years.
'It was a good race and a good test,' said Chris, who closed a gap in the final 100m for a Season Best run.
'I had to work really hard to get back at Neil and I wanted it as competitive as that – because that's the ideal preparation for next week. The time isn't significant but it was decent on the day because it was pretty windy on the back straight in particular.'
Video by John Elliott
Tags: Birmingham, Chris O'Hare, Eilish McColgan, Frank Clement, Jake Wightman, Jemma Reekie, Josh Kerr, Laura Muir, Neil Gourley, Steph Twell