Golds and World Records for Kayleigh and Gavin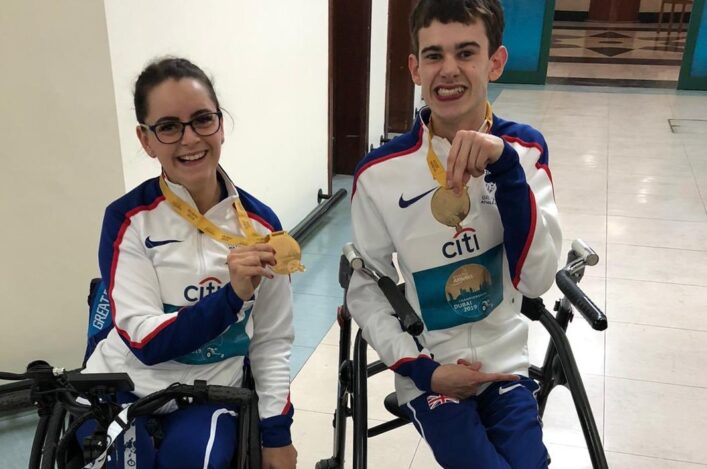 Medal joy for Kayleigh and Gavin in Dubai (photo via Twitter)
British Athletics website coverage
There was a tremendous double gold and two new World Records for Scottish RaceRunners Kayleigh Haggo and Gavin Drysdale at the World Para Athletics Champs in Dubai.
In the historic races – the first time RaceRunning has been incorporated into an IPC World Champs – Kayleigh set the pace in her 100m RR3 final with a new World Record of 18.32, leading the race from the start but holding on by just a hair's breadth to finish 0.55s ahead of second-placed GB team mate Ellie Simpson.

That was followed moments later by a commanding win from Gavin in his race – also an 100m RR3 final – with a 16.72 World Record.

Gavin (pictured left with teammate Rafi Solaiman) dedicated the win to the pair's late coach, Janice Eaglesham: "Wow, I cannot believe it. I knew I would probably have to break the world record to win it. I want to dedicate this gold medal to my late coach, Janice Eaglesham. She would have been so proud.

"It is absolutely amazing to have race running in the world championships for the first time. It gives the opportunity for people like me to compete at the highest level. I remember watching London two years ago wishing I could compete, so to be here two years later is a bit surreal.

"Being here in Dubai is amazing. I have loved being part of the GB team again. When I went to Berlin (for the Europeans) last year it was so much bigger than I was used to but this has been on another level."

Kayleigh, who graduated  from university in sports coaching the day before flying out to Dubai, said: "I'm so happy, to come away with gold at the world championships, I can't believe it. I've got a personal best and a world record so I can't ask for anything more than that.

"My start wasn't very good so after that I just had to run fast and put my head down. To represent Great Britain is amazing and to represent them and do well is a great honour and to win that for my friends and family, I don't know what to say.

"I've done a few fast times this year and knew I could do a world record, it was all about just going and doing it on the day."

Congratulations to both athletes, all at Red Star AC – and particularly coach Ian Mirfin – and the athletes' families and supporters. Particular recognition is, of course, due to the late Janice Eaglesham, who coached the pair until she passed away earlier this year, and did so much to put the sport of RaceRunning onto the world stage.
Watch both races:
Tags: Dubai 2019, Gavin Drysdale, Ian Mirfin, IPC World Champs, Kayleigh Haggo, Red Star AC, World Para Champs