Gold Coast 2018 . . . diary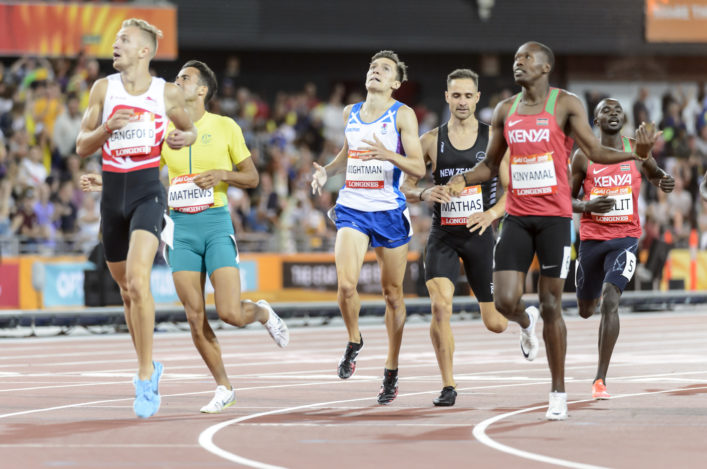 Frustration for Jake Wightman as he loses out on bronze in the 800m to Aussie athlete Luke Mathews
From Peter Jardine in Gold Coast, April 14
Photos from Bobby Gavin
Aussie Rules. Not so much a sport in itself over here but more of a comment on what feels like yellow and green domination of track and field at Gold Coast 2018.
Is there such a thing as home advantage? It certainly feels like it in the Carrara Stadium where the Australian National Anthem seems to be on repeat on the play-list.
High jumper Brandon Starc was a perfect example as he took gold in a thrilling competition the other night amid an electric atmosphere around the stadium.
Every time Starc soared over the bar the roof was raised in terms of the noise levels and it honestly began to feel as if the crowd were carrying him to new heights. As it transpired, after three men had cleared 2.30m, the local hero came up with a PB of 2.32.
Other Aussie success stories abound and arguably Scotland fell victim to it in the men's 800m final – as Aussie Luke Mathews arrived late like a runaway train to deny Jake Wightman a bronze medal (see our main picture, by Bobby Gavin).
Beyond the Australia National Track and Field Champs – sorry, the Commonwealth Games athletics programme – there are great stories emerging in other sports, too.
What about the Aussie gold medal cyclist, Kat Garfoot, who won the Women's 25.5k tiume trial.
A teacher in Gold Coast, Garfoot is 36 and only bought her first bike 10 years ago on Gumtree from 300 Aussie dollars (about £170). Dropped by her professional team earlier this year, she had to borrow a bike from them for the Commonwealth race.
To say all of this is being met with a fair degree of local enthusiasm is an understatement.
The Gold Coast Bulletin newspaper fervently reported the other day how, if the city was a country in itself, they would be (at that time)  fourth in the medal table with no fewer than 10 golds. Safe to say, the climate and expansive facilities do help regardless of familiarity of venue/conditions and home support while in competition.
+++
Bolt with Thor actor Chris Hemsworth at the Carrara Stadium
Sin City is the place to be, it would seem. Usain Bolt seems to think so because the (former) athletics superstar headed to the Gold Coast Surfers Paradise nightclub not too long after arriving off a flight into Australia.
Bolt did a DJ set at 3am as is now his wont and only took up some official ambassadorial duties.
Around the same time, at the same venue, a former Glasgow 2014 boxing medallist – now leaving in Australia and not connected to the 2018 version of Team Scotland – was at the centre of allegations of glassing and fighting.
It made for TV headlines on the local channel 7 News only a couple of days after a member of Team Northern Ireland's boxing squad was embroiled in allegations at the same venue.
Tennis 'brat' Bernard Tomic is said to be a regular at the club as well as visiting celebs like Bolt and Justin Bieber. Australia's Commonwealth Games Minister, Kate Jones, seemed to have a laid-back attitude to the incidents.
'You are going to have a couple of incidents but the bulk of people are having a great time. Teams are waiting to finish events and then enjoy the great hospitality this city has to offer – I would urge them to get out amongst it.'
+++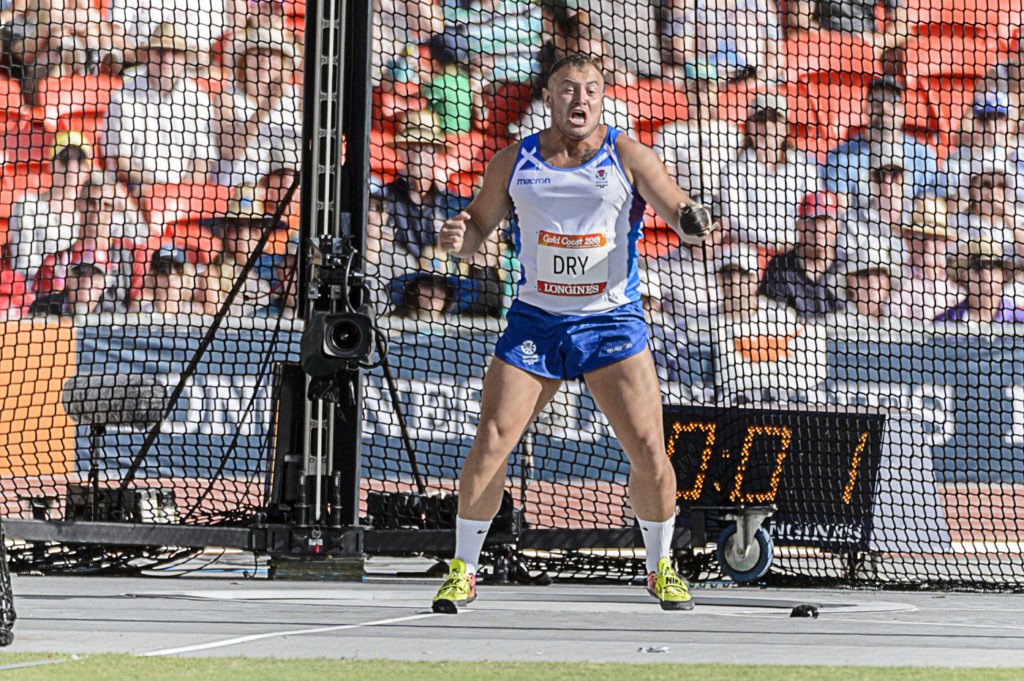 Talking of cycling, Shettleston Harriers were sharing the moment earlier this week when Team Scotland's Neah Evans picked up a ouple of medals.
Neah is a former Shettleston member and still on Power of 10 for a series of peformances from around 2010 to 2014. At the Gold Coast 2018 cycling events, she won silver in the Women's 10K Scratch Race and bronze in the Women's 25K points race.
With Mark Dry on the podium in the Hammer, it's been a good Games for Shettleston . . .
+++
While the Gold Coast Bulletin is full of local pride, there's also some (light-hearted) poking of fun at Team England's overall performance.
'Pom-bashing' is a national sport here, of course, and the tone is best exemplified by the following: 'The gutsiest English performance so far is Camilla staying awake in the Opening Ceremony . . .'
There are serious issues, though. At least 13 athletes from four different teams have 'done a runner' since arriving in Australia and gone AWOL. That includes a Sierra Leone doubles squash team who failed to show up for a match and others from Cameron, Uganda and Rwanda.
Technically, athlete visas would allow them to stay Down Under until May 15 but Australian Immigration are already saying they will be tracked down and deported. Serious stuff.
+++

Nikki Manson and her coach, Ken Allan, have been helping local athletes while in Oz for the Games.
A visit to Sheldon College's training facility for a session led to the duo, plus Team Scotland's Allan Scott, helping out a couple of emerging high jumpers at the centee.
Tags: Commonwealth Games, Gold Coast 2018, Jake Wightman, Mark Dry, Usain Bolt