Games legacy is making impact – Eilidh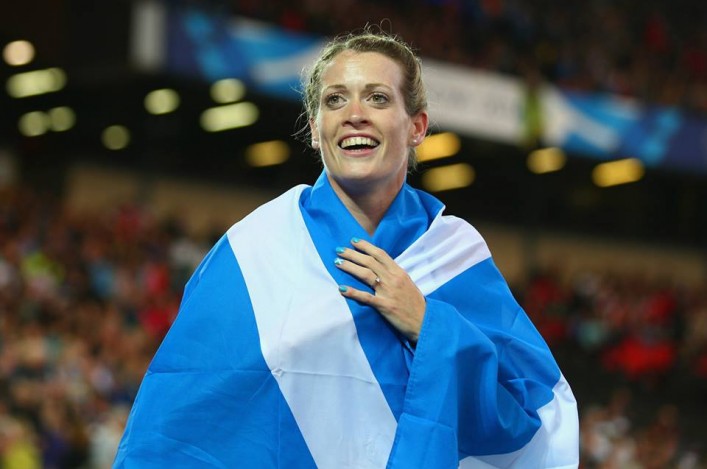 Commonwealth Games has helped bring on a new generation – Eilidh Child
One year on from the opening of the Commonwealth Games and Eilidh Child is convinced the legacy impact is being felt across track and field in Scotland.
The 'Athlete of the Year' was speaking ahead of the Anniversary Games at the London Olympic Games and believes the 'double effect' of 2012 and Glasgow 2014 is still coursing through the sport.
Scotland's Commonwealth Games team had a high percentage of athletes aged 23 or under and the evidence that many of those are stepping up after their Hampden experience is clear – competing this weekend are the likes of Jake Wightman, Sammi Kinghorn, Beth Potter and Jax Thoirs as well as more established names like Child, Chris O'Hare, Lynsey Sharp and Steph Twell.
'To see Hampden full for every athletics session a year ago drove everybody on,' said Eilidh
'It has given some good athletes the chance to sample major events and they are now pushing on for more at World and Olympic level.
'Glasgow 2014 was way beyond expectations for Scottish sport. The medal tally and stories to come out of the Games showed what can be achieved with hard work and dedication, no matter your background.
'For track and field, it has helped bring on a new generation of athletes who are now inspiring another generation.'
Child is among five Scots already automatic picks for GB for the World Champs in Beijing with the selection to be announced next week. Laura Muir, Sharp, Twell and Mark Dry are the others.
Lennie Waite is now making a case after a PB of 9.40.39 in the 3000m steeplechase in Karlstad on Wednesday evening to add to her British title win in Birmingham a couple of weeks ago.
And for the likes of O'Hare and pole vaulter Thoirs, the Anniversary Games at the weekend offers another chance to post qualifying standards and tip the selection balance in their favour.
Child races in the 400m hurdles on Friday evening with Lynsey also in action. And there's a Women's 5000m race which carries plenty Scottish interest – as it features Beth Potter, Laura Whittle and Rhona Auckland. Euro U23 silver medallist Auckland is headed soon to New Mexico University. Twell is now in the 1500m race on Friday evening – after securing her second 5000m qualifying time for Beijing.
O'Hare and Wightman compete in the Emsley Carr Mile race on Saturday afternoon and then, the following day, Para athletes have the chance to compete in the Olympic Stadium in the IPC Grand Prix final.
Kinghorn competes in her first 1500m wheelchair race since the Commonwealth Games while thrower Jo Butterfield faces her big American rival. Libby Clegg is in action, too, as well as Paul Davidson in the T20 400m.
London Anniversary Games start-lists
Sainsbury's IPC Grand Prix Final 2015 Start-lists
*Scotland's First Minister Nicola Sturgeon was at Crownpoint in Glasgow on Thursday to see the new track officially opened following the work involving the 400m surfaces from Hampden and Lesser Hampden.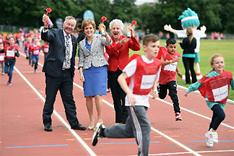 Games worth £740m to Scottish economy
Tags: Anniversary Games, Commonwealth Games, Eilidh Child, Hampden