FPSG SUPERteams again a big hit with clubs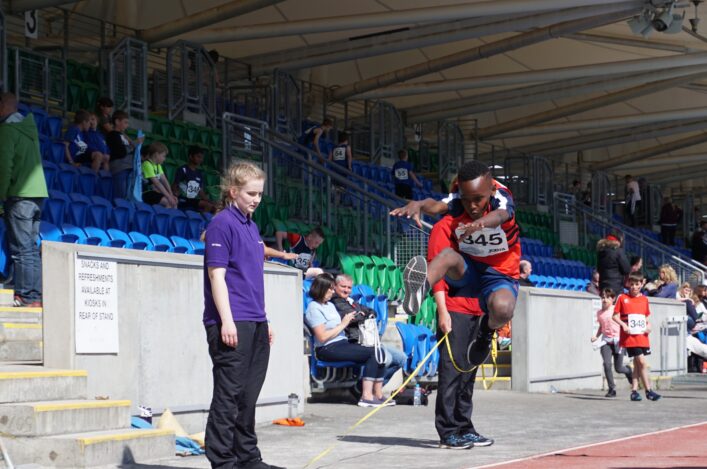 Long jump action at the FPSG SUPERteams – photo by Angie Sutherland
The FPSG SUPERteams is always one of the most popular and eagerly-awaited fixtures on our annual Events calendar.
It was no different for 2019 with no fewer than 129 teams of U12 athletes – that's more than 500 youngsters! – on the start-lists at Scotstoun on Saturday.
Clubs were very quick to take to social media to share the excitement, enjoyment and enthusiasm of this important development event which gives our youngest athletes a chance to compete and to work as a team.
In fact, many of those on Twitter and Facebook are keen for us to pass on their thanks to all our staff, volunteers and of course our scottishathletics Officials who helped make the FPSG SUPERteams happen.
'Once again, another fantastic day at a brilliant FPSG SUPERteams competition,' Inverness Harriers coach Grant Nairn told us on Facebook.
'Many thanks from all at Inverness Harriers to all in the 'Purple and Red Army' along with SA Events staff for their tireless work today. Much appreciated, folks!'
Provisional results (which are always a little challenging for this event given 500 athletes each competing over four events in a relatively short period of time) are now online on the Events page.
Events page (scroll down on left to find Provisional Results
Working off those results, the 1-2-3 positions for best teams were as follows:
Girls: 1 Annan A 936; 2 VP Glasgow A 875; Falkirk Victoria A 852.50
Boys: 1 Giffnock North A 850.50; 1 VP Glasgow A 850.50; 3 North Ayrshire 844
As it transpired, 108 full teams competed and it was brilliant to see the commitment to the event from clubs all over Scotland – with some making trips from the likes of Nairn, Elgin and Inverness.
Stadium announcer Connor Henderson was another hit with the young athletes and their parents – so a big thank you to him, too!
It was also a special occasion for FPSG Recruitment, our track and field sponsors, as they held their Family Day in the club deck area at Scotstoun, with a good time being had by all!
Tags: Development, FPSG Recruitment, FPSG SUPERteams, Scotstoun