European Throws; CE success; Inverness Half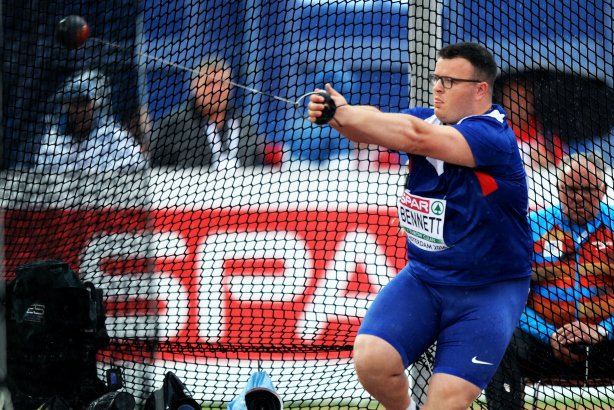 Chris Bennett in action at the European Champs last summer
It was another thrilling weekend of athletics action across the full range of events – from hammer throwing to Combined Events to half marathon running.
Indeed, it is becoming truly difficult to keep track of all significant Scottish performances and please do accept our apologies for any omissions on the premise that we are seeking, often, merely to try and highlight those worthy of wider attention.
Two Scottish hammer throwers headed to the European Throws event over the weekend as the represented GB and NI at Senior level as Chris Bennett and Rachel Hunter made the trip to Gran Canaria.
Bennett was to finish in ninth place in Pool A of the Senior Men's competition. The British hammer champion came up with a best of 70.65 in his second throw of six on the day to beat three of his opponents.
Rachel was competing in Pool B for the Senior Women, with those athletes split into two sections. A throw of 64.21m there was enough to give the Scot fifth place among the 13 athletes involved in that pool.
It was a Senior GB and NI debut for the Ayr-based thrower, who competed in the Glasgow 2014 hammer family and has gold Coast 2018 qualification very much as a current target.
+++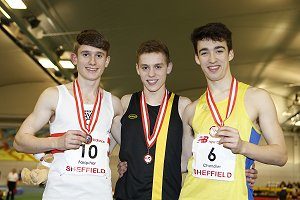 Scottish 1-2-3 at England Athletics U17 Men's Heptathlon
There have been some terrific performances by Scottish athletes in Combined Events in recent months – and there was more compelling evidence of that this weekend.
Joel McFarlane of Arbroath and District led home a Scottish 1-2-3 in the England Athletics U17 Heptathlon with a British Record points tally of 4948. Second place went to Robbie Farquhar of Aberdeen with Central AC's Matt Chandler taking bronze.
Joel, who is coached by Ian McFarlane, came up with a series of top performances including a 6.90m long jump, a 3.81m pole vault and 1.91 in the high jump.
There was a medal at U15 level, too, as Giffnock North's Murray Fotheringham took third place. And there was a fourth place finish for Nicole Proudfoot of Annan and District in the U15 Girls Pentathlon.
Congratulations to all those athletes and their families, coaches and clubs.
Read more here on the England Athletics website
+++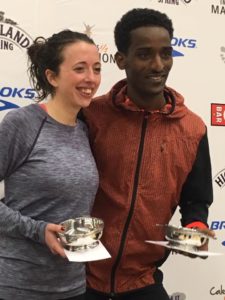 Weynay Ghebresilasie was a clear winner of the Inverness Half Marathon and although the Glasgow-based Eritrean wasn't happy with his time,he has vowed to return to challenge the course record.
The Shettleston Harrier was on his own from just before the half way point and despite slowing over the final two or three miles when weather conditions deteriorated, he finished IN 66.48.
'I am happy to win but at the same time I am not happy because I wanted to be much faster,' said Weynay. 'The weather was really good to begin with but after 10 miles we were running into a really strong wind and heavy rain and that slowed me down a lot.
'But, it is my first half marathon of the season and I have only been training for it for about four weeks so that's not enough and I need longer. I'd like to think I could return here and run it faster.'
Mark Mitchell (Forres Harriers) had to settle for finishing runner-up for the second year in a row when completing the course in 68.11 with Kenny Wilson (Moray Road Runners) third in 68.37.
Gordon Lennox, who was sixth in 73.24, received the Graeme Moffat Memorial Quaich as the first member of Inverness Harriers to complete the race. He also led his club to the team prize with backing from Michael O'Donnell and Graham Bee.
Northern Ireland international Fionnuala Ross made it a Shettleston Harriers double when winning the women's prize by completing the course in 1:17:56.
The Glasgow runner, who is to represent her country in the Home Countries cross country international in Wales later this month, took an early lead and never looked to be in any danger of losing.
Ross also led her club to the women's team prize with support from Thurso runner Emma Dunnet and Carole Setchell.
Jenn Wetton's wait for victory will be delayed for at least another 12 months as the Central AC member, who was third in 2014, finished runner-up for the third year in a row. Metro Aberdeen's Ginie Barrand was third. Montrose runner Alasdair Campbell won the accompanying 5K fun run in  17.28.
With thanks to Fraser Clyne
Tags: Chris Bennett, Combined Events, Euriopean Throws, Fionnuala Ross, Inverness Half Marathon, Joel McFarlane, Rachel Hunter