Enter now for Masters XC in Dundee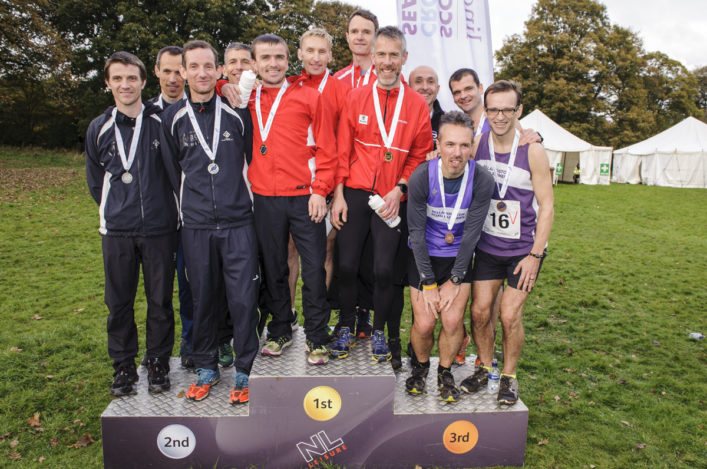 Men's Masters podium at the National XC Relays at Cumbernauld (photo by Bobby Gavin)
There's always a special atmosphere at the Scottish Masters XC Championships and we feel sure the 2017 event will be no different.
And, with the Scottish Veteran Harriers Club having staged a very successful British and Irish Masters XC event in Glasgow earlier this month which included a strong open race, it's hoped there will be large fields when Scottish championship medals are up for grabs.
Dundee is the venue this time around with courses to be set up within Camperdown Country Park on Saturday 28 January.
Masters athletes should be thinking now about getting their entries in and these are to be made by post to Alex Jackson. The closing date will be first post on Monday 16 January.
Races are over 6K for Women (over 40) and Men aged 65 and over and at 8K for Men (over 40) from M40 through to M60.
Age on race date is the qualification and you must be a scottishathletics member to compete in this event.
All the medals on offer are outlined on the Road Running and Cross Country Commission website page for this championship.
The basics are be 1,2,3 individual medals in each age category in five-year bands. Team medals are 1,2,3 for teams of three in the Women's race and teams of four in the Men's M40 to M60 race.
Entry forms are on the Events section page for the Masters XC plus address details for where they should be sent.
Tags: Alex Jackson, Camperdown Park, Dundee, Masters XC, Road Running and Cross Country Commission