ENTER Masters Champs on July 1
Action from the Masters Champs in Aberdeen last year (photo by Bobby Gavin)
Grangemouth stages a big weekend of athletics at the start of July with the Combined Events Champs and the Masters outdoor track and field Champs.
These three events will happen over the weekend of July 1/2 with the Masters in action on the Saturday 1 July and a special hurdles open graded event on the Sunday 2 July.
Our Masters athletes always relish the summer track and field championship opportunity – so Grangemouth will be the place to be for them that weekend.
Medals are awarded in five-year age bands from v35 for this event but are subject to certain performance standards being met in each category.
Enter online for the Masters Champs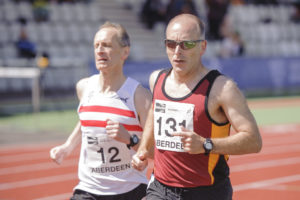 Tags: Grangemouth, Masters Champs