Eilish and Steph 1-2; East League XC; Dublin XC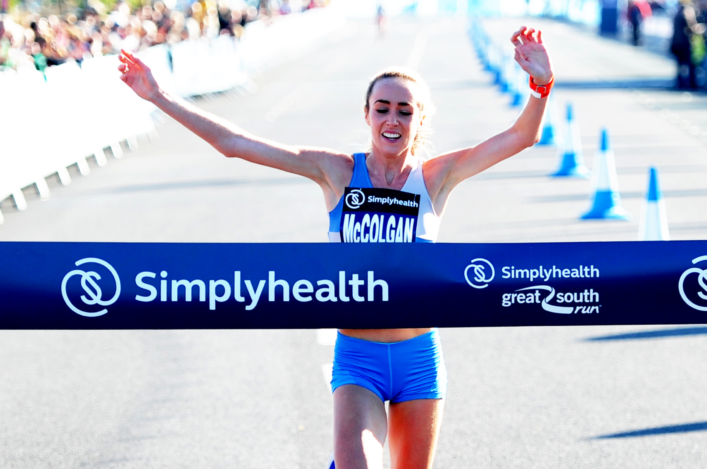 Photo by Mark Shearman
Eilish McColgan pulled off one of the best wins of her road racing career at the Great South Run when she stepped up to the 10-Mile distance – with Steph Twell making it a Scottish 1-2 in the Women's race.
Beforehand, Eilish had admitted that she was pushing herself out of her comfort zone and had no expectations of what she might be able to achieve, but with a marathon in her sights at some stage in the future, the 27-year-old Scot was keen to take the next step.
It proved to be a successful one as she strode to victory in 54.43 ahead of Twell and reigning champion Gemma Steel.
Following in the footsteps of her mum and coach Liz, who is a two-time winner having secured success in 1995 and 1997, McColgan was still feeling good in the closing stages and strode away to add her own name to the event's roll of honour.
'I'm so happy,' she said. 'That was such a strange experience. I didn't know what to expect and to be honest that was probably what helped in a way. My mum said to me: 'Don't look at your watch, don't look at times, just be competitive and race the other girls, and that's what I did today.
'I got to eight miles and when I caught back up with Steph I thought I could slow it down and try and overtake on the last little bit or just go for it, and I felt really good. It was definitely a much more pleasant experience than I suppose I was expecting!'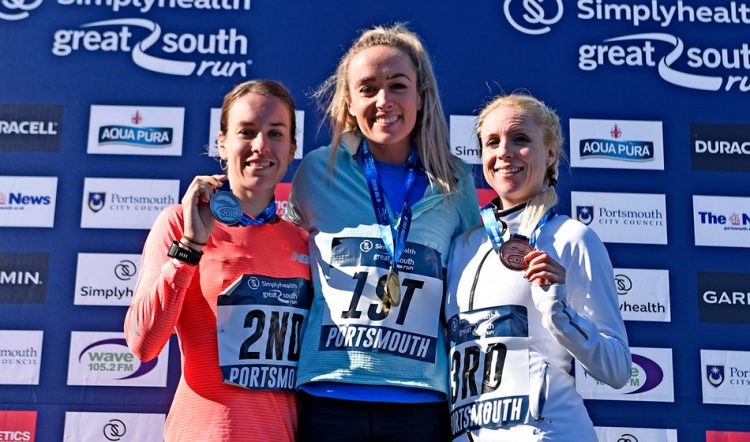 Twell has had a busy couple of months as she got married to fellow runner Joseph Morwood and then raced at the Commonwealth Half Marathon Championships in Cardiff before going on her honeymoon, from which she returned just ahead of the Great South Run.
'I'm a bit gutted but obviously I've had a lot going on,' she said on her runner-up finish in 55.16.
'It was a good performance, a proper race. I felt good but maybe I went through the gears a little bit too quickly. I thought that would be a winning tactic!
'I've just been on honeymoon but I was still thinking about my training and I was still exploring trails and for me that was a good way to enjoy it. Maybe that was one step too far right before a big race. But I'm happy with that.'
Chris Thompson won the men's race for the third consecutive time with a superb run of 46.56. Inverclyde AC athlete Sean Fontana was in 12th place in 50.56.
+++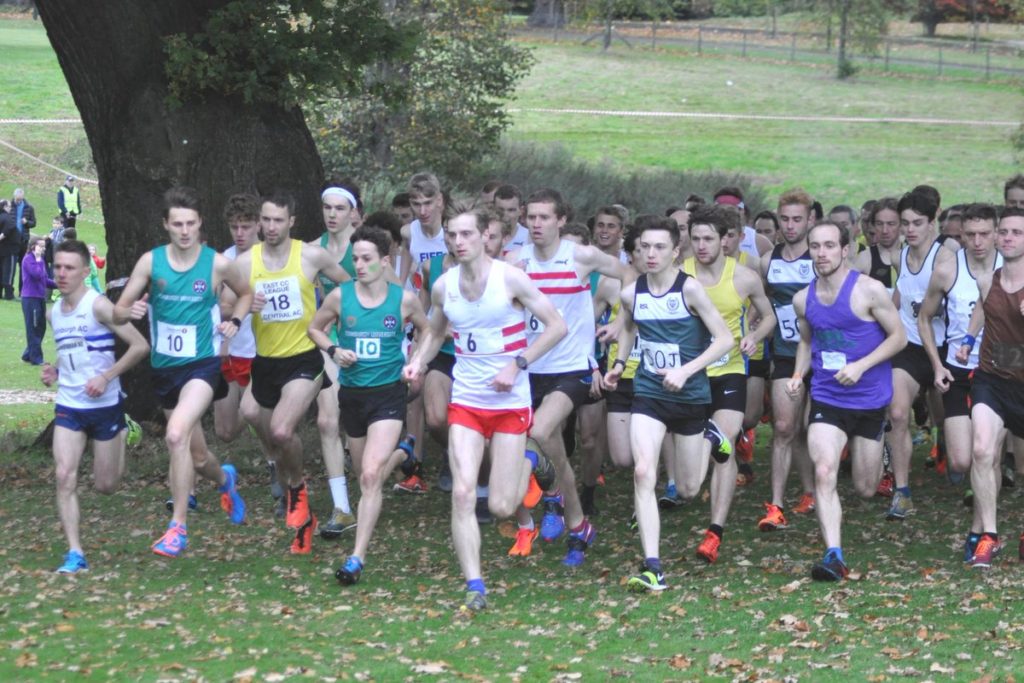 The East League meeting at Stirling on Saturday marked the start of another series – with more than 750 finishers for the opening meeting.
It was a successful day for the host club, Central AC, with a 1-2 in the men's race for Alastair Hay and Scott Green, as Aberdeen AAC's Michael Ferguson took third. Central's Morag Millar won the women's race.
RESULTS are online here on the Road Running and Cross Country Commission website.
+++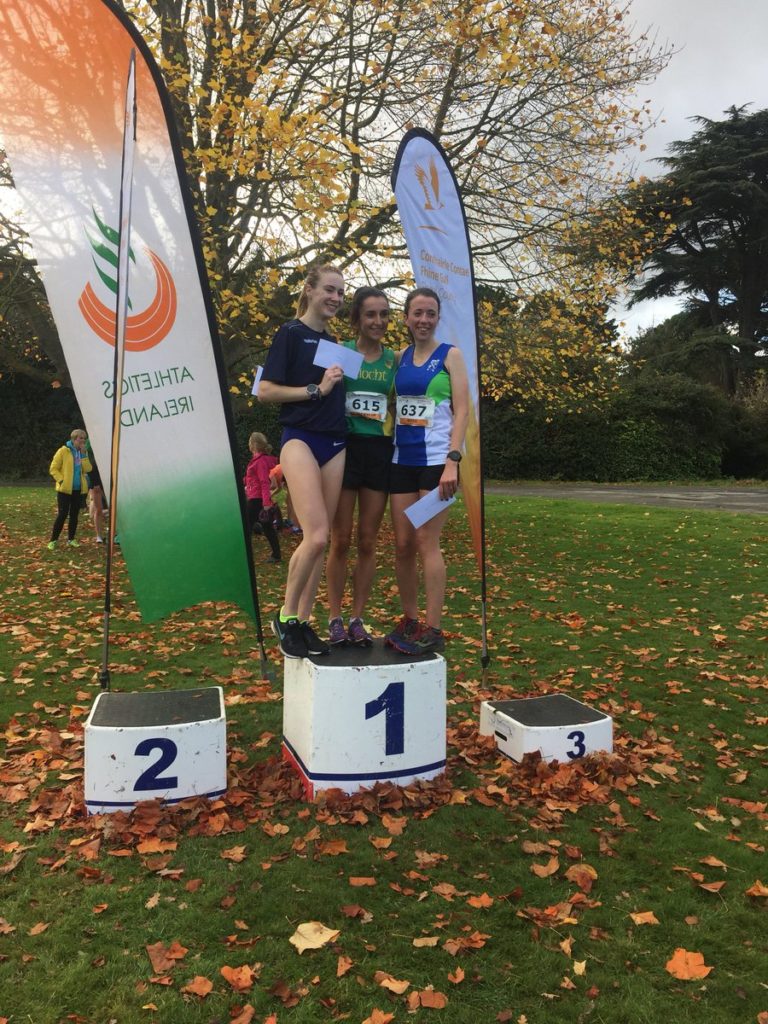 There were strong performances by Mhairi Maclennan and Fionnuala Ross at the Autumn Open XC International in Dublin yesterday.
Maclennan, the Scottish National XC champion for 2018, took second place with Shettleston athlete Ross, who won the Scottish Half Marathon title recently, in third place.
+++
RESULTS from the Dunbartonshire AAA XC Relays at Duchess Woods in Helensburgh are online on the Westerlands CC club website
+++
RESULTS (provisional) from the Lanarkshire Road Relays are online here (with an email address should there be any queries)
RESULTS (provisional) from the Renfrewshire XC Relays are online on the Kilbarchan AAC website
Tags: East League XC, Eilish McColgan, Fionnuala Ross, Great South Run, Mhairi Maclennan, Steph Twell