Dry claims Scottish hammer record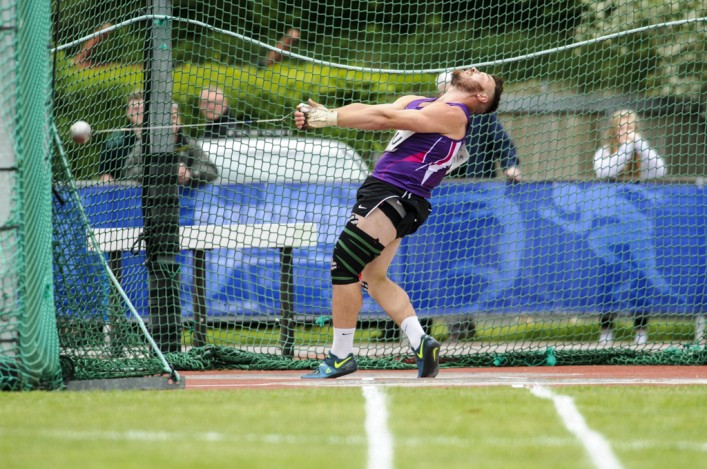 Hammer record – Mark Dry photographed at Loughborough by Bobby Gavin
Video footage of events on Vinco Sport
Albums of photos by Bobby Gavin
Mark Dry set a new Scottish record with the best hammer throw for 32 years at the Loughborough international.
The Commonwealth bronze medallist was competing for the hosts, Loughborough University, and threw a massive 76.93m.
That's a World Championship qualifying standard for Dry as he eclipsed Chris Black's 75.40m Scottish record which had stood since a throw by the Olympian at Crystal Palace in 1983.
It was just one of a series of highlights as Scottish athletes tore up the track and field at various locations from London to Los Angeles to Loughborough. Scotland finished fourth in the match.
Also at Loughborough, 16-year-old Perth schoolboy Ben Greenwood clocked 1.50.44 in the 800m for a Scottish U17 record and a qualifying performance for GB for the Commonwealth Youth Games and the World Youth in Colombia.
Dry's hammer throw was the performance of the day at the Loughborough International  with Emily Dudgeon a winner for Scotland and Laura Whittle taking the 3000m for the host university.
Teenagers impress Lynsey Sharp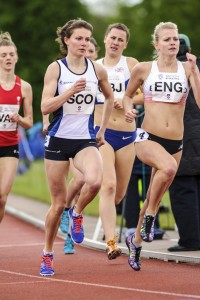 Emily Dudgeon wins for Scotland in 800m – with GB Junior Mhairi Hendry taking second
Berwick-based schoolboy Cameron Tindle, not yet 17, clocked a superb 20.94 to finish third in the 200m and there were second places in the Match for the likes of Grant Plenderleith, Sarah Warnock, Zoey Clark, Chuxx Onyia and Kirsty Law.
Teenager Rachel Alexander was another – like Tindle – who made qualifying standards for World Youths and Commonwealth Youth Games, with a long jump PB of 6.10m – competing as a guest.
Two other Scots made CYG standards on the day; Alisha Rees and Sarah Pearson (in two events).
'I spoke to Chris Black just after the throw and gave him a hug at the side of the track,' said a delighted Mark Dry, a Hampden hero last summer.
'I apologised for taking his record but the truth is he was wanting to see it beaten. It has stood for a long number of years – too long. I was getting close back in 2012 when I was throwing 74m more consistently.
'But it has been a long road to this point and this could open doors for me now – get me into better competitions and that kind of thing.
'It is a World Champs standard, which is 76m, but I may well need to go out and do it again now. I was nervous last night knowing that Loughborough is my home patch and the best chance to get that kind of distance in this competition.
'It is just about getting things right on the day and I have always believed I could reach this kind of distance.'
Chris Bennett took third place for Scotland in the hammer event with a fine PB performance of 74.66m while Rachel Hunter was in good form in the women's hammer, as well, as she threw a Season's Best of 65.67m. And that was a Euro U23 qualfiying standard for Rachel.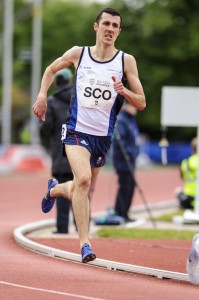 Ben Greenwood – Scottish U17 Record
Greenwood was among a clutch of youngsters to impress and was thrilled with a 54-second last lap to take 1.50.44 and beat an U17 Scottish record held by Mark Mitchell.
'That's great and I am delighted,' he smiled.  'I went through the bell and thought I needed something like 54 for the last 400m to get the time I was looking for in terms of qualifiers for GB.
'I train five days a week at the local track at Perth and people like Mo Farah and David Rudisha are an inspiration for me. I've Highers to sit this week, though, with Maths coming up on Wednesday.'
Dudgeon won the 800m and was followed home in a Scottish 1-2 by teenager Mhairi Hendry, who represented GB Juniors. Hendry is now set to make the GB team for the Euro U20s in Sweden this summer.
Kathryn Gillespie was inside a Euro U20 qualifying standard in the 1500m as she clocked 4.19.95. Zara Asante set a PB in the triple jump at  12.83m. Onyia's 15.20 was a PB for second in the men's triple jump.
The overall list of Scots who set PB marks at Loughborough (competing in various vests or as guests) is: Mark Dry, Chris Bennett, Jill Cherry, Sarah Pearson, Rachel Alexander, Chuxx Onyia, Ben Greenwood, Stephie Pennycook, David Feeney, Alisha Rees, Chloe Lambert, Cameron Tindle, Iain Williamson, Zara Asante.
*PBs mentioned are outdoors.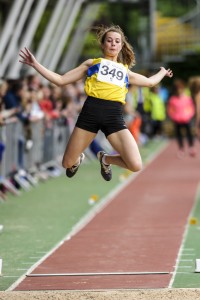 Lift-off – what a day for Rachel Alexander, with a big PB at 6.10m
Tags: Alisha Rees, Ben Greenwood, Cameron Tindle, Chris Bennett, Chuxx Onya, Emily Dudgeon, Grant Plenderleith, hammer, Kathryn Gillespie, Kirsty Law, Laura Whittle, Loughborough, Loughborough International, Mark Dry, Mhairi Hendry, Rachel Alexander, Records, Sarah Pearson, Sarah Warnock, Zara Asante, Zoey Clark