COVID-19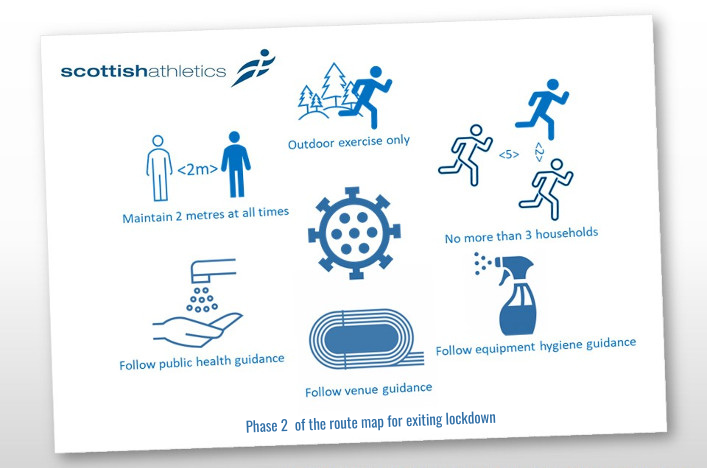 Phase 2 guidance
You can read our news story of 19 June, outlining the key points of our approach to Phase 2 of emerging from lockdown. The key documents provided for this phase are:
Phase 2 – Coaches
Phase 2 – Athletes
Phase 2 – Clubs
Phase 2 – Facilities
Phase 2 – Infographic
Hill runners – guidance from Mountaineering Scotland 28 May
Additional useful documents –  added following our Zoom Q&A sessions
COVID-19_Presentation given during Zoom sessions
Phase 2 – FAQs
Club Poster
Club return to activity template
Club template – scenario planning
Covid Coordinator checklist
The overall Exit Plan Framework document remains the same.
Please do not hesitate to contact Head of Development Colin Hutchison, or any of the National Club Managers, if there's anything you need to discuss.
Phase 1 guidance – now superseded
You can read our news story of 29 May, outlining the key points of our approach to Phase 1 of emerging from lockdown. The key documents provided for this Phase are:
scottishathletics Exit Plan Framework 28 May
NOW SUPERSEDED – Athletes – Phase 1 Advice 28 May
NOW SUPERSEDED – Coaches – Phase 1 Advice 28 May
NOW SUPERSEDED – Clubs – Phase 1 Advice 28 May
NOW SUPERSEDED – Phase 1 – FAQs
NOW SUPERSEDED – Presentation for Clubs on Phase 1 – including FAQs
Hill runners – guidance from Mountaineering Scotland
Other club support information and resources
Coronavirus – club support update 3
Coronavirus – club support Update 2
Coronavirus – club support Update 1
BDO Gift Aid information
Cash4Clubs Welcome Pack