Central AC, Edinburgh win Team Challenge cash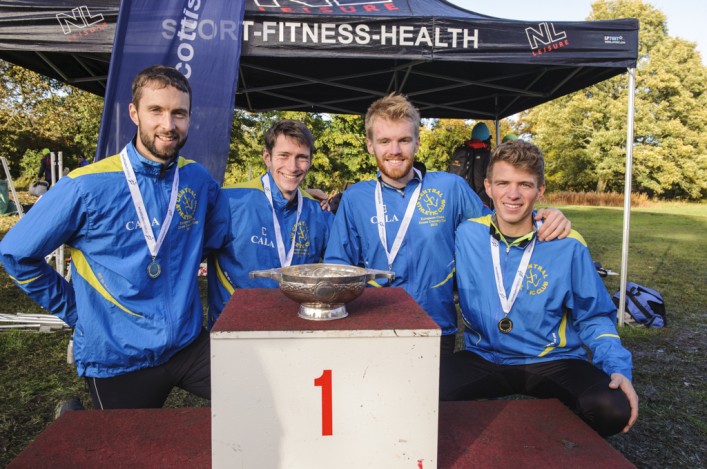 Central AC men – won at Cumbernauld and their B team was high in the Team Challenge, too (photo by Bobby Gavin)
Edinburgh AC and Central AC are celebrating after success in the scottishathletics Cross Country Team Challenge.
Both clubs will receive £250 after topping the table for Women and Men respectively following the series of three Short Course events this autumn.
Edinburgh AC and VP-Glasgow were joint top of the points in the Women's list prior to their showdown in the rain and mud of Bellahouston at the 4K champs.
And it was the capital club who ultimately prevailed thanks to the combined efforts of Maddie Murray, Freya Ross, Rachael Dunn and Lauren Wilson as they won the race from the Glasgow outfit and third-placed Fife AC.
So EAC win the Team challenge with 49 points with VP-Glasgow taking second place with 47, in a season when Josephine Moultrie's return from the United States and Gillian Black's elevation to U20 galvanised their efforts. Central AC were third place with 45 points and Fife AC and Shettleston Harriers completed the top five.
Central AC men went into the Bellahouston race on maximum points after winning the East Relays and at Cumbernauld – and they were unstoppable again as Andrew Butchart and Alastair Hay took a 1-2 in the individual medals. Backed up by Dale Colley and Alex Hendry, Central comfortably won the team race to take the Team Challenge award with a maximum 50 points.
West champions Shettleston Harriers take second place for 2015 with 47 points while Ronhill Cambuslang Harriers came through at Bellahouston for second place to land third in the series.
Central AC 'B' and Inverclyde AC both had 41 points – abut Central Ac take the fourth place in the final table by virtue of their better performance at the Short Course Champs (under the Team Challenge rules). It simplay adds further evidence of Central AC's strength-in-depth in the series!
The attention now turns to the individual XC Grand Prix and we will update that ahead of the next fixture, which is the British Cross Challenge (Euro Trial) at Liverpool on Saturday 28 November.
Bellahouston Short Course report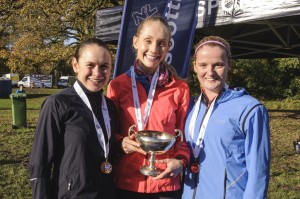 Edinburgh AC – winners at Cumbernauld and Bellahouston (photo by Bobby Gavin)
Tags: Central AC, Cross Country Team Challenge, Edinburgh AC, Ronhill Cambuslang Harriers, Shettleston Harriers, VP-Glasgow