Baxters Loch Ness Marathon preview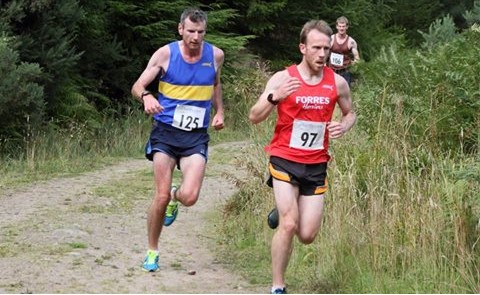 Kyle Greig (red vest) on his way to Scottish Trail Champs win  (photo by Pete Bracegirdle)
Kyle Greig will bid to become only the third Scot to win the men's title in the Baxters Loch Ness Marathon which celebrates its 15th anniversary on Sunday.
Simon Pride, in 2004 and 2005 and Ross Houston, in 2012, are the only Scots to have won the prestigious race which has always attracted a cosmopolitan field of runners as can be seen from past results.
Ethiopian-born Great Britain international Tomas Abyu has chalked up the most wins, having taken the title four times, while the fastest time clocked over the Highland course stands to Kenya's Simon Tonui who recorded 2.20.13 in 2009.
Forres Harriers athlete Greig completed his first marathon five months ago when he ran 2.25.23 at London, but feels he's ready to improve on that performance if things go his way this weekend.
'My training has gone well and I'd like to think I can get a personal best time,' said Kyle.
'I've been averaging about 90 miles a week in training, with a highest week of 100 and it has all been fine. I've no injuries and no niggles, so I guess there's no excuses.
'I had a good run when winning the Scottish trail running championships in Fife recently and a few other small race victories.'
Greig's opposition is formidable and includes Lancashire-based Kenyan defending champion Tarus Elly, who has a remarkable record of consistency in the race, having won in 2013 and 2015, as well as placing third in 2014.
Another contender who has come close to winning on a number of occasions in recent years is Edinburgh-based Polish runner Patryk Gierjatowicz.
He was second behind Elly in 2013 and second again behind Abyu in 2014 before taking third position last year when Elly defeated Abyu for top spot. Gierjatowicz recorded his best time of 2.24.00 at London in April when he finished just ahead of Greig and won the Scottish East District half marathon title at Barry Buddon in 71.23.
The man they may all have to be most fearful about, however, is Altrincham's Mohammad Abu-Rezeq.
The Jordanian runner will be making his full marathon debut in the Highlands, but the 32-year-old has carved out a name for himself in 10K and half marathons over the past few seasons.  He won the Alloa half marathon in April .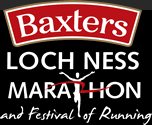 Jenn Wetton is the clear favourite to win the women's title although the Central AC runner hasn't competed over the marathon distance since winning the Baxters race in 2014 in what remains her best time of 2.46.06.
'I didn't plan running any marathons last year, but then I had injury problems as well,' said Jenn.
'I was going to do the Manchester marathon this April but my Achilles flared up and I decided to give it a miss. Since then things have been going quite well and I'm pleased with my preparations.
'When I did the Baxters race two years ago I didn't feel as though I ran as well as I could have, so I'm hopeful that I can improve on my best time. I have a time in mind but I'll keep that to myself. I still have to run the race and get to the finish line.'
Wetton's recent results suggest she is in good shape. She set a course record time when winning the Scottish East District title at Barry Buddon at the end of August and earlier this month she struck silver in the Scottish 10K championships at Stirling.
Others who should feature in the battle for podium positions include Glasgow's Victoria Hunter who has performed well in ultra distance races in recent years and Cambridge athlete Pia Thiemann who ran 3.00.21 at London this year.
With thanks to Fraser Clyne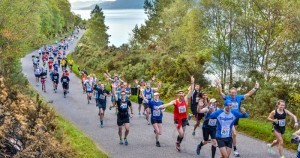 Tags: Jenn Wetton, Kyle Greig, Loch Ness Marathon, Patryk Gierjatowicz