Awards and Relays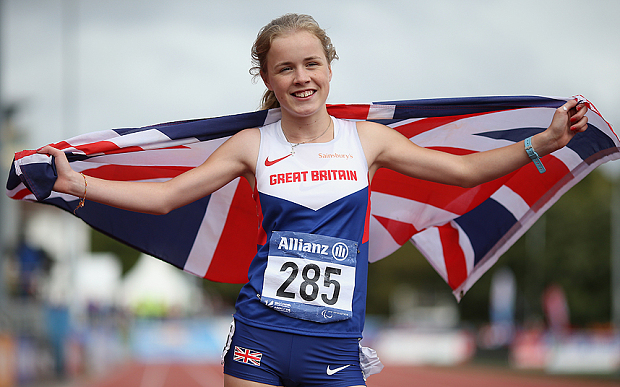 Maria Lyle is Scottish Para Athlete of the Year.
The young sprinter from Dunbar, who has just turned 16, received her award in front of the Emirates Arena crowd at the Glasgow Grand Prix.
Lyle won three medals at the IPC World Champs in Doha last year, taking silver in her individual events at T35 100ma nd 200m. She was then part of a combined classification GB team who took gold in a T35-38 4 x 100m relay.
There was strong competition of course for the Scottish Para title with the other short-listed candidates being Jo Butterfield, Sammi Kinghorn and Derek Rae.
'We're delighted to present Maria with the award and she is an inspirational young athlete,' said Rodger Harkins, Director of Coaching.
'Doha was a huge learning curve for her as her first World Champs and she shows great dedication on a weekly basis because she is combining her athletics at the moment with school-work.
'It is a big year again for our Para athletes with Rio on the horizon and we wish them, their coaches and their support teams all well in the build-up.'
Maria was thrilled and Tweeted: 'Great day at the Indoor Grand Prix at Glasgow! Thanks for the award scottishathletics and the photo, Dina Asher-Smith.'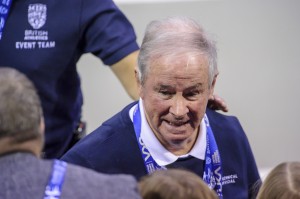 Angus Cameron – Officials service rewarded
The young Para athlete was not the only recipient of a special award.
Angus Cameron is a well-kent face around athletics and Scotland and Britain and has given over 40 years of service as an official.
So it was brilliant to see Angus in the spotlight to receive a suitable recognition of his commitment as a volunteer and dedication to the sport – with a presentation from British Athletics on behalf of scottishathletics and indeed the athletics family in Scotland.
As Shona Malcom put it in the Event programme for Saturday: 'Angus has volunteered at all levels from local open graded meetings and league matches to the Olympics and Paralympic Games, but his true passion has been for disability sport.'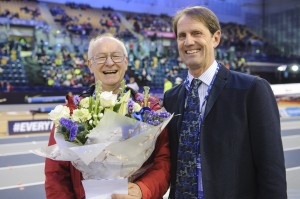 Alex Jackson (left) – huge contribution to Road Running and Cross Country
Alex Jackson falls into the same category and the Road Running and Cross Country stalwart was lured indoors for once to accept an Unsung Hero award.
A keen runner himself, he has been involved in Ferranti AC since the 1970s. In the 1980s, he took on a role as secretary of the East District XC League – and he still occupies that position today! He has also been a driving force behind the success of the National XC for years.
Nigel Holl said: 'As with many a true Unsung Hero, I am sure Alex will quickly say that others are equally worthy! But the fact remains he has gone above and beyond to ensure fantastic events take place and a vibrant scene of road running and cross country in Scotland.
'Alex thoroughly deserves this accolade and the thanks of so many and it was great to hear and see the reception at the Emirates Arena.'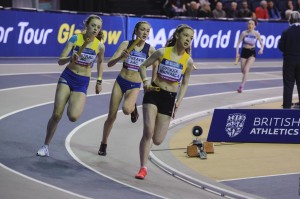 British Athletics website report on the Relays
Dozens of Scotland's best young athletes were in action throughout the day at the Emirates in our Junior Relays. It was a special moment for those teams involved and heats and finals were keenly-contested.
Here's a summary of the gold medal-winning teams and some comments from the athletes – maybe the coaches or parents can work out who said what!
U13 Girls – Winner: Edinburgh AC – 1:56.96
'We did really well – we really enjoyed running here at the Emirates Arena. It was so much fun – we had a great finish to the race. The atmosphere and the crowd really helped us in the race and we are so happy to have won.'
U13 Boys – Winner: Giffnock North AAC A – 1:55.26
'It was brilliant, we are really pleased with our time. We did not think we could run that fast at all.  They (Pitreavie) ran really fast which helped us, especially our last leg runner who was amazing. '
U15 Girls – Winner:  Central AC – 1:48.44
'We are so happy to have won here in Glasgow. We were fastest qualifiers from the heats earlier but we still had to give it our all in the final. After winning here last year, we had a lot of pressure on us but we dealt with it well. '
U15 Boys – Winner: Edinburgh AC – 1:40.93
'We had a good start which helped us a lot. We maintained it all the way through the race and sped home on the final lap. We were massive underdogs coming into this so to win here in this arena is amazing. '
U17 Girls – Winner: Giffnock North AAC A – 1:44.01
'It was amazing, it was really weird getting an introduction on the camera. It was a good atmosphere, it's so good running here at The Emirates Arena. It was so nerve-wracking but we came into it hoping to win.'
U17 Men – Winner: Central AC – 1:34.47
'It was insane. We were sitting with so many senior internationals. The race went to plan, we expected to win but it was very close at the end. We were pleased with our fast finish.'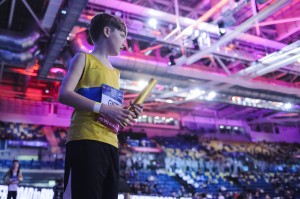 With thanks to Bobby Gavin for these photos
Tags: Alex Jackson, Angus Cameron, Junior Relays, Maria Lyle, Para Athlete of the Year