Sad passing of marathon runner Karen Macleod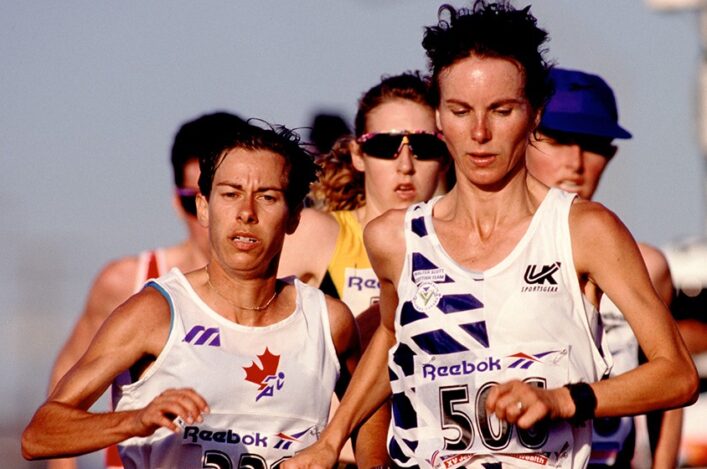 Photo by Mark Shearman
Scottish Distance Running History website profile
Scottish distance runner Karen Nicolson (née Macleod) has died suddenly at the age of 63.
Her achievements include placing fourth in the Commonwealth Games marathon in 1994, 16th in the 1993 World Championships marathon and 45th in the 1996 Atlanta Olympics marathon.
With a PB of 2:33:16, which was set at the Commonwealth Games in Canada in 1994, she won international marathons in Bordeaux, Majorca and Seville.
MacLeod is pictured above at those 1994 Games alongside gold medallist Carole Rouillard of Canada (No.321).
On the track, Karen was 12th in the Commonwealth 10,000m in 1990 and had a PB of 33:17.88 at that distance. On the country, she won the Scottish title and ran in the World Cross Country Championships three times in the late 1980s.
Born on April 24, 1958, and growing up in Skye, she has been described as one of the best athletes to ever emerge from the north of Scotland.
However her career was brought to an end in 1998 when she fell ill at the Boston Marathon. She was diagnosed as having Berger's disease – a rare kidney problem – and she later had a kidney transplant from her sister Deborah.
(Photo via Scottish Distance Running History website)
Skye and Raasay Councillor John Finlayson, who knew Karen as a friend, paid tribute (via the West Highland Free Press): 'I am still in shock at the untimely passing of my friend and ex-school-mate Karen, who achieved so much in her life and was respected by so many.
'As well as being a fantastic person, Karen was a role model for so many in terms of her running achievements and she took part in the Olympic Games in Atlanta in 1996 when my then primary school, Plockton Primary, were there too as winners of a national Olympic competition. They were looking out for her in the marathon and cheering her on.
'When I was head teach at Portree High School, she visited to talk to pupils about her career and the dedication needed – but also the importance of staying fit.
'She also donated several of her hard-win trophies to the school to help inspire young athletes.
'Every year, Portree Primary present the Karen Macleod sports trophies to a girl and a boy, with those awarded for effort and a positive outlook in terms of health and wellbeing.
'Karen will be sadly missed and out thoughts are with husband Angus and her sister, brother and families – Debbie, Neil and Rory, at this very sad time.'
On behalf of athletics in Scotland, we send our thoughts and sympathies to Karen's family and friends at this difficult time.
Tags: Karen Macleod