Fun in the sun for young hill runners at Cademuir Rollercoaster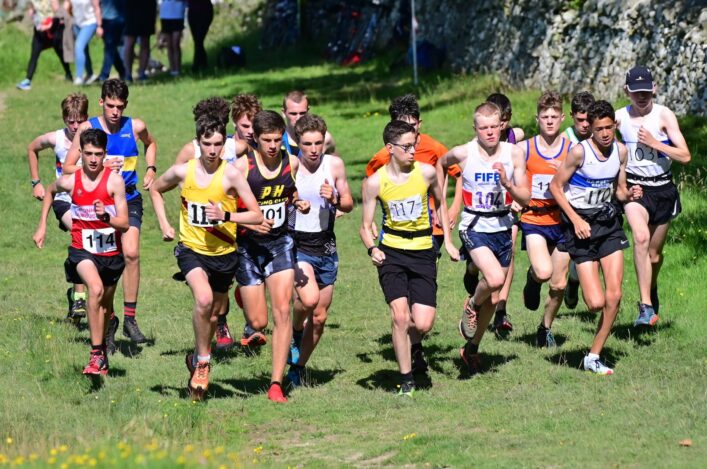 Off and running again . . .  and, after a five-month hiatus, look at those vests! (photo by Neil Renton)
Results on Events section (see downloads on right of page)
Here Comes The Sun, Mr Blue Sky and The Heat Is On were the un-forecasted theme tunes for the return of racing to the Scottish Borders at the Cademuir Rollercoaster on the hills just south of Peebles on Saturday.
To comply with Covid-19 related guidance, races were restricted to juniors, field size was limited to 20 per race, and a simplified 3.5km course sticking to the main paths was used to minimise the need for course markings.
Despite the event's loss of Championship and Trial status, there was still some high quality running on show and it wasn't just the weather that was scorching.
Sam Griffin (Aberdeen AAC) had avoided a return to school in Aberdeen during the previous week (with permission, we should add) and extended his holiday stay outside the Aberdeen lockdown area in order to be able to travel and compete.
He made that all worthwhile by scorching to a clear victory in the U18 Men's race in a time of 14.01. Struan Bennet (Fife AC) was 16 seconds adrift in second and Harry Henriksen (Lasswade AC) completed the virtual podium in third in 14.38.
Hill running international and Scottish Schools cross-country champion Pippa Carcas was a late withdrawal from the U18 Women's race and Sarah Coutts (Fife AC) took full advantage, taking control after the steep descent at halfway and stretching clear on the undulating run for home in 15.48.
Sarah enjoyed a 25-second winning margin over Bridget Harley (Team East Lothian) as Isla Hedley (Fife AC) won a close race for third, crossing the line in 17.21.
Photos by Neil Renton on Facebook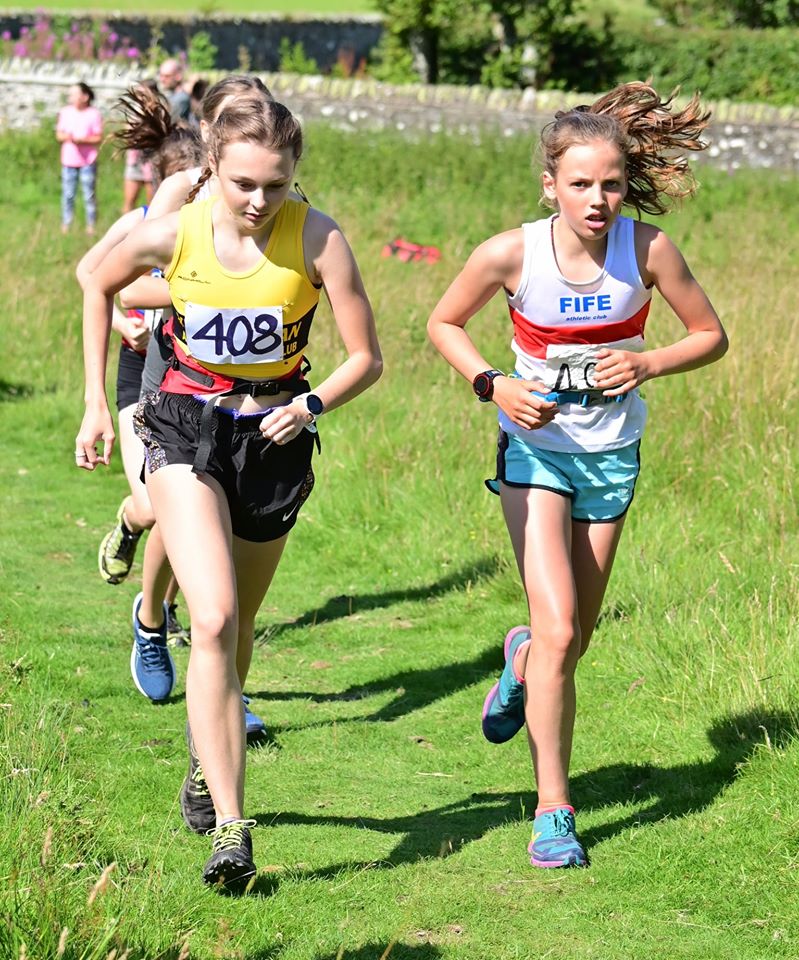 The U15 Boys race saw the closest finish of the day with Andrew McWilliam emerging victorious in 15.07, just five seconds to the good over club-mate Rowan Taylor who made it a Lasswade AC 1-2.
These two finished well clear of the rest with Reiss Marshall (Fife AC) winning a tight battle for third in 16.19.
By contrast, the U15 Girls race saw the widest winning margin of the day with Isla Paterson (Gala Harriers) romping home in 18.02. Local novice Elena Lee (Moorfoot Runners) had a very encouraging run for second in 18.57 with Ariane Baillie (Pitreavie AAC) taking third in 19.07.
Thanks to everyone who attended – officials, runners and parents – for complying with the Covid related guidance and helping us get back to real racing.
Angela Mudge, Scottish Hill Running event lead, said: 'It was really good to see our young athletes back out running again on the hills.
'We say a big thank you to Gregor Nicholson and Moorfoot Runners for being first class hosts and working really hard to meet Covid-19 guidelines and keep everyone right on the day.'
*Next event for junior hill runners is coming up on Sunday 30 August at Arthur's Seat in Edinburgh
With thanks to Gregor Nicholson, race organiser, and to Neil Renton for photos.