Lachie is on the mend . . . and Sol, too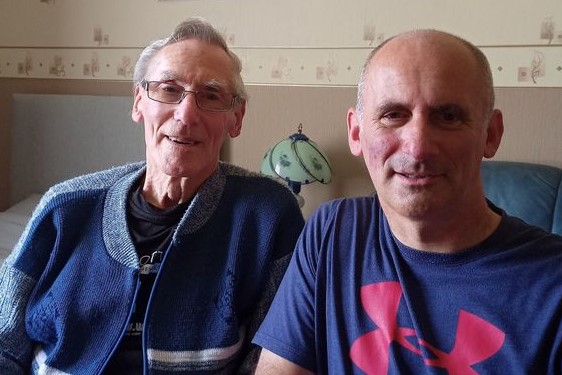 Lachie and his son, Glen, pictured this week (with thanks to the Lennox Herald)
Lennox Herald article on Lachie Stewart's recovery 
Scotland track legend Lachie Stewart is recovering at home in Bonhill after recent surgery.
It's 50 years ago last month since the Shettleston Harriers athlete won gold at the 1970 Commonwealth Games in Edinburgh.
Lachie spent the anniversary in hospital recovering from an operation to remove part of his left leg but, thankfully, the 77-year-old is now back home and looking forward to getting out and about more.
'I'm diabetic and had problems with my toe,' he told the Lennox Herald in a special interview.
'That didn't heal and then I ended up with issues in my blood circulation. That left me with the option of being in a lot of pain all the time or having it taken off so I told the doctor right away to just take it right off.
'To be honest the pain I was suffering from the bottom of my leg was so bad that when the doctor said I had two options it was an easy decision to make. The way I looked at it, I wasn't getting any better, especially because of the pain.
'It was a wee bit of a shock when they said amputation but I half expected it. I'm going back up to hopefully get fitted for my prosthetic. I'm looking forward to getting out in the fresh air again.'
'The hospital couldn't have been any better. The vascular unit who dealt with me were absolutely wonderful.
'I've seen ex-soldiers taking part in things like the Invictus Games with no leg and I think that I'll just be like them.'
+++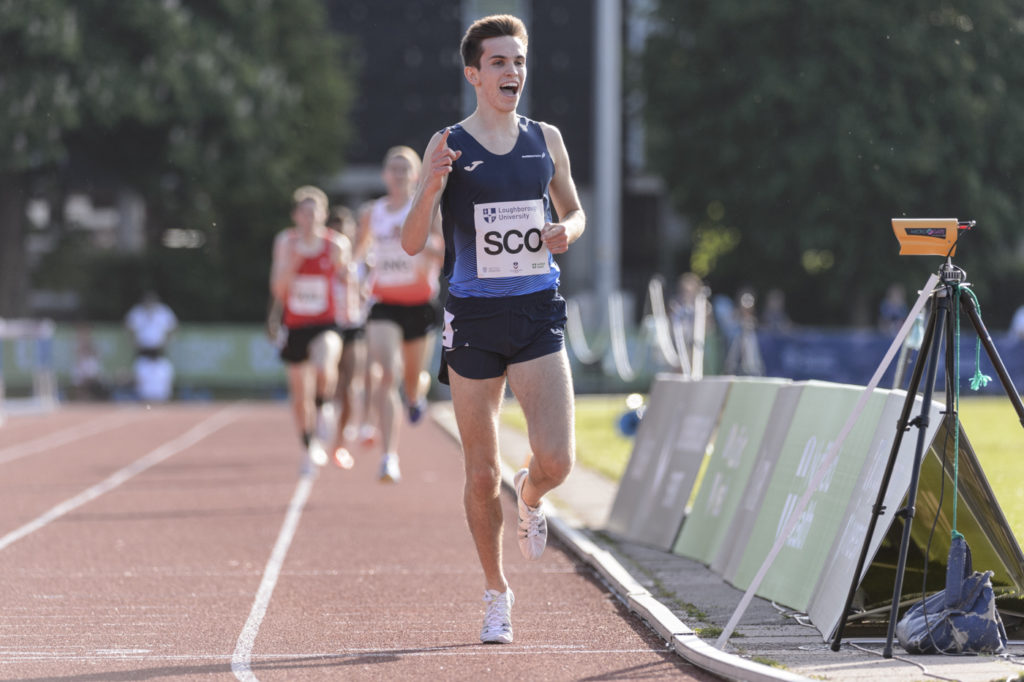 Sol in action for Scotland on the track at the Loughborough International in 2018 (photo by Bobby Gavin)
Perthshire Advertiser article on Sol Sweeney's recovery
GB and Scotland international Sol Sweeney is firmly back on track after his own surgery issue earlier in 2020.
The Perth Strathtay/Glasgow Uni athlete, who is coached by Andy Young, required an operation on both lungs earlier this year but has made a strong recovery during the long stretch without competition.
'Over the last few years I have been struggling with recurring pneumothoraxes (collapsed lung) which was becoming more common at the start of this year,' said Sol.
'I had surgery on both lungs in February which essentially involved sticking the side of the lungs to the chest wall in order to stop them collapsing.
'This surgery took a while to return to training from so, in terms of competition, I possibly wouldn't have been in a good position to race until around June/July anyway.
'This made the cancellation of races easier to take but I have recovered well and I'm training hard again. I will be hoping that I can get some sort of race in before the end of the season.
'Ideally this year the aim would have been to make the team for the European Championships and that remained the case even with surgery being involved. But with the Olympics being rescheduled until 2021, that is now a real target.
'In terms of the rest of the year, I am just hoping to get some sort of race in. But it is just a case of waiting to see what races are able to go ahead, if not in the UK then in Europe possibly.'
Tags: