John Melvin – a volunteer who raised the bar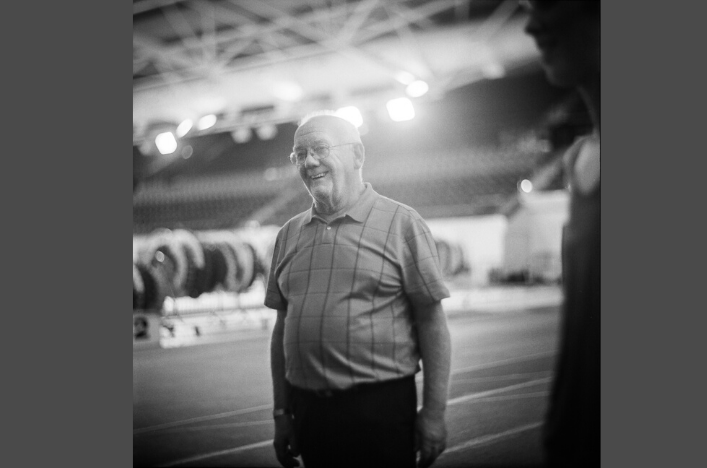 Photo with thanks to Ray Bobrownicki
All within the athletics community across Scotland are today shocked and saddened by the sudden loss of John Melvin.
The high jump coach passed away earlier this week after a short spell in hospital.
John Melvin had many roles in the sport over many years and made a vast contribution. He was a coach, team manager, Official, administrator and so much more to those who met him.
He team managed Team Glasgow in the National Junior league which then became the Youth Development League.
John also organised the indoor Glasgow Athletics Association meetings along with the U12 Christmas event. He always wanted to ensure that the youngsters got the opportunity to compete.
John was a qualified field Official and loved officiating on the high jump and as well as coaching athletes from various clubs in high jump.
One of those, Ray Bobrownicki, posted black and white photos of John and then revealed it was John who taught him how to develop black and white photography.
Diane Ramsay, the former athlete and now an Official, highlighted John's team management role with Glasgow.
John is survived by his wife, Evelyn, and their children Ewan and Hazel. High jumper Hazel represented Scotland at the 1994 Commonwealth Games in Canada.
'This is a real shock to the sport,' said Mark Munro, chief executive of scottishathletics.
'John contributed so much to athletics in Scotland and beyond. A coach, administrator, team manager, official, facility guru he contributed significantly to Glasgow Athletics since it started. His passing is a huge loss and our condolences are today very much with his family and friends.'
Track and Field Commission Convenor Leslie Roy said: 'John was a man who did so much to help athletes of all ages.
'He put his heart and soul into doing everything he could for athletes. John had many roles and was a Coach, Official, Team Manager, Event Organiser. He will be sadly missed.'
High jump coach Ken Allan said: 'Shocked and saddened to hear this news yesterday,
'John's contribution to our sport spanned decades and every conceivable area, from Coaching to Team Management to Officiating to Facility creation. He will be sorely missed. Condolences to all who knew him.'
Tags: Brian Donaldson, Diane Ramsay, John Melvin, Leslie Roy, Mark Munro, Ray Bobrownicki