'Looking back, success at Scottish Schools wasn't be all and end all' – Eilish
Scottish Schools Athletics Association website
Grangemouth should have been hosting the Scottish Schools Track and Field championships today and tomorrow.
It's always a special occasion for secondary school athletes but, of course, the effects of the coronavirus crisis and restrictions means such events are impossible for now.
Many of our current Senior athletes, at elite and at club level, will have great recollections of the event which is very much part of the calendar.
But while those who have claimed titles and medals or the glory of the Eric Liddell Trophy for the best male performance and the Frances Barker Shield for the best female are more than entitled to savour those moments and memories, it is well worth noting that development happens in different ways.
It's been a feature of our Coaching Conversations interview series, in fact, how some of our now world class athletes have recalled struggles in their mid-teens before making significant progress a couple of years later.
WATCH our Coaching Conversations series on YouTube
Eilish McColgan did enjoy medal success at the Scottish Schools on occasion but neither did she have it all her own way – with a fourth place in a 3000m champs in 2007 noticeable on her Power of 10 data, for example.
'I've some great memories of Scottish Schools meets at Grangemouth,' she told us.
'I guess that is really the first step and, at that time, that's the big thing – to reach a final or make the podium. Or make a team for the SIAB track and field international or the SIAB cross country during the winter.
'I really enjoyed it and I started to love the competing itself as well as the training and social side.
'But I wasn't always one of the top kids. Someone like Beth Potter was breaking Scottish Schools Records all over the place and I was thinking 'I'm nowhere near that level'.
'My mum held me back a bit in terms of training. I wanted to do more reps or whatever but she wanted me to make it right through to be a Senior.'
It is worth noting that Eilish and Beth Potter, who was a high level swimmer in her teens, too, were together on Scotland teams for both Glasgow 2014 and Gold Coast 2018 and with GB and NI at the Rio Olympics.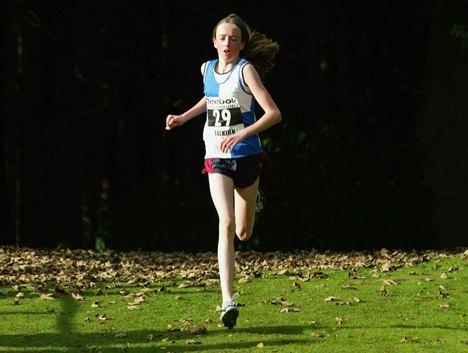 One of the early photos of Eilish in cross country action for Dundee Hawkhill Harriers
'I hit a massive plateau from 16 to 18. When I look back now, it really doesn't matter how you fare as an age group athlete.
'The main thing is: do you continue to enjoy it and keep working hard. If you do, then who knows what can happen in five or 10 years.
'You look back and realise now:  I was 21 before I won my first GB and NI vest and I'd been in the sport from 11.
'Laura Muir is probably an even better example as she was not even making Scotland teams and now she is one of the very best athletes in the world.
'Your performance level as a Junior is not always a reflection on where you will be as a Senior. Not by any means.
'Maintaining your fitness and continuing to enjoy it are better goals. If the enjoyment is not there, then some young kids are not going to continue in the sport.
'It can depend so much on how your body develops. And, sometimes, mentally how you cope with that.
'I think particularly in boys you can see big differences – you can have a young lad who has not yet developed at all and then he is in the same race as someone who is totally developed and already looks like an adult competing against wee boys. It can be the same with girls as they go through puberty.
'So you have to try and come through all of that and it can be really tough mentally for some athletes.'