WATCH: Video feature on Impact Club of Year Harmeny AC
Harmeny are Impact Club of Year and Mark is Volunteer of Year
Harmeny AC were named our Impact Club of the Year at the Annual Awards back in late November.
It was deserved recognition for the Edinburgh club after making real strides in various aspects of development over recent years.
And that growth is captured in a superb video about Harmeny AC (put together prior to the coronavirus crisis).
The club membership continues to grow year-on-year with over 350 active members – both youngsters and adults.
In addition, through extensive partnership working the club have been operating over 25 weekly junior athletics sessions in the community providing the opportunity for over 400 junior athletes to take part in athletics on a weekly basis alongside six free adult sessions.
Harmeny AC club operate in areas of deprivation, work with the refugee community, deliver in numerous schools across the west of Edinburgh and support the provision of Para athletics, too.
In the last 12 months, the club have changed their legal status and strengthened governing procedures, recruited a range of new coaches and officials, expanded competition opportunities and have developed their club development staffing with three Officers employed to support their growth.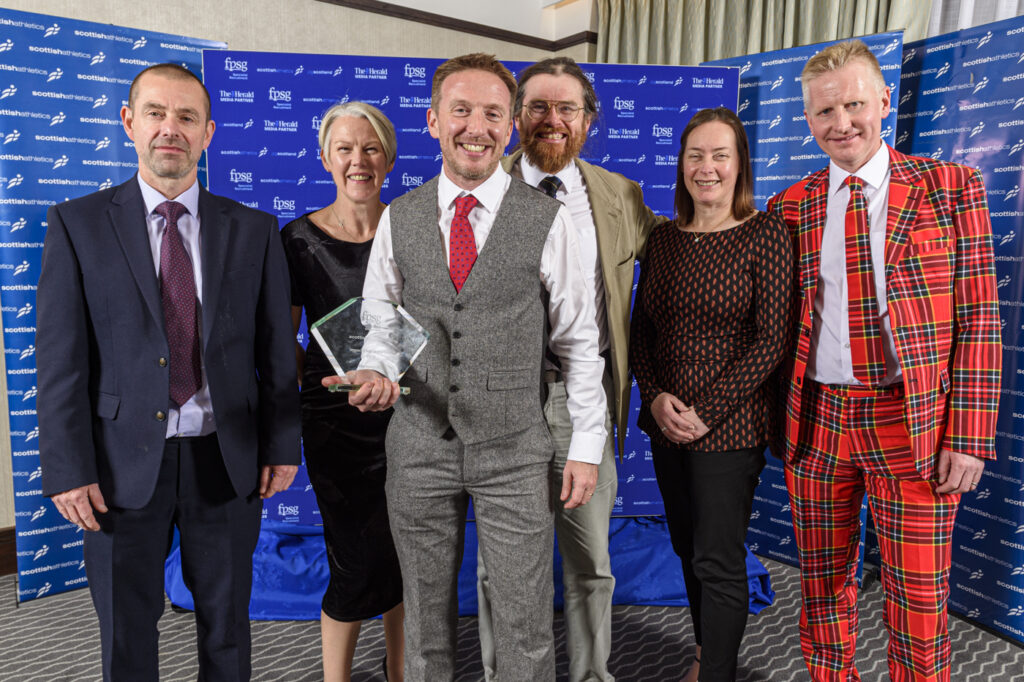 Harmeny AC celebrate landing the Impact Club of the Year award at the Annual Dinner back in November following the presentation by Ian Beattie (photo by Bobby Gavin)
Tags: Development, Harmeny AC