Mhairi and Jamie land golds at Lindsays National XC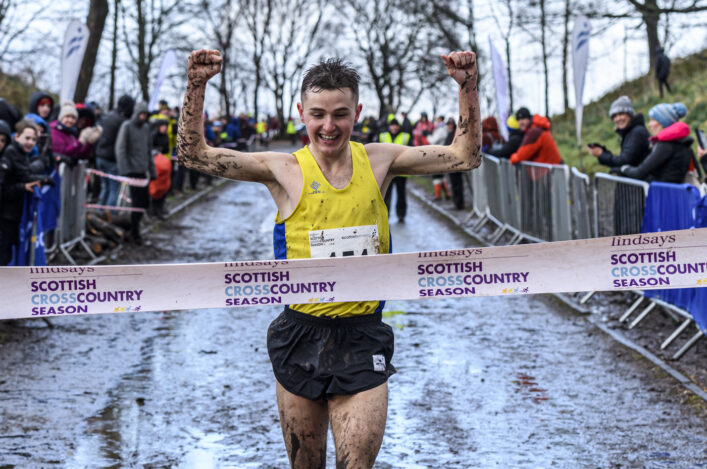 Jamie Crowe takes the finishing line to win the Lindsays National XC Senior Men's race and guide Central AC to 10-in-a-row int he team race (photos by Bobby Gavin)
PROVISIONAL RESULTS (among the downloads on the right)
Mhairi Maclennan claimed her second Lindsays National XC title then insisted every athlete who competed at Falkirk was deserving of a medal.
The GB international repeated her Callendar Park success of 2018 on a day when conditions overhead and underfoot were testing to say the least.
Indeed, the whole organisation of the event proved a huge challenge to scottishathletcs and our willing army of volunteers but the response simply summed up the #SALtogether factor within the sport.
At this stage, we want to say a big thank-you to all who competed on Saturday and those involved in helping get you there. The effort undertaken is hugely appreciated and our finisher numbers indicate a pretty remarkable turnout under all the circumstances.
Jamie Crowe justified his status as favourite for the Senior Men's race with a fine win from Jonny Glen of Inverclyde AC and Kevin Wood of Fife Ac.
Crowe's gold spear-headed another remarkable team effort from Central AC as they made it ten-in-a-row in terms of the Senior Men's team race and underlined their continued domination in this arena at the Lindsays National XC.
PHOTOS from Bobby Gavin on Facebook
Maclennan for her part came home in 39.44 to savour a winning margin of 30 seconds over silver medallist, Annabel Simpson of Fife AC, and bronze medallist, Moira Stewart of Cambuslang Harriers.
With Simpson in second and Steph Pennycook, Fife AC had the platform for a repeat of their 2019 team success with all their six counters inside the top 21 in a race which had attracted a Record entry of 433 Women.
Backing up those two athletes were Jennifer Spence, Megan Crawford, Heather Anderson and Jennifer Cruickshanks in a great team performance which delighted scottishathletics President, Ron Morrison, long-time coach at Fife AC.
'It was great to win gold for the second time in my career and especially after being fourth last year,' said Mhairi.
'The conditions today with wind, mud and sleet were so tough and really everybody who was out there and competed deserves a medal. It was a big field again for the Senior Women's race and it is wonderful being part of that.
'I think athletics in Scotland, particularly on the endurance side, is in a good place at the moment – and you saw that with the response from clubs on a pretty awful weekend for weather and travelling.'
Fife AC had won their golds after being joined on the podium by Shettleston Harriers and Edinburgh Uni Hare and Hounds.
Crowe's victory was similar in the sense that he broke clear of Glen into the second-lap and then pushed home his advantage, as Maclennan had done on Simpson. Jamie came home in 35.29 with a 14-second winning margin.
'I felt nervous all week because people were saying I was probably the favourite,' he said.
'Those nerves worsened when the snow started in the first lap and at that stage you just want to get over the mud and get around.
'But I managed to get away from Jonny, although not as early as I had hoped. And winning it was Central take ten-in-a-row means a lot to me.'
Central won that title from the challenges of silver medallists Edinburgh Uni Hare and Hounds and bronze medallists Corstorphine AAC. With Alastair Hay in sixth – for yet another top 10 finish by the double former champion – Central had further counters in Cameron Milne, Matthew Sutherland, Dale Colley and Conan McCaughey.
All at scottishathletics offer our warm congratulations to Central AC and stalwart coach Derek Easton on a magnificent achievement in the Senior Men's race in terms of team consistency and continued excellence as a squad.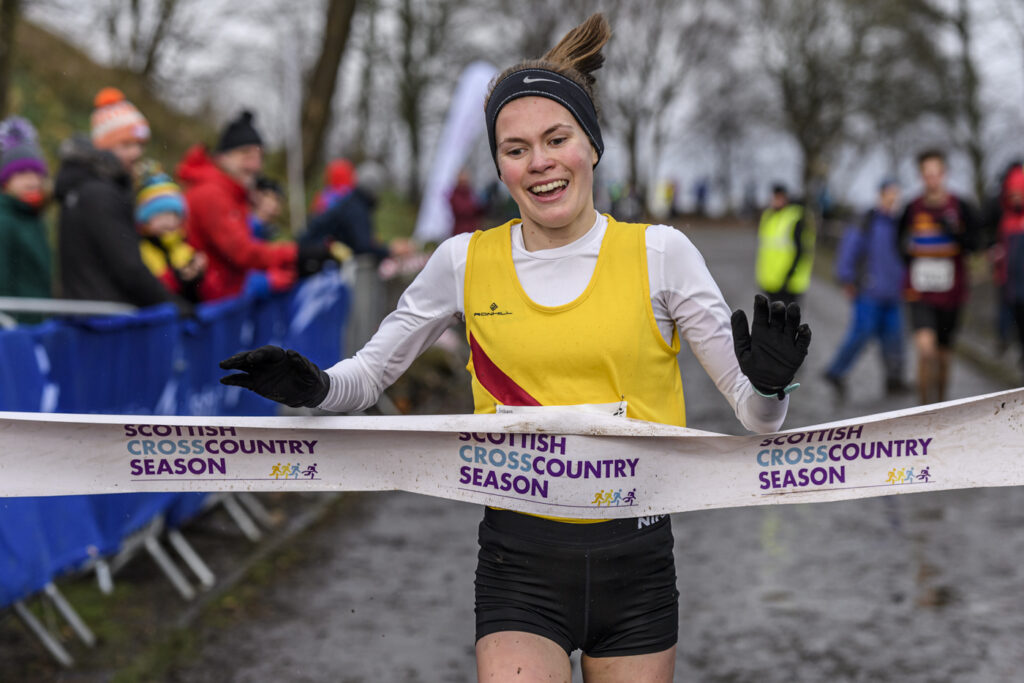 The U20 races delivered a sense of déjà vu as Megan Keith of Inverness Harriers and Freddie Carcas of Edinburgh AC, repeated podium successes of 12 months ago.
Carcas was a surprise winner in a sense, as he has been injured for much of this winter, but he saw off the Central AC duo of Hamish Hickey and Tom Graham-Marr.
'I was out in Germany on a Uni placement prior to Christmas but I've been back here for a bit as I had a knee problem and was trying to get that sorted,' said the Edinburgh AC athlete.
'I think the conditions were not too bad for me because I may have struggled if it was quicker. I'm thrilled to win it for the second time.'
Central AC took the team golds in that race with Dundee Uni in second and Edinburgh Uni Hare and Hounds in third.
Keith has reigned supreme in XC this winter in Scotland, winning the Short Course at Kirkcaldy and also the Run Stirling U20 as well as recently posting an U20 Course Record at Armagh.
Cera Gemmell of Team East Lothian was second and Holly Paige of Edinburgh Uni was third.
Edinburgh Uni Hare and Hounds won team gold from their Glasgow counterparts with St Andrew Uni taking home the bronzes.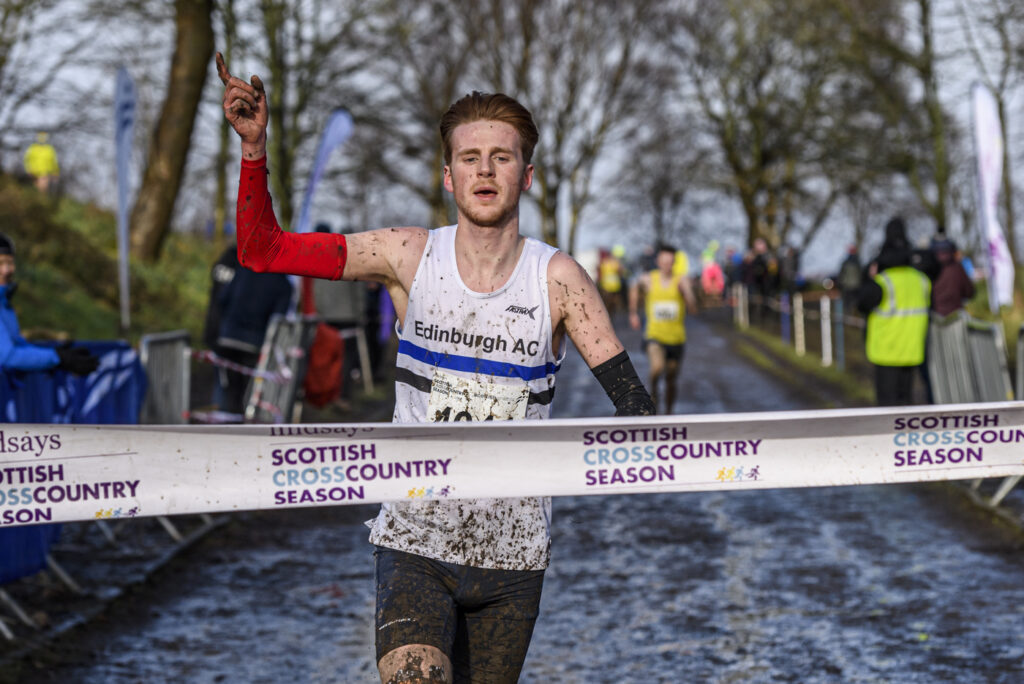 Tags: Central AC, Falkirk, Fife AC, Jamie Crowe, Lindsays National XC, Mhairi Maclennan