Scottish 3000m Champs review
Stephen Mackay of Inverness emerged from this group to take silver behind James McMurray in the Senior Men's Champs (photos by Bobby Gavin)
Photos by Bobby Gavin on Facebook
By Peter Jardine
It would be stretching the truth to say that the Scottish 3000m Champs, staged within the GAA Miler Meet at the Emirates Arena, was awash with some of our bigger names.
There was absolutely no shortage of 'stalwarts' of athletics in Scotland dotted around the indoor venue on Friday evening, however.
That complimentary label could justifiably apply to many of those present in various roles – Officials, volunteers, coaches and parents – as more than a few well-kent faces enter another decade.
Or to a host of our Masters medallists, too, with Cambuslang Harrier Kerry-Liam Wilson laying claim to quite an achievement as he closed off his V45 years with a fifth successive age group gold for the 3000m indoors. With all of those runs under 9:17.
More of that later.
But, on this occasion, the 'stalwarts' description could be equally applied to one or two of those who made the journey to the podium to collect Senior medals.
Stephen Mackay of Inverness Harriers and Jenny Selman of Fife AC probably have quarter of a century of competing at Scottish championships between them.
Selman, as we reported a few weeks ago, bridged a significant gap in her career to win a first Scotland vest in half a dozen years for 8k cross country in Liverpool after previously racing 800m at Loughborough.
Mackay, after eight years or so of travelling from the Highlands to the central belt for championships, was second to Neil Gourley in the 800m at Grangemouth last August and second to James McMurray in the indoor 3000m on Friday night with a big PB of 8:13.19.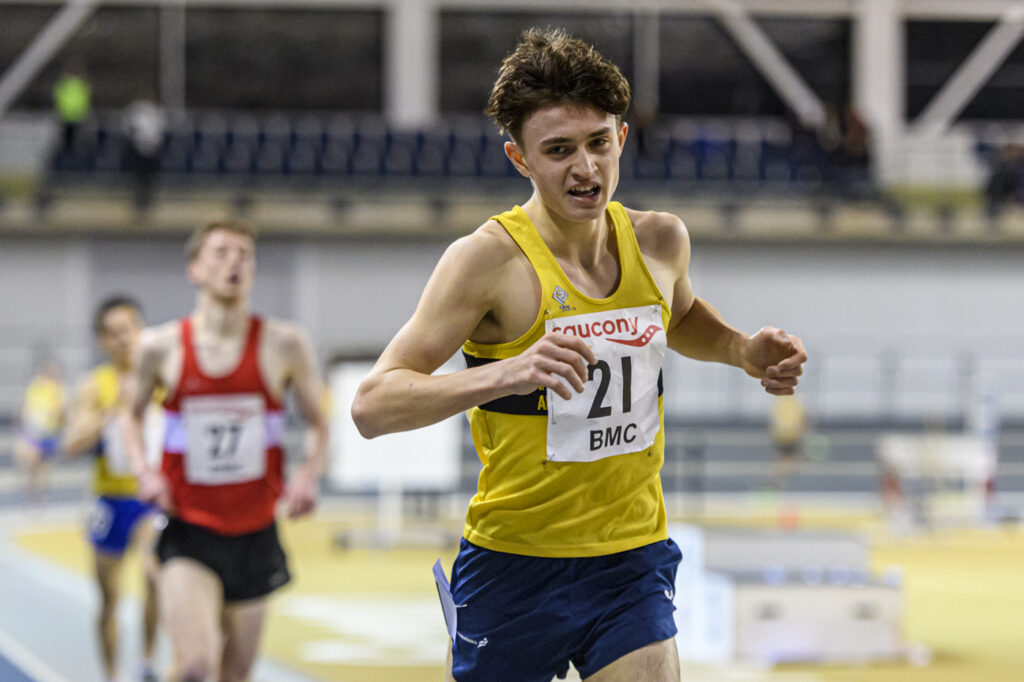 Kilbarchan AAC's Jack Patton takes the Scottish U20 gold
'It's good to get another Scottish championship silver and I have to be really pleased with that run as my PB before tonight was 8:27,' said Stephen.
'I'm 27 and things are just falling into place for me now. It's taken many years of hard work and I was lucky enough in 2019, with help from my coach Mark Pollard, to go abroad on training camps with Andy Young and Laura Muir around May time and then again later in the year with Andy Butchart.
'It was an eye-opener to learn what hard training is all about and how you can improve. I started at 19 so I hope I can get a few more years and maybe run into my 30s. Yes, you will get years where you feel you are not making any headway but you have to try and keep working hard and come through that.
'Now I've set some Inverness club Record and raced in a British final (at 1500m last summer) and I'm looking forward to the British Indoors in Glasgow – most likely at 1500m.'
English athlete McMurray won the A race in 8:00.38 with Mackay second as James Donald of Dundee Hawkhill Harriers took the Senior bronze medal at 8:15.60.
The Men's U20 gold was won by Jack Patton of Kilbarchan in 8:31.13 with silver for Ben McMillan of Central AC and bronze for Christian Graham of Lasswade.
Harris Paterson of Giffnock won the U17 gold in 8:59.37 as Lucas Cairns of Inverness took silver and Harry Henriksen of Lasswade the bronze.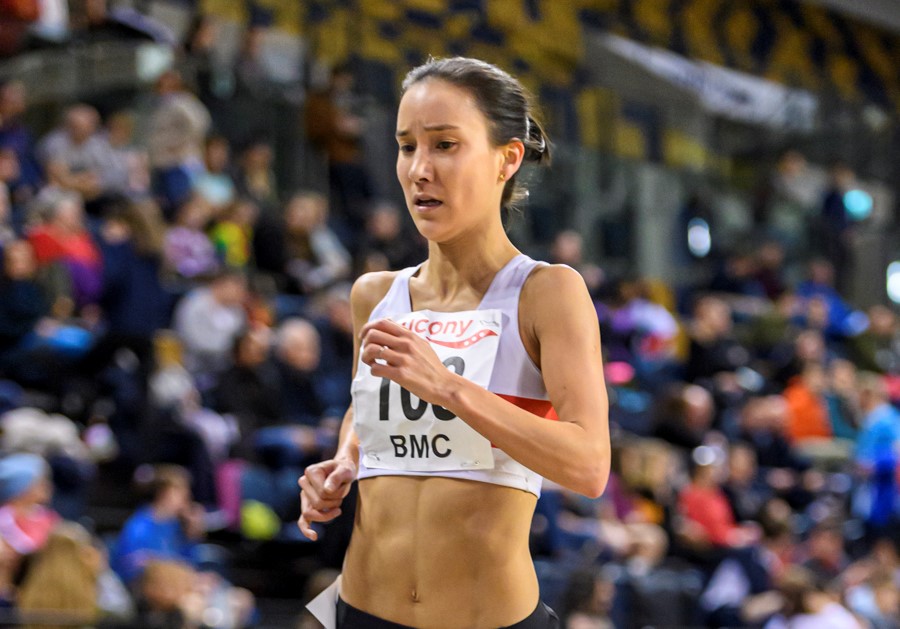 Jenny Selman on her way to a PB
GB international Eloise Walker, a finalist at this distance in the European U20s last summer, was the fastest woman on the night and was allocated the U20 gold for her run of 9:26.13.
East Kilbride AC's Hannah Anderson maintained her strong form of recent months with silver as Georgia Ledingham of Corstorphine took the silver.
Selman was the Senior gold medallist, coming home in a PB of 9:42.49 from silver medallist Kerry Macangus of Kilbarchan AAC in 9:44.15 and bronze medallist Holly Little of VP-Glasgow in 9:47.93.
'I'm pleased with the PB but had hoped to be a little bit quicker than that,' said Jenny.
'There's consistency to my training now and things have been going well over the past few months – from the outdoor season last summer to cross country where I won that Scotland vest for Liverpool.
'The Scottish Champs at the Emirates on January 26 – and the 1500m – are very much on the radar now.'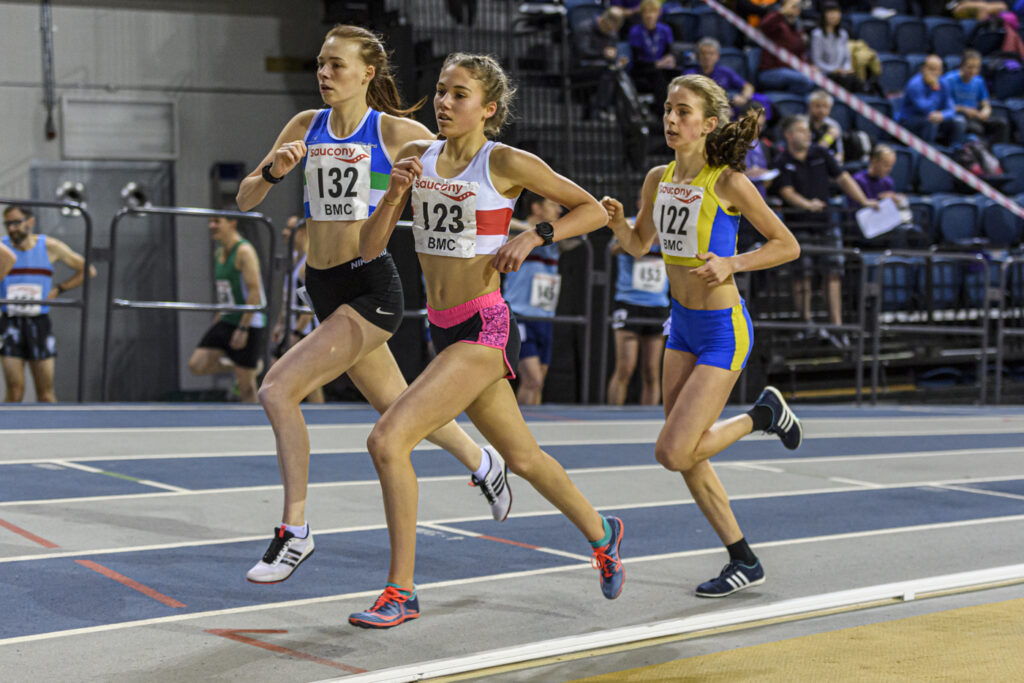 Central AC's Dorottya Csuta had a superb run to make European U18 qualifying time for Hungary
The Scottish U17 title went to Hungarian athlete, Dorottya Csuta. The Central AC athlete, who is working with Derek Easton in Stirling, was inside the Hungarian qualifying time for the European U18s this summer as she clocked 9:42.46. Edinburgh AC's Katie Johnson took the silver and Meredith Reid of Glasgow School of Sport the bronze.
It was an exciting night for the Csuta family and with Stirling very much their base now, it is name we may well hear more often.
As always the Masters categories were keenly contested – with stalwarts out in force.
The names will be familiar but the achievement is precious each and every time. The aforementioned Kerry-Liam, for example, rightly proud to note that all five of his winning runs from V45 to the age of 49 have been under 9:17.
Among the other gold medallists were:
M40 Leon Johnson (Edinburgh AC); M50 Stephen Allen (Motherwell AC); M55 Guy Bracken (North Shields); M60 Alastair Walker (Teviotdale Harriers); M65 Frank Hurley (Cambuslang); M70 Bobby Young (Clydesdale Harriers).
W40 Jackie Etherington (Cambuslang); W45 Karen Kennedy (PH Racing); W50 Julie Wilson (Inverness); W55 Fiona Matheson (Falkirk Vics).
*Apologies over an error around the V35 category medals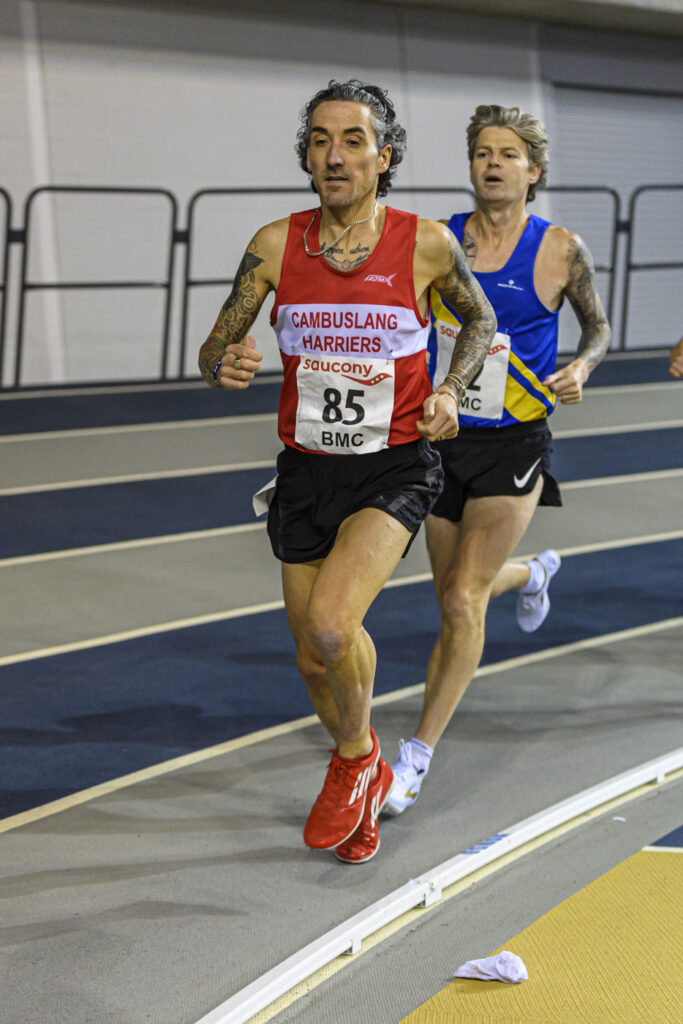 Five-in-a-row for Kerry-Liam Wilson as he closed off his V45 years at 3000m indoors with another gold success