Musselburgh and District AC savour growth spurt . . .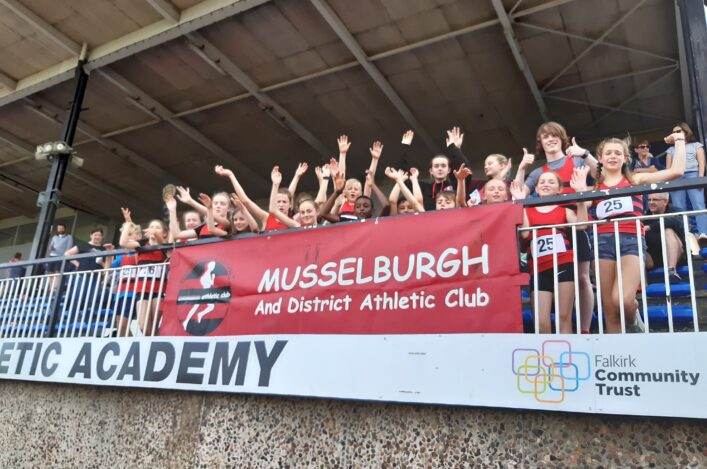 Young athletes from Musselburgh and District AC gather at a track and field event at Grangemouth (photo via the club)
By Roddy Mackenzie
As we approach 2020, Musselburgh and District AC's vision is more focused than ever.
The East Lothian club has seen membership grow to an unprecedented level (over 250 Seniors and juniors) and sessions are now offered six days a week throughout the town and beyond.
Priding itself as a community club catering for all levels and ages, senior club nights are hosted perhaps uniquely for an athletics club – at the local yacht club close to the harbour at Fisherrow.
The track at Meadowmill has also been a huge asset since it opened but the club has spread itself widely, using the facilities at Pinkie, Musselburgh Sports Centre and Queen Margaret University.
The annual Musselburgh Festival 10k race – held every July – has been sold out weeks in advance in recent years and a junior 3K race was added to the agenda three years ago and sold out for the first time in 2019. An ice-cream and a t-shirt at the finish for both races guarantee its popularity!
Like the club, it attracts all levels of athlete – while GB international hill runners Andy Douglas and Jacob Adkin have both won the men's race in recent times, the race also features many first-timers.
Founded in 1956 as Lewisvale Spartans before becoming Lothian AC in 1975 after merging with East Coast Track Club and East Lothian AC,  the club became Musselburgh AC in 1990.
There has been a huge drive to increase the junior section in recent years and recruit parents to join the volunteers as coaches.
It has been so successful that there is often a waiting list for juniors to join and there are now 23 coaches across the junior and senior programme.
With the junior section thriving, the senior section is catching up fast. Having started a jogscotland programme four years ago and, within the last couple of years, Couch to 5k Groups, senior membership has more than doubled.
Perhaps, Coach to 5k is a misnomer, as some have risen from their sofas to complete marathons and even ultras in recent months.
A proper coaching structure is now in place at the club and club coach Mike Malcolm-Smith, who joined nine years ago and works across the seniors and juniors, recalled: 'At the time I joined, the Seniors' training was a group of about 6-12 people meeting for a steady run on a Tuesday evening and sometimes competing.
'I felt at the time – and still do – from my experience at Corstorphine AAC that the club had great potential but needed to develop.
'As I also started helping with the juniors, I could the see for the seniors there was a structure that could be mirrored and adapted from the juniors, as well as using the experience at Corstorphine of how it could be done.
'At the next AGM there was a request for someone to take on the organisation of the Seniors. I put my hand up, I have promised myself and my wife not to put my hand up again at the AGM!
'Gradually, numbers have increased and people are regularly competing in races at weekends, running everything from ultras, hill races and road races.'
The most talented junior athletes from the club advance to Team East Lothian where many have produced outstanding results and junior coach Tony Segall, who has played a huge part in the club's success, is happy with having laid solid foundations:
'To me, the important thing is that the club encourages and supports juniors to compete in all the different types of athletics event – track and field, relays, cross-country, CE and so on – and I think we do well in retaining juniors with a commitment and talent for the sport.'

Tags: Club Development, Development, Musselburgh, Musselburgh and District AC