Butchart and Simpson claim 4k golds at #LindsaysXC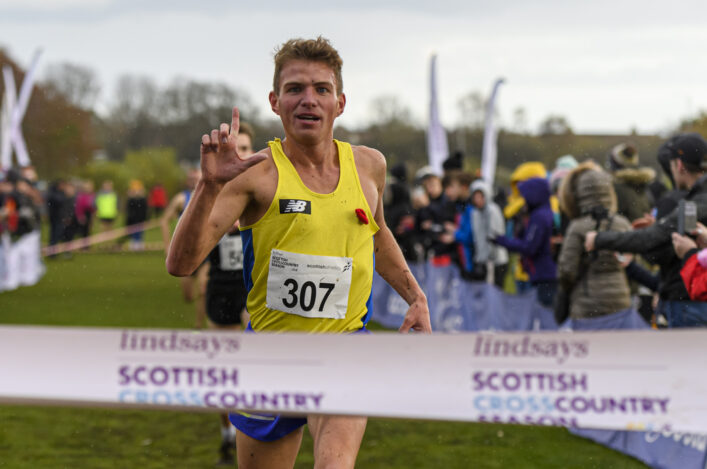 Andy Butchart comes home to win the Lindsays 4k title for the third time in his career (all photos by Bobby Gavin)
RESULTS (provisional) on Event section page (see downloads on right)
Andy Butchart claimed gold in the Lindsays Short Course XC Champs at Kirkcaldy as he landed his the fifth Scottish cross country title of his career.
The Olympian held off all-comers in an excellent Senior Men's race with challenges led by Sol Sweeney and Carl Avery in the final stages.
Butchart's victory, in 11.54 for the 4k course and by one second from Glasgow Uni athlete Sweeney, helped Central AC to team success once again in this race and Edinburgh Uni Hare and Hounds took the golds in the Women's team race.
The consolation there for host club Fife AC, who took team silvers, was a fine 1-2 via the performances of Annabel Simpson and Jenny Selman as U20 champion Megan Keith took third.
It was an excellent day of cross country action in very muddy conditions which saw very competitive races at U17 and U15 level as well as Senior battles.
'I thoroughly enjoyed it and it's always good to claim a Scottish championship title,' said Butchart.
'If that's five individual golds in cross country then I'm very pleased with that given I'm much more of a track runner now. But my roots were in cross country and I still love it.
'The mud today made it a bit harder for me than it might have been – I think when the surface is as soft as that it maybe suits others better than me.
'It was a good race. At one stage I heard the crowd cheering people and realised those behind me were not too far away. I felt the first lap would be quicker and that's what happened and I put in a bit of a surge to get ahead.
'The Euro Cross trials are in Liverpool in a couple of weeks and I have yet to make my mind up on that. The Euro Cross itself is in Lisbon so that will be a much more European-style course and that might suit me.'
Dundee Hawkhill's GB international Kris Jones led the challenge to Butchart on the first lap and tried to go with the Central AC star when he put in a kick.
Ultimately, Jones paid a price for that with Sweeney and Avery coming through from those behind the leading pair to challenge on the closing straight. Welshman Jones was to finish fifth with Jamie Crowe in fourth.
Central thus took the Senior men's gold for the fourth time in five years. Dundee Hawkhill were second and Edinburgh AC were third.
Simpson always looked likely to claim gold in the Women's race and Keith, giving chase towards the final finish, slipped to allow Selman to come through for silver.
'It is good to win a national cross country title,' said Annabel, who won by seven seconds in 13.57.
'I really wanted to do well for the club today because a couple of weeks ago I missed Cumbernauld and went to Leeds for the Abbey Dash 10k. I knew Jenny was running well so we're delighted with a 1-2 and silver medals for the team.
'Leeds went well on the road and I managed a big PB. I think my coach (Steve Doig) was quite stunned when I told him 33:30 because he's felt for some time I should have breaking 34:30!'
Selman has had a good 2019 with a strong run in the 1500m at the British Champs in Birmingham and then second fastest lap at Cumbernauld.
'It's a bit of a shock for me to get a championship medal in XC to say the least,' she grinned.
'When I was a kid, I wasn't even close to that at any time. I'm enjoying my running. Birmingham was unexpected and so was Cumbernauld.
'Today it was even muddier, which I don't think helps me, and in fairness to Megan she was a wee bit ahead before slipping and falling with maybe 300m to go.'
Edinburgh Uni Hare and Hounds won the team golds for the third successive year in this event with Fife AC in second and Edinburgh AC in third.
Keith took the U20 gold from Cera Gemmell of Team East Lothian and Holly Page of Edinburgh Uni Hare and Hounds.
Freddie Carcas of Edinburgh AC took the Men's U20 gold from Hamish Hickey of Central AC and Kristoff Horynik of Dundee Hawkhill.
There were Masters golds in the men's race as follows: M40 Grant Baillie (East Kilbride AC) ; M50 David Gardiner (Motherwell AC); M60 Alastair Walker (Teviotdale Harriers); M70 Frank McMahon (Greenock Glenpark Harriers).
There were Masters golds in the women's race as follows: W40 Avril Mason (Shettleston Harriers);  W50 Ana Richardson (West End RR);  W60 Ann White (Garscube Harriers); W70 Margaret Robertson (Dundee RR).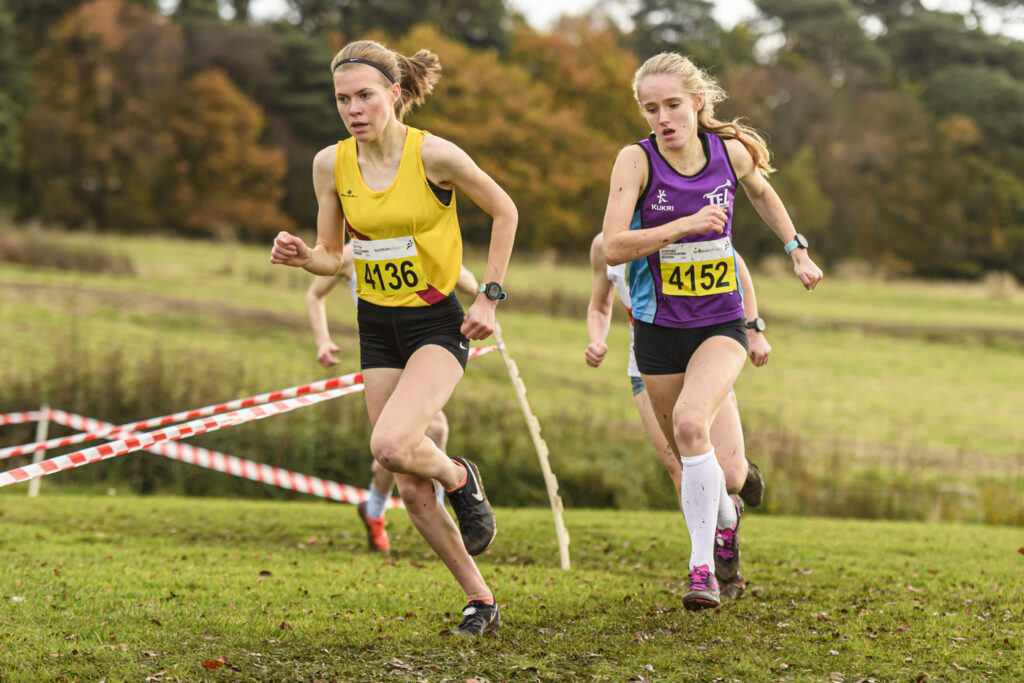 Megan Keith and Cera Gemmell battle for U20 medals 
Tags: Andy Butchart, Annabel Simpson, Central AC, Edinburgh Uni Hare and Hounds, Kirkcaldy, Lindsays Cross Country Season, Lindsays Short Course XC