4J Virtual Hill Running Challenge – the results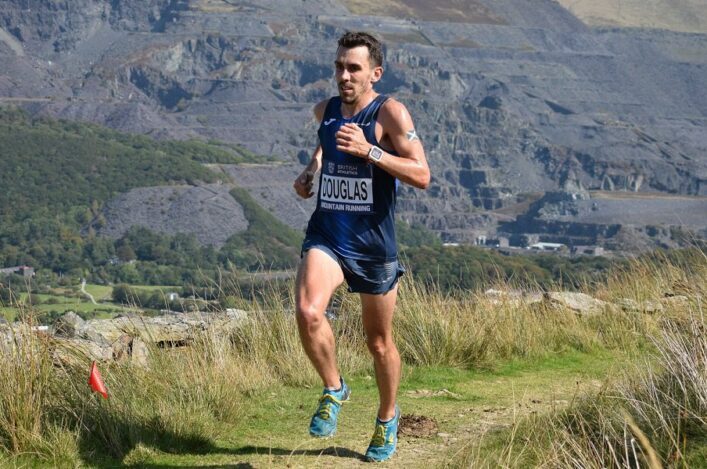 Pictured: Andy Douglas running in Wales last year (Pic: British Athletics)
Hill running was in the ascent at the weekend, as more than 500 athletes took part in our 4J Studios Virtual Hill Running Challenge, racking up an incredible total of 133,042m climbed between them – equivalent to almost 100 ascents of Ben Nevis!
Runners were asked to complete a solo run, racking up as many vertical metres as possible in 30 minutes (U17 to Masters) or 15 minutes (U13 & U15). Results were verified by a team of scottishathletics staff and officials, checking GPS data against the OS 1:25 000 maps.
No surprise, perhaps, that the overall winner was last year's Mountain World Cup winner, Andy Douglas (Inverclyde AC), with 621m ascent over the course of his 30 minutes. In joint second place were Joe Symonds  (Shettleston Harriers) and European Mountain Running silver medallist Robbie Simpson (Deeside Runners), both with 590m.
In the women's race, victor was Jill Stephen (Hunters Bog Trotters), a regular in the Scottish teams for the Snowdon International, with 550m – that also earned her 10th place overall. Catriona Buchanan (Central AC) was second with 510m and Lauren Dickson (Lasswade AC) third – and first place U20 – with her 500m climb. Particularly gratifying to see Lauren's superb run as it comes on the heels of a nasty bike accident last summer – clearly now back on form.
The women's event in particular demonstrated that tactics, not just running speed, played an important part in this challenge. Jill chose a very grassy runnable rep on Arthur's Seat, while Catriona opted for a very short rep up the steps of her local reservoir's dam – just 15m height gain for each summit of the dam wall. The men used more conventional tactics with Andy running 80m reps on Allermuir in the Pentland Hills, and Joe took on a very steep grassy trail in the Campsies on his back door.
Winners in the U17 race were Patrick Lang (Aberdeen AAC) with 426m and Helen Chong (Giffnock North AC) with 368m.
In the team results, Shettleston Harriers dominated the men's race with their A and B teams taking 1st and 2nd place respectively, with Deeside Runners in third. The women's race saw victory for the Highland Hill Runners A team, with Shettleston A in second and Central AC's A team in third.
Juniors
In the Junior 15 minute race, first place in the boys' race went to Struan Bennet (Fife AC), top Scottish finisher in the JHI last year, with a 294m climb. Euan Docherty (Central AC) was second with 280m and an excellent performance from U13 Dylan Daunt (Edinburgh AC) brought him in third place overall, and winner in the U13 category with a 236m climb.
In the girls' race, Jessica Taylor (Edinburgh) gave a superb run of 208m – first U13, first girl overall and fifth placed junior overall. U15 Isla Paterson (Gala Harriers) was second girl home with 199m. Iris Nicoll (Dundee Hawkhill) was second U13 and third overall, logging a 198m run.
The junior team races saw victory for Banchory Stonehaven AC (U13B) and Greenock Glenpark Harriers, (U13G), with Ross County AC taking both U15 titles. Dundee Hawkhill won both the Open Teams (4 athletes) and Total Climb (all club members) team titles.
We were delighted to see so many juniors tackling the Hill Running Challenge – if they'd like to try more hill running in future, parents and coaches are welcome to contact our hill running lead, Angela Mudge, on angela.mudge@scottishathletics.org.uk for advice and encouragement.
Aside from the (virtual) podium places, it was also a superb event for the scottishathletics community as a whole. With entrants all the way from U13 to M80 – shout-out to Norman Smith of Kinross Road Runners as the winning – and admittedly only – competitor in the latter category with his climb of 184m.
As shown by the superb slideshow below from Bellahouston RoadRunners, clubs also used the event as a chance to bring their members together virtually, while observing all the necessary social distancing rules. 
Article with thanks to Angela Mudge
Tags: 4J Studios Virtual Challenges, Andy Douglas, hill running, Jill Stephen, Virtual Hill Run