4J Studios Virtual SUPERteams – clubs asked to register
Big thank you to Darran Muir of Law and District for helping us show how the sprints challenge is carried out
Calling all clubs
The new 4J Studios Virtual SUPERteams Challenge starts on Monday and we're delighted to confirm a number of clubs have already signed-up.
SUPERteams for our U12 athletes is always a hugely popular event around June but, of course, it can't happen in the usual format this year because of Covid-19 restrictions.
Instead, we're setting up a Virtual SUPERteams to provide a competition opportunity for club athletes aged 9-12 based at their homes.
The 4J Studios Virtual SUPERteams Challenge will be delivered by clubs, with team managers, coaches and club volunteers handling athlete registration, results and scoring in a club-based competition held over a four-week period.
We are asking clubs to register for this now in order to help us deliver the event.
The sprints week starts on Monday (May 18) and clubs can sign-up throughout next week before a closing deadline of Sunday 24 May.
As in the traditional SUPERteams format, all athletes would be expected to complete all four events that make up the SUPERteams competition. Points will be awarded based on these performances.
Throughout the four weeks, club results will be added to the National SUPERteams leaderboard, co-ordinated by scottishathletics.
The top four results in each gender will make up a club's 'A' teams, the next four the club's 'B' teams, and so on.
The scottishathletics Events team will calculate team scores to produce a national team result, making this both an individual challenge between club members, as well as a national team challenge between clubs all over Scotland.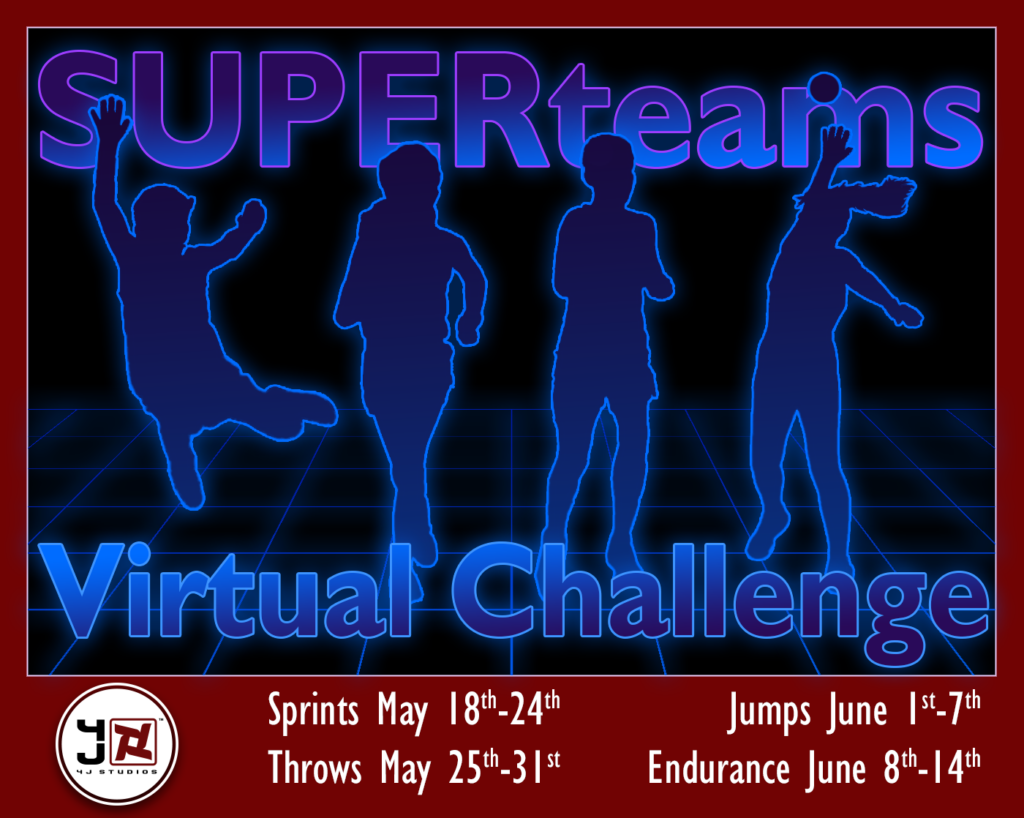 When will the Challenge take place?
Sprints – Week 1 – Monday 18  – Sunday 24 May
Throws – Week 2 – Monday 25 – Sunday 31 May
Jumps – Week 3 – Monday 1– Sunday 7 June
Endurance – Week 4 –Monday 8 – Sunday 14 June
Who can take part?
Athletes must be U12 on 31 August 2020 and at least 9 years old on the final competing day of the Challenge: date of birth between 01/09/2008 – 14/06/2011.
All athletes must also be up-to-date members of scottishathletics on 14 June 2020. Athletes will not be able to contribute to a team score if their scottishathletics membership is not valid on this date.
How do we sign up?
Clubs should register online through SportServe.
Once a club has registered, they will receive a guide to delivering the event, including step by step instructions for athletes on how to carry out each event safely; information on scoring; and advice on delivering the event within the club.
Clubs will run their own registration process; so young athletes and their parents should look out for information from your specific club on how to sign up for your club's team.
Clubs have until the end of Week 1 (Sunday 24 May) to register, but should sign up as early as possible to receive their information pack and allow their athletes to register for a Week 1 score. We need scores to be in by the end of Week 1.
Clubs can register online

Tags: 4J Studios Virtual Challenges, 4J Studios Virtual SUPERteams