Robbie wins Jungfrau; Lynsey sixth; Eilish mile; Debbie ultra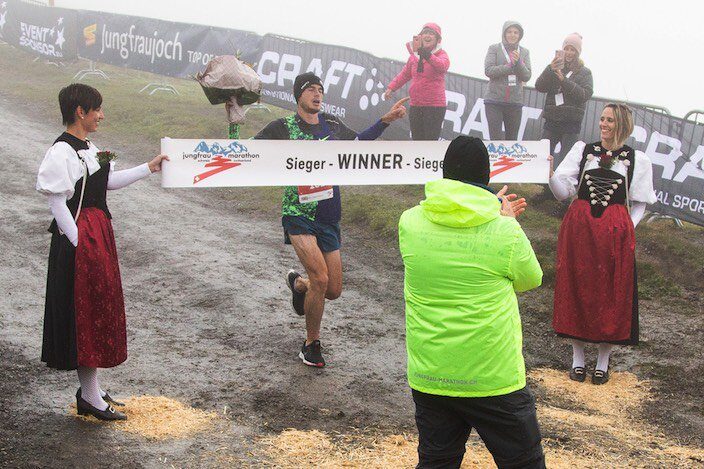 Photo via Twitter
Robbie Simpson has split his attention between marathon running on the road and his more favoured hill recent over the past couple of years.
It led him to bronze in the Commonwealth Games at Gold Coast 2018 but, prior to that, winning the Jungfrau Marathon in the Alps in 2016 was certainly one of his career highlights.
Robbie has now replicated that performance with a second victory in the event early on Saturday morning. Indeed, it was perhaps a better performance with the 2:56 time he recorded in winning his best in an event which features 1700m of ascent within the traditional marathon distance.
Fellow British athlete, Andrew Davies, made it a 1-2 as he came home in second place behind Robbie.
+++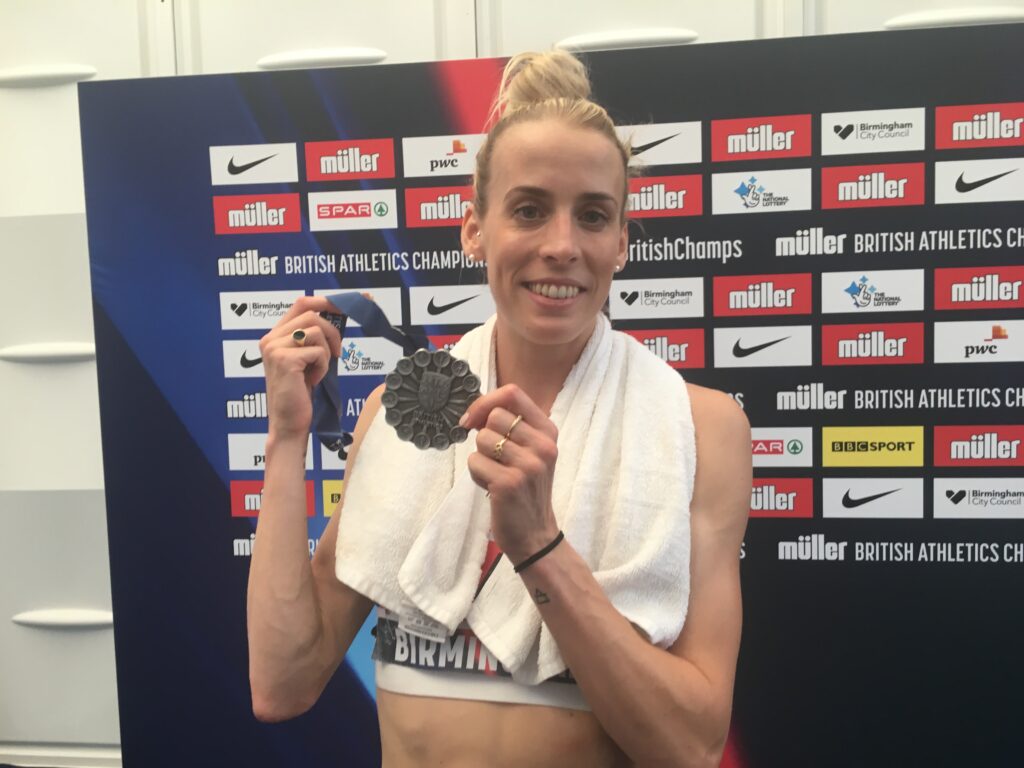 Lynsey Sharp with her British Champs silver medal (photo by Sue Gyford)
Lynsey Sharp was back in action after the British Champs and World trials when she raced in the IAAF Diamond League 800m final on Friday evening in Brussels.
There was a sixth place finish in the end for the Scot in 2.01.47 as she seeks to mix it with the world's best in the Women's 800m come Doha three weeks from now.
+++
Eilish McColgan took the win in the Great City Games Women's Mile race on Saturday morning.
Eilish, who may yet double up over 5000m and 10,000m at the World Champs, came home in 4.32 to win from Melissa Courtney (4.33) and Amy Griffiths (4.38).
Beth Dobbin raced in the 150m and Guy Learmonth in the 400m.
+++
In ultra running, the Centurion Running 100-mile event in Ashford, Kent, saw Debbie Martin-Consani of Garscube Harriers come up with a time of 16.21.04 and place as first woman.
It's understood to be the fifth best performance by a Scottish female athlete with Debbie herself holding the record at 15.48.18 from 2012.
On Instagram, she said:
'That was Me versus me. My head versus my heart. My head nearly won many many times. 100 miles round a track is basically 402 opportunities to quit. Proud to gut it out in 16:21. Not the PB (stands at 15:48) I was striving for, but I was still in the arena.'
With thanks to Adrian Stott
+++
Tags: Beth Dobbin, Debbie Martin-Consani, Eilish McColgan, Lynsey Sharp, Robbie Simpson