Para Records and medals in Manchester; Miler Meet; Ultra runs
Gavin Drysdale on his way to a RaceRunning World Record in Manchester (photo by Laurence Bissett)
The England Athletics Senior and CAU Championships in Manchester over the weekend were hit by some poor weather – but it didn't stop Scots delivering some good performances and collecting a handful of medals.
Our Para athletes led the way with two World Records in RaceRunning for Kayleigh Haggo and Gavin Drysdale as well as a victory for ambulant runner, Amy Carr and for Steven Stone in the ambulant long jump.
There were strong performances in the jumps, too, as Nikki Manson and David Smith made it a Scottish double in the high jump and Jax Thoirs took the pole vault title.
In total, we made it eight gold medals, three silver and five bronze in Manchester with Nick Percy another winner as he took the discus gold and Rachel Hunter and Emma Nuttall landing those silvers in the hammer and high jump respectively. Rachel's SB of 64.34m took her to third in the British rankings. Paul Ogun took silver in the men's long jump with 7.40.
RaceRunning made a welcome debut at the England Athletics Senior Champs in Manchester over the weekend – and that gave Kayleigh and Gavin the opportunity to post World Records!
Kayleigh clocked a new PB of 18.97 to win the Women's 100m, while Gavin recorded 17.26 similarly to take the win in the Men's 100m. Subject to ratification procedures, both are World Records in these events.
It was an emotional day for the athletes, of course, following the passing of coach Janice Eaglesham the previous weekend. Setting records on the track proved a fitting tribute.
Photos from Manchester by Laurence Bissett
As well as those mentioned above, there were bronze medal-winning performances as follows:
Jack Lawrie 400m H in 50.79; Hannah Cameron 800m in 2.10.33; Stacey Downie 400m in 54.52; Zara Asante in Triple Jump 12.68m; Joe Bloomfield 63.71.
Many congratulations to all these athletes and their families and coaches on a successful weekend in Manchester.
+++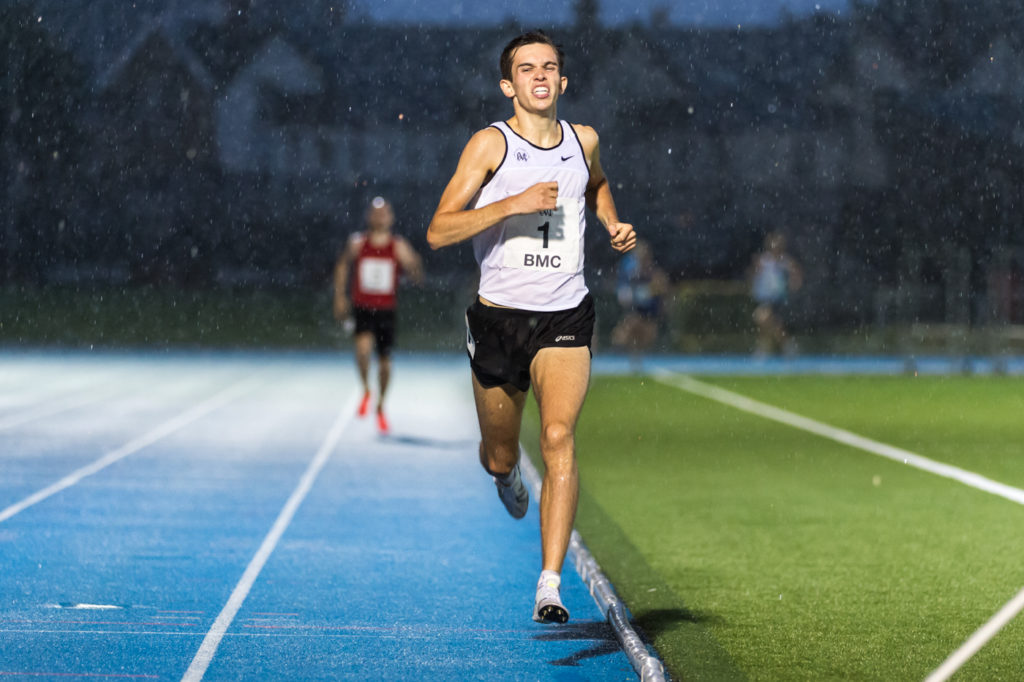 Sol Sweeney takes a win at Scotstoun in the 2018 Miler Meet (photo by Bobby Gavin)
Sol Sweeney claimed the £1000 bounty on offer at the GAA Miler Meet at Scotstoun on Friday night.
With a PB rate of 57 percent this was once again another great meet, attracting athletes from all over Scotland.
The cash prize pot rolled over from the previous meet and the 5000m races – so a run of 3.45.71 from Sol was enough to clinch the money in a 1500m A race which saw eight men run under 3.55. Kane Elliott, Stephen Mackay and Cameron Wright all broke 3.48.
In the 5000m races, James Donald was fastest in 14.23.07 with Annabel Simpson at 16.31.60 and U20 athlete Cera Gemmell at 16.36.74.
+++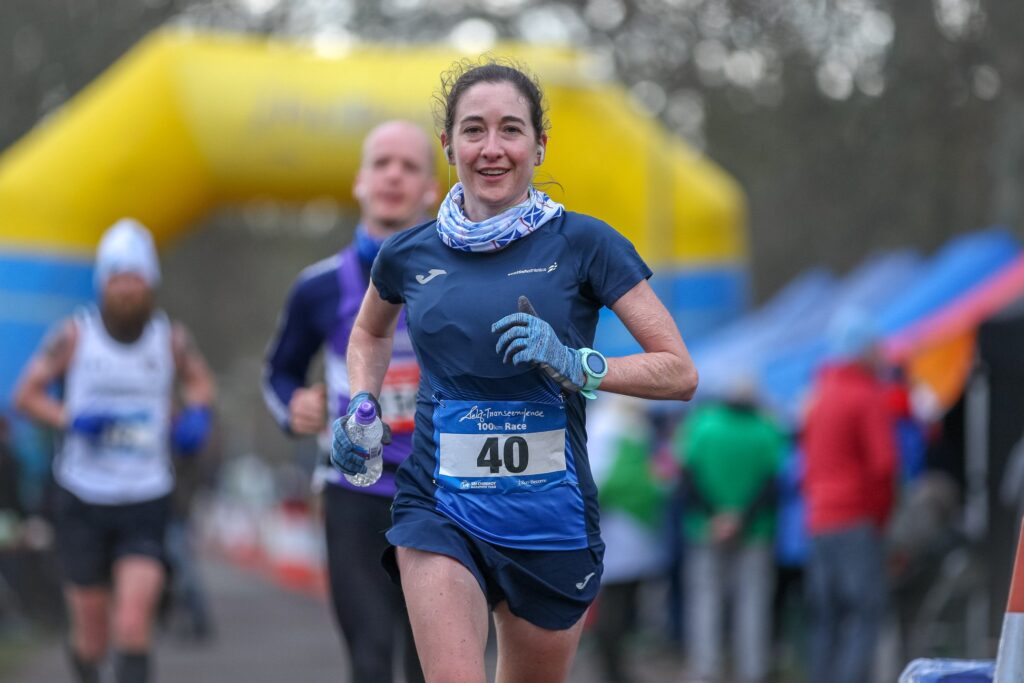 Sophie Mullins – the Fife AC athlete raced in Montreux (photo by Steve Adam)
There were a series of Ultra events at home and abroad over the weekend.
In Switzerland, British and Scottish 100k champion Sophie Mullins (Fife AC) finished fourth at the 30k Montreux Sky Race in Switzerland in 3.47.58.
Also in Switzerland at Davos, GB ultra International Joasia Zakrzewski (Dumfries) finished fourth at the Davos Swiss Alpine Marathon (88k) 11.28.02
Meanwhile, in Andorra, Georgia Tindley (HBT) was sixth at the Comapedrosa Sky Race 3.25.36.
This event is only a relatively short 21k (13 miles), with 2300m of climb, but is one of the steepest and technical of the European Sky Race series.
Closer to home, there were superb second places in the Lake District at the Classic Lakeland 100 miler for Scottish athletes.
Neil McNicol, Beacon Runners, claimed second in the men's race in 21.37.28, while GB 24 Hour international Sharon Law, Garscube, took second  in the women's event in 27.40.58.
With thanks to Adrian Stott
Tags: Annabel Simpson, Cera Gemmell, GAA Miler Meet, Gavin Drysdale, James Donald, Joasia Zakrzewski, Kayleigh Haggo, Manchester, Sol Sweeney, Sophie Mullins