Muir joy in Stockholm; GAA Sprint Gala; Scottish Schools timetables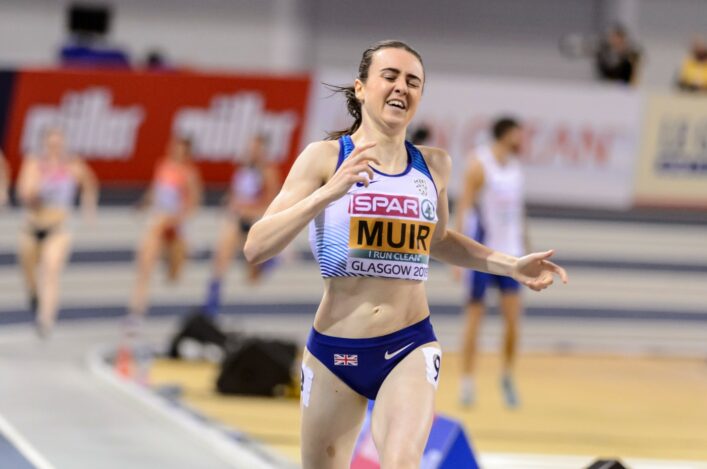 Laura Muir at Glasgow 2019 – now back to winning ways in Sweden (photo by Bobby Gavin)
Stockholm Diamond League results
Laura Muir kicked off her Diamond League season with victory in the 1500m in Stockholm.
Laura won it in 4.05.39 and there was a solid fourth place for Jemma Reekie in 4.10.16, as both opened their track seasons.
'I feel very happy with that,' said Muir, who was third in the Westminster Mile last weekend.
'It is much more representative of where I am at. I was quite disappointed after last weekend's race. Today was about the win rather than the time with the conditions as they are.'
Eilish McColgan came up with a fine 14.52.40 run for seventh place in a tight finish in the women's 5000m and Lynsey Sharp was seventh in the 800m in 2.03.52.
'I should've gone earlier but I wasn't high on confidence after the start to this year – now I feel like I'm starting to turn it round,' said McColgan, who had been away training in Switzerland.
On a burglary to her home back in Manchester, she added: 'I don't really know much. It's frustrating. I can't believe the destruction they've made. It's not ideal the day before a race and I can't wait to get home now.'
+++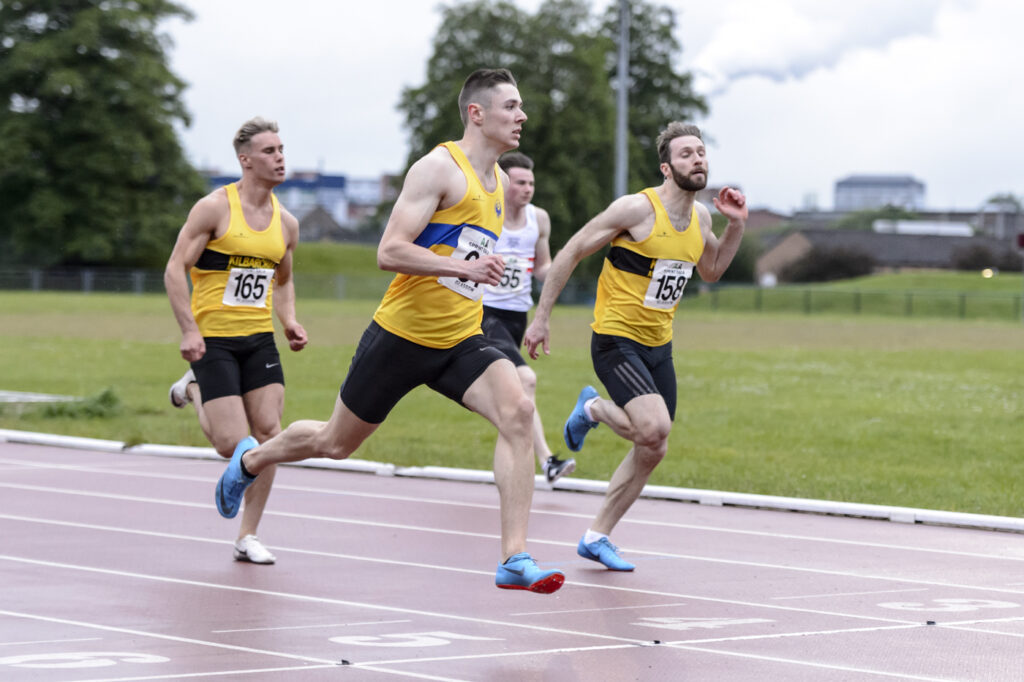 Fraser Angus in action in the 100m at Crownpoint in the GAA Sprint Gala (photo by Bobby Gavin)
Photos on Facebook by Bobby Gavin
The Glasgow Athletics Association saw their summer series of Sprint Gala events get underway on Wednesday at a wet Crownpoint.
Despite the inclement weather, there was a strong turnout with a big number of clubs represented on the track with the events including some field events in the jumps and throws, too. Aberdeen AAC were among those to make the effort to compete.
Giffnock North's Fraser Angus was the fastest in the top 100m heat as he clocked 10.80 to go within five hundredths of claiming the prize pot put forward by the GAA for certain times.
Fraser's club-mate, Adam Clayton, was second in 10.98 and great to see the likes of Krishawn Aitken, Kade Thomas and Stephen Dunlop all racing in that heat.
In the 300m races, there were runs of 34.60 from Aitken and 39.90 from Mhairi Patience. Chloe Lambert was the quickest in the female 100m heats.
There will be another GAA Sprint Gala at Scotstoun on Friday 28 June.
Enter online here for Scotstoun

+++
Grangemouth is the venue for the Scottish Schools Secondary Track and Field coming up on Friday 7 June and Saturday 8 June.
And we're advised now by the Scottish Schools that full timetable details for both days plus information about the event is now online on their website.
+++
Tags: Crownpoint, Eilish McColgan, GAA Sprint Gala, Grangemouth, Jemma Reekie, Laura Muir, Lynsey Sharp, Scottish Schools, Stockholm