Join Adam Craig at the Monument Mile Classic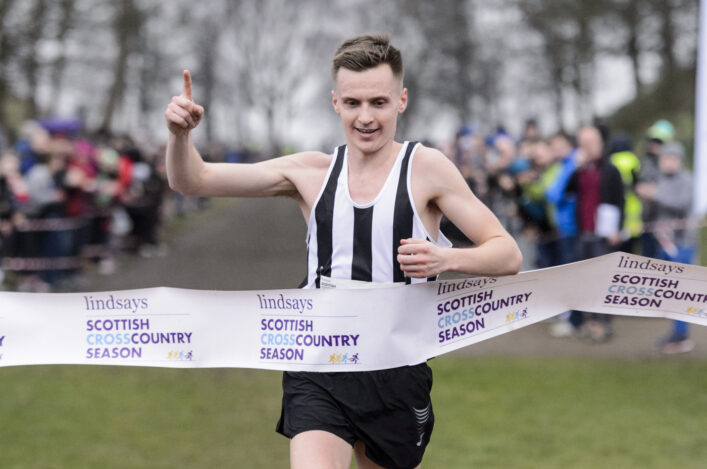 Adam Craig takes a superb win at the Lindsays National XC at Falkirk in February (photo by Bobby Gavin)
Enter here for Monument Mile Classic
The Monument Mile Classic is coming back to Stirling in 2019 – with an improved prize fund.
Central AC launched this event for the first time last summer as they looked to deliver the classic mile distance in a rare Scottish track opportunity.
Lindsays National XC champion Adam Craig of Inverclyde AC and Central AC's own Alastair Hay head the entries already received for the second Monument Mile Classic.
It will take place on Friday 24 May from 6pm to 9.30pm at the Stirling University campus track – in the shadow of the Wallace Momument. And the organisers have raised the bar in terms of the prize fund as they look to build on the success of last year and reward quality times recorded.
To that end, there's £500 on offer to be shared by men and women who run under 4.05 or 4.40.  This will be shared jointly by male and female athletes who break those targets.
In addition, the 1-2-3 in the Senior Women's race will land £100 for first, £75 for second and £50 for third place with the same cash incentive for the top three athletes in the Senior Men's race.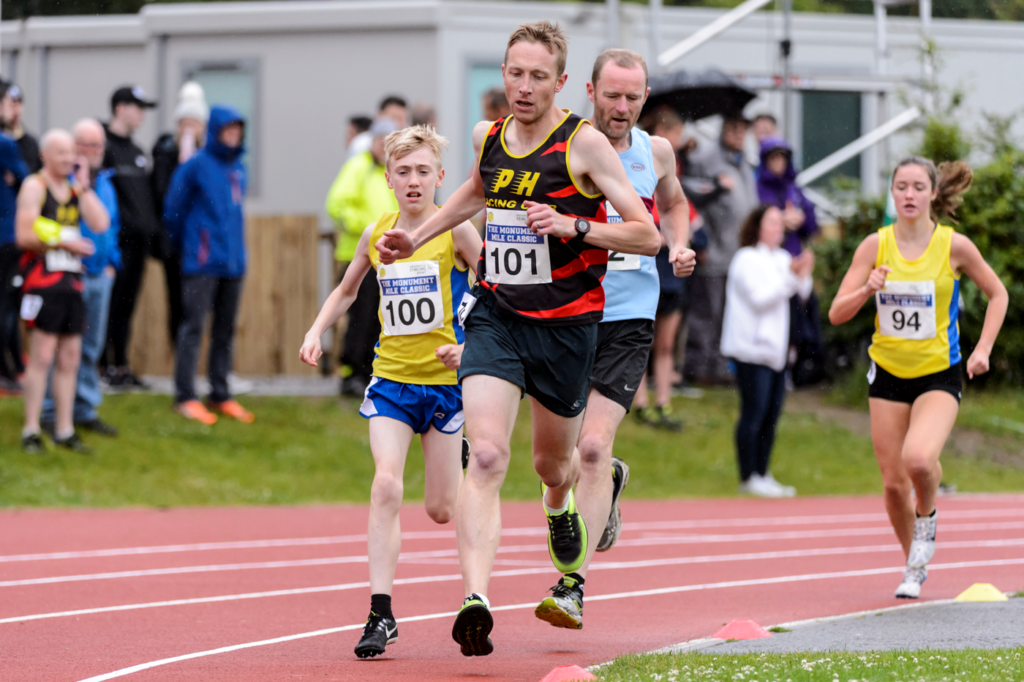 Action from the first Monument Mile Classic event last year (photo by Bobby Gavin)
Craig, so impressive at Falkirk in the Lindsays National XC senior men's race, is looking forward to taking to the track at Stirling.
'I am really looking forward to racing the Monument Mile race in May and getting the chance to test my wheels over such a unique distance,' said Adam.
'The mile race has so much history behind it and I'm glad to see an opportunity to race the distance in Scotland.
'I may not be punching for a sub 4 mile this early in the season, but I have previously posted a 4.08 mile during my time in America so will definitely be eyeing up that 4.05 target been set by the organisers and look forward to seeing who else will be up for battling it out. '
Central AC will again partner with Scotland's University of Sporting Excellence, the University of Stirling, to host this event – which had 12 races last year.
Those races were all sold out in 2018, so this time the number of races will be increased.

Tags: Adam Craig, Central AC, Monument Mile Classic, Stirling