Nairne and O'Hara land glory at U17 Champs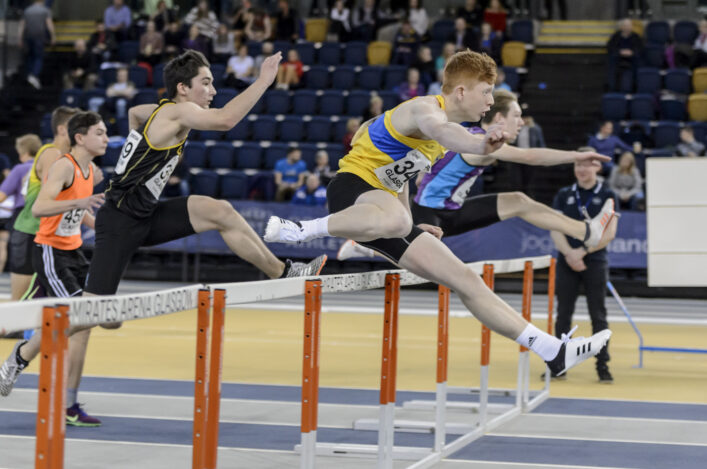 Reuben Nairne on his way to the first of two golds in the U17 Champs with his sprint hurdles success (photos by Bobby Gavin)
Two exciting prospects from the scottishathletics National Academy beat a steady path to the podium at the FPSG Scottish U17s Champs – and rewrote the record books, too.
Reuben Nairne and Ellie O'Hara will not be unfamiliar names to those who follow the progress of teenage athletes in Scotland with any degree of interest.
But, even by the high standards of the Giffnock North and Edinburgh AC youngsters, Saturday was a bit special.
Nairne flew over the 60m hurdles to gold with PBs in two races and then added a Scottish U17 pole vault record for good measure as he cleared 4.61m.
'It has been a top day, with PBs, gold medals and a Scottish U17 record in the pole vault,' he smiled later, with his winning time in the 60m Hurdles at 8.24 seconds.
'In fact, I have made a wee bit of money today. My mum and dad give me a fiver for every PB so I guess I am due a few quid. I think that was four in total today . . .
'I am in the scottishathletics Academy and Brian Donaldson coaches me in pole vault and Chris Baillie in hurdles. It works out well.
'I did combined events before but I definitely see myself as a pole vaulter now.'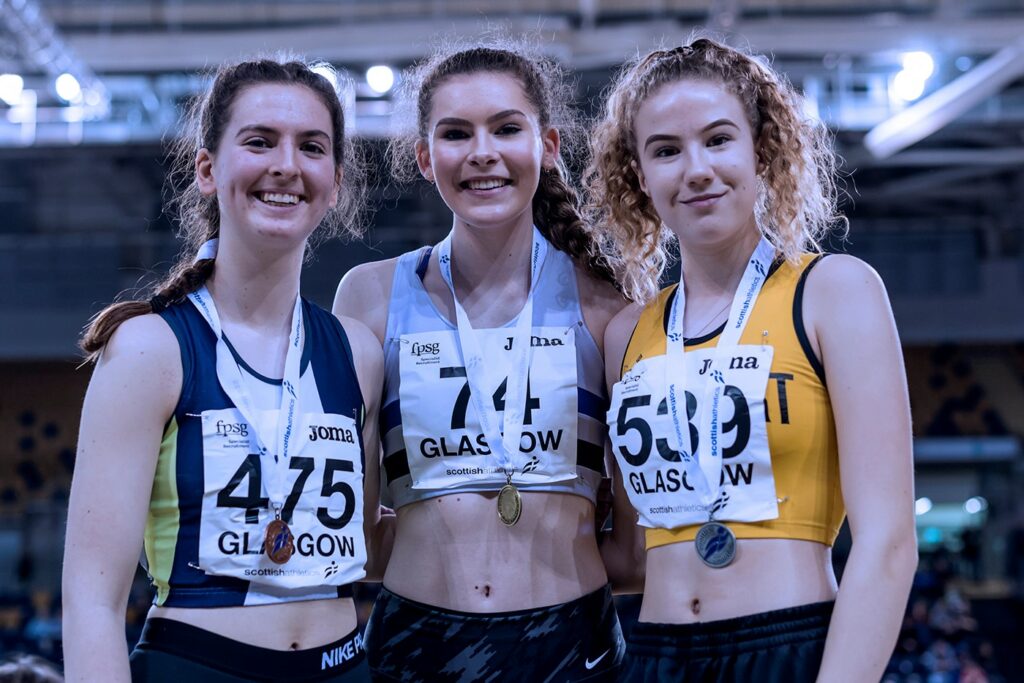 Ellie O'Hara celebrates triple jump success with Pitreavie AAC's silver medallist, Beth Aitken (left) and Storckport's Lucy Robinson
O'Hara, for her part, had a terrific 2018 and she picked up where she had left off with a CBP and Scottish U17 Indoor Record in the triple jump.
Ellie, who is coached by Linda Nicholson, leapt to 12.11m for an impressive defence of the title she had won a year earlier.
Then, in the long jump, a leap of 5.89m, gave Ellie another Scottish U17 Record and CBP. Call it the double double.
'It was a good day and I didn't really expect it to turn out quite as well as it did,' she said.
'I'd a couple of injuries after the end of the outdoor season so the winter training was delayed a bit – we've had to cram in a fair bit recently to get to where we are.
'To get a Long Jump record that has been held by someone like Jade Nimmo (at 5.86m) for a number of years at U17 is great and a big encouragement to me and my coach. I am heading to the British Champs at U17 and I guess now I will be very highly ranked in both events.'
Murray Fotheringham is another prominent Academy name among our U17s – as he opened up the day with a long jump win with a CBP of 7.08m. Later he won the high jump with 1.93m.
There were other U17 gold medals for Scottish athletes via the performances of Sara Barbour (Kilmarnock Harriers) in the pole vault with 3.23m; Jack Patton (Kilbarchan AAC) in the 1500m with 4.11.91; Katie Johnson of Edinburgh AC over 1500m with 4.45.45; Brodie Young of Airdrie Harriers in the 400m in 51.45.
Giffnock athlete Alyson Bell took silver by one hundredths of a second in the 60m final as she clocked 7.65 – but had the consolation of knowing that was inside the previous CBP.
Bell followed that later with a fine win in the 200m with 25.17. Edinburgh AC's Callum Holmes took the men's race in 7.11.
There were 800m golds for Isla Calvert of Livingston in 2.13.41 and Fabian Despinoy of Edinburgh AC in 2.00.11. In the triple jump, Thomas Ashley (Glasgow School of Sport) took gold with 13.06m.
As the action drew to a close around 5.30pm, there was a Championship best by another Giffnock North AC sprinter. Finlay Waugh won the Men's 200m in 22.30.
Congratulations to all these athletes and their families, coaches and clubs. And a big thank-you, as always, to our dedicated team of scottishathletics Officials for making these events happen.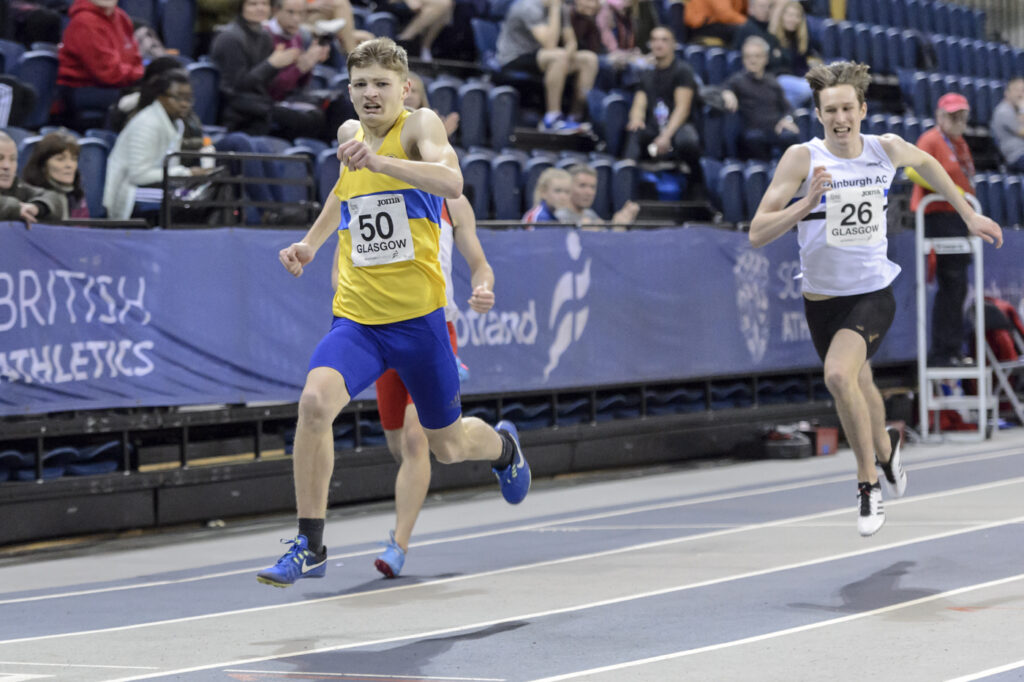 Finlay Waugh on his way to a CBP in the U17 Men's 200m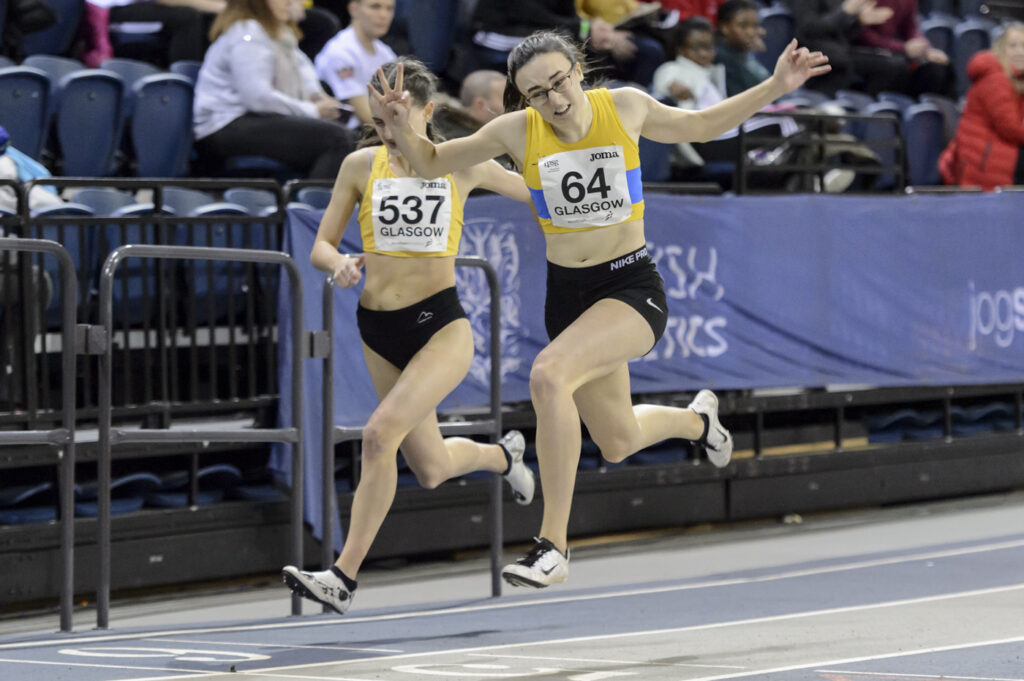 Giffnock sprinter Alyson Bell (no 64) had an excellent day at the Emirates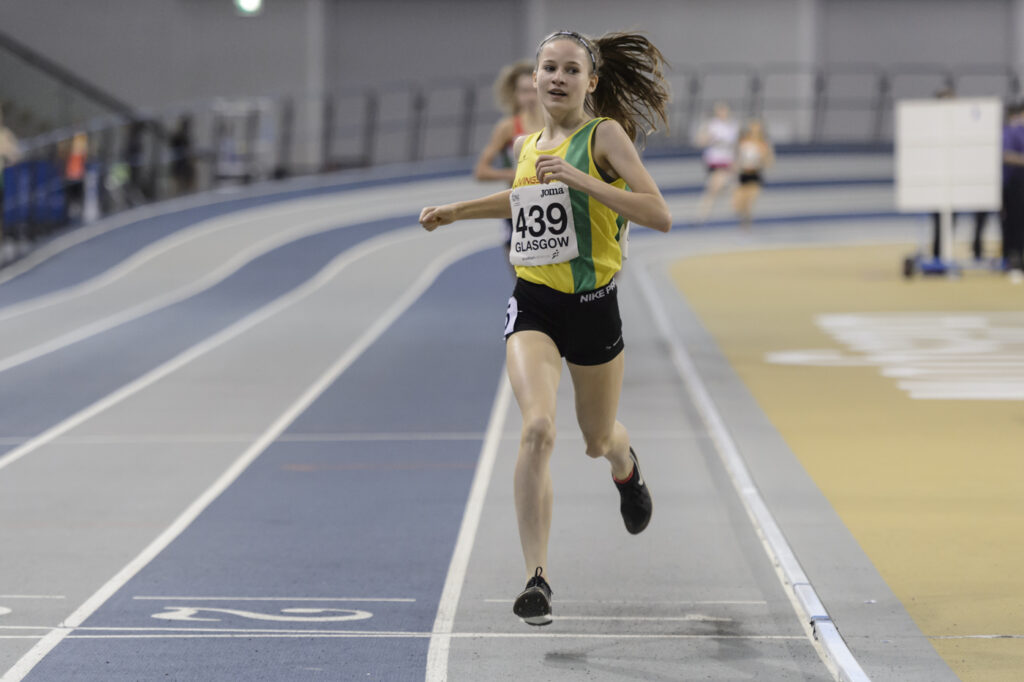 Isla Calvert of Livingston AC wins the U17 Women's 800m gold
Tags: Alyson Bell, Ellie O'Hara, Emirates Arena, Finlay Waugh, FPSG U17 Champs, Reuben Nairne