Sweeney and Craig break eight minutes for 3000m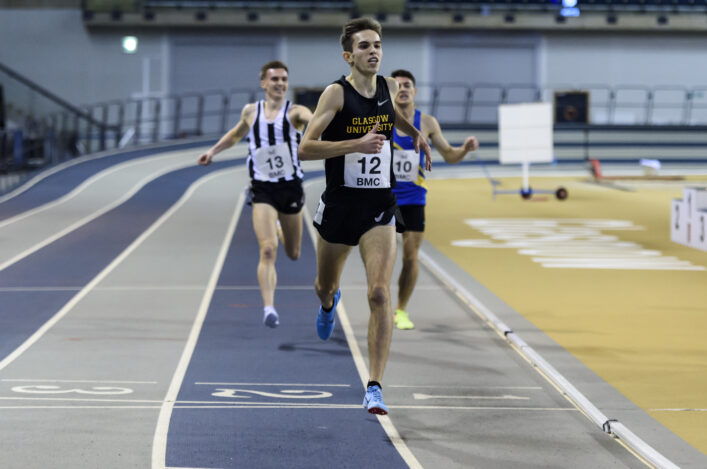 Sol Sweeney battles for the line to take gold as four men break eight minutes at the GAA Miler Meet (photo by Bobby Gavin)
Sol Sweeney raced to his first sub eight minutes 300m run to retain his Scottish championship and repeat his Lanark XC win over Adam Craig – then thanked his rival for pushing him all the way.
It's a measure of their performances that the Glasgow University and Inverclyde AC athletes now enter the all-time list for 3000m indoors for Scottish men at No 9 and No 10.
At U20 and U17, there were all-time top ten performances from Kane Elliott (Falkirk Vics), Hamish Armitt (Giffnock North), David Addison (Corstorphine) and Harry McGill (Greenock Glenpark) with terrific runs.
The top men's race at the GAA Miler Meet had been set-up to be fast and so it proved, with good work from pacers Finlay Murray and Kristian Jones laying the platform for good times.
As it transpired, the top three athletes all broke 7.58, which is excellent running and really positive for the GAA Miler Meet. Sol, for his part, collected the £200 cash incentive on offer.
Craig did his level best to reverse the outcome of the Lindsays Short Course XC at Lanark, but Sweeney had the right responses at the right times. Sol duly won it in 7.56.78 with Adam at 7.57.66 for silver after he made a last-ditch effort to get beyond Philip Sesseman of Leeds (7.57.84).
'It definitely makes it easier to have people pushing you like that and I think Adam was pretty keen to try and turn me over after my Short Course XC win,' grinned  Sol.
'I did a race in Cardiff recently and I had to do a lot of racing on my own – that makes it a lot tougher.
'It was 7.56, I want to be a wee bit quicker than that, with European Indoors in Glasgow. The qualifying standard for that is a bit lower (7:53). I'm not a million miles away but it is a four-second PB so I am definitely moving in the right direction.'
Photos by Bobby Gavin on Facebook
There was an U20 gold for Kane Elliott (Falkirk Vics) in 8.24.24 with silver for Hamish Armitt (Giffnock North) and bronze for Ben MacMillan (Central AC).
Those runs by Kane and Hamish, who recorded 8.29.89, are both impressive in an all-time context in terms of U20 indoors for 3000m – taking them onto the list at second and fifth place respectively. Congratulations to both athletes and their families and coaches!
Corstorphine's David Addison took the Men's U17 gold in 9.03.96 with silver for Harry McGill (Greenock Glenpark) and bronze for Alastair Marshall (Livingston).
Addison and McGill are now No 6 and No 7 on the all-time list for Men's U17 3000m indoors. Congratulations to both athletes and their families and coaches!
*There were Masters golds at 3000m at the Emirates Arena for the following athletes:
V35 Stuart Gibson (Cambuslang) 8.39.04; V40 Darran Muir (Law and District AC) 9.02.00; V45 Kerry-Liam Wilson (Cambuslang) 8.59.06; V50 Stephen Allen (Motherwell Ac) 9.24.78;  V55 Guy Bracken (North Shields) 9.10.14; V60 Roger Homyer (Highland HR) 12.13.98;  V65 Ray Aikin (Keith and District) 13.20.89; V75 Bobby Young (Clydesdale) 12.39.28.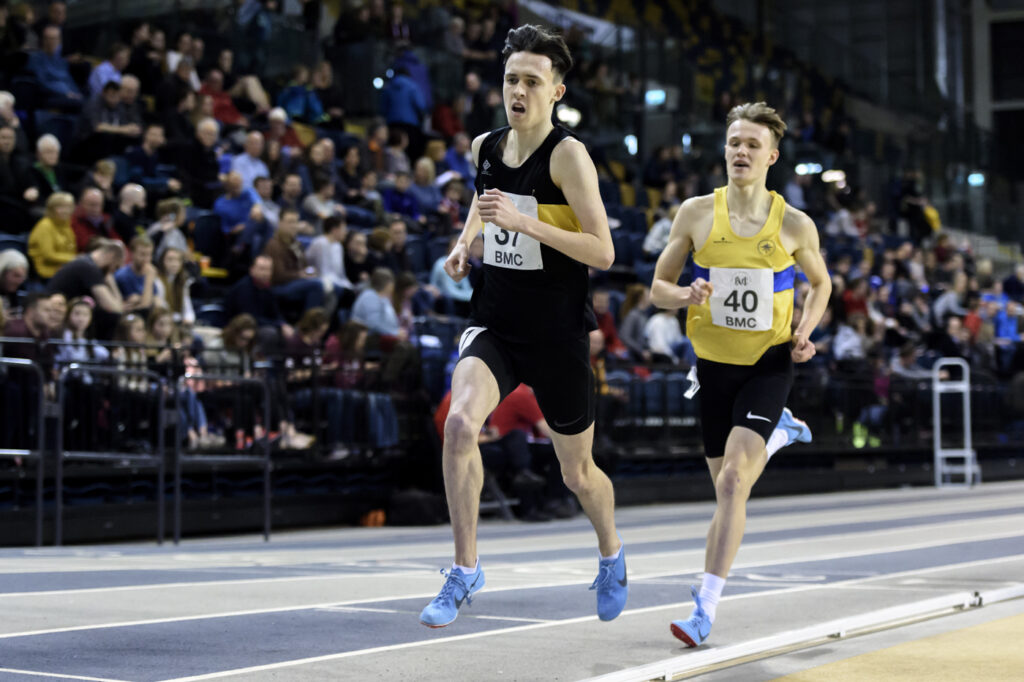 Kane Elliott and Hamish Armitt on their way to Scottish U20 medals (photo by Bobby Gavin)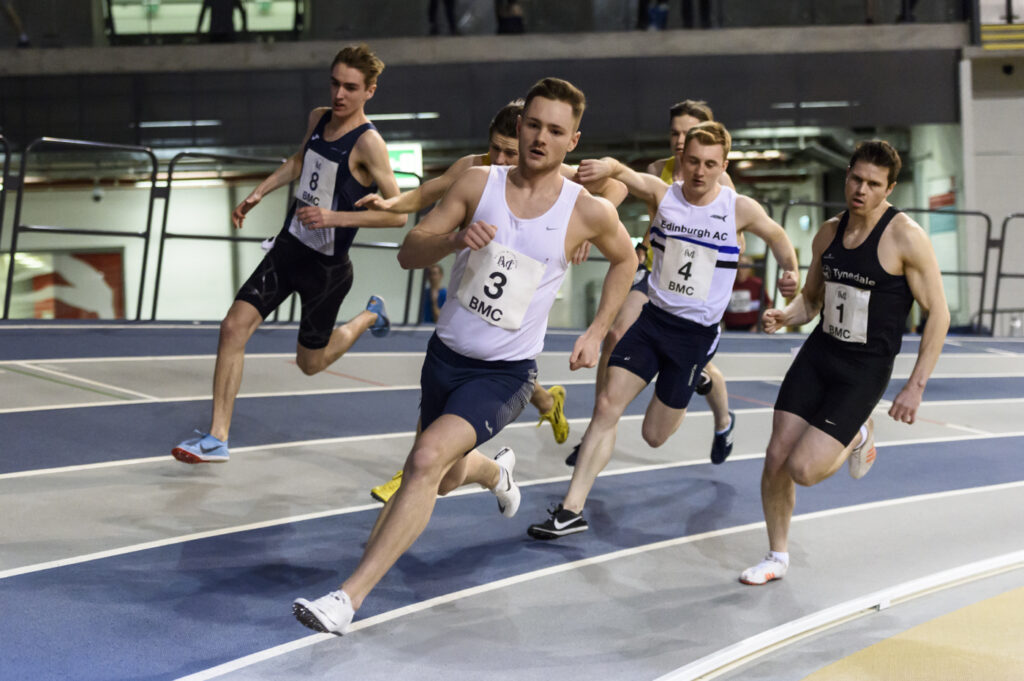 Lewis Brown (No 3) and Sam Brown (No 4) fought out a keenly-contested 600m at the GAA Miler Meet (photo by Bobby Gavin)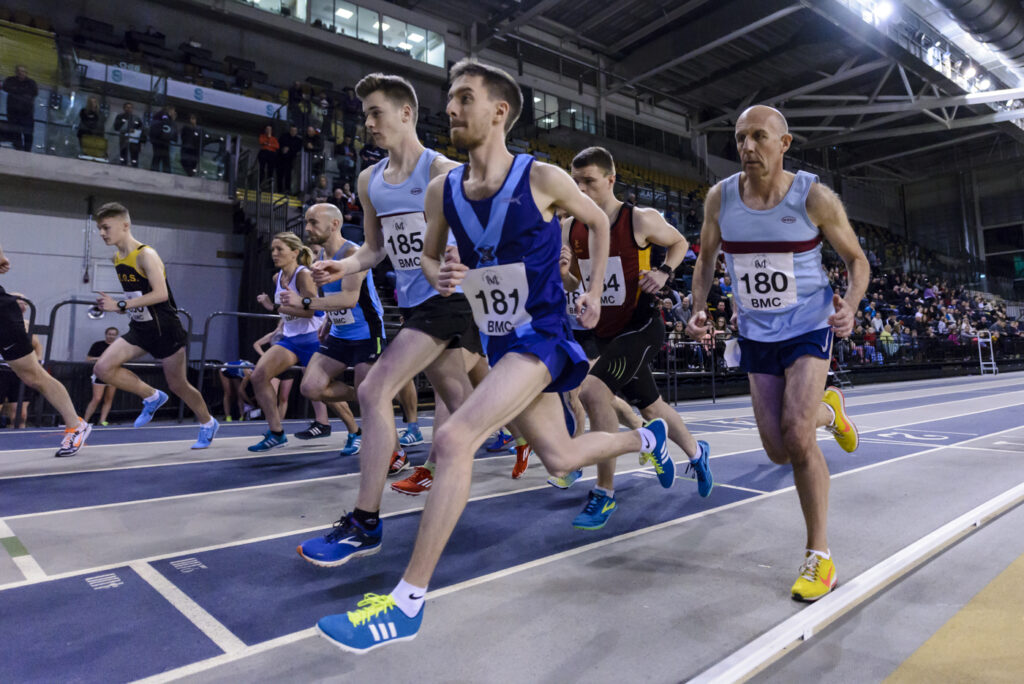 Tags: Adam Craig, Emirates Arena, GAA Miler Meet, Hamish Armitt, Kane Elliott, Sol Sweeney